Mr. He Jianzhong Arrested Again After Seven Years of Imprisonment
May 29, 2013 | By a Minghui correspondent in Gansu Province, China
(Minghui.org)
Summary of Key Persecution Facts:
Name: He Jianzhong (贺建忠)
Gender: Male
Age: 55
Address: unknown
Occupation: Calligraphy studio owner
Date of Most Recent Arrest: October 27, 2012
Most Recent Place of Detention: Lanzhou City No. 2 Detention Center (兰州市第二看守所)
Detention City: Lanzhou
Detention Province: Gansu
Persecution Suffered: Sleep deprivation, forced labor, brainwashing, illegal sentencing, beatings, imprisonment, torture, home ransacked, interrogation, detention.
Police led by Chen Zhikai, the vice-captain of Domestic Security Division of Lanzhou Police Department, arrested Falun Gong practitioner Mr. He Jianzhong of Lanzhou City at his painting and calligraphy studio on October 27, 2012. The police confiscated his bank book, cash amounting to over 10,000 yuan and his customers' calligraphy and paintings. He Jianzhong was taken to the Gongjiawan Brainwashing Center. Later he was transferred to Lanzhou City No. 2 Detention Center.
Mr. He Jianzhong is 55 years old. A traffic accident in 1997 left him with brain damage, an injured leg and a wound which failed to heal. After several months of practicing Falun Gong, all symptoms disappeared, he could walk again on his injured leg (though unstably). He is thankful for Dafa and Teacher's compassionate salvation. After the Chinese Communist Party (CCP) launched the persecution of Falun Gong in July 1999, He Jianzhong went to Beijing to appeal for Falun Gong at the end of December 2000. When he returned to Lanzhou, police officer Yi Yanhong and others from Lanzhou Police Department arrested him, and sentenced to seven years of imprisonment using fabricated charges.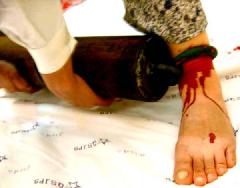 Torture reenactment: foot shackles
In order to force Mr. He to give up practicing Falun Dafa, police of Lanzhou Prison put 23kg shackles on him and deprivied him of sleep for several days. Both his legs were almost disabled and he was tortured severely. After the prison term was due to be finished in 2008, Chengguan District 610 Office in Lanzhou City attempted to send him to a brainwashing center, but encountered vehement opposition from him and his family. The 610 Office agents had to release him, but held off on all the procedures and paperwork, including his household registration and ID. Without the document, he is forced to stay at home and cannot travel to other cities. This situation was very difficult for him.
He wrote to the then CCP leader Hu Jintao to expose his suffering in 2008, yet he was arrested for doing so.
At around 3:00 p.m. on October 27, 2012, a man holding some calligraphy came to He Jianzhong's studio and pretended that he needed to buy a frame, however, he made a quick enquiry and walked out. Soon four policemen rushed in. They were led by Chen Zhikai, the vice-captain of Domestic Security Division of Lanzhou Police Department. Two policemen held He Jianzhong. Chen Zhikai ordered a customer who was in the store to squat down. The customer asked: "Who are you? Why should I listen to you?" Chen Zhikai came over without a word and punched the customer in the face with both fists, which caused the victim's nose to bleed. Then Chen Zhikai turned to He Jianzhong asking: "Do you know about what happened in June? Who wrote a letter to Hu Jintao? We have been looking for you for a long time. If you dare to reveal this matter (meaning what happened today) on Minghui, what happened to Niu Wanjiang and his wife will be your fate." They confiscated keys and money from He Jianzhong. Chen Zhikai put the money found on He into his own pocket, handcuffed him and took him and the customer away.
Niu Wanjiang and his wife mentioned above are Falun Gong practitioners in Qilihe District, Lanzhou City. They have been persecuted since July 20, 1999. The persecution left their young son with grandparents who are struggling to survive. Niu Wanjiang was illegally detained in a forced labor camp for a year, and then sentenced to three years of imprisonment, and then detained at Gongjia Bay Brainwashing Center on September 15, 2005. His wife, Zhang Zhenmin, was arrested on May 3, 2002, and sentenced to eight years of imprisonment. She has been forced to do slave labor at Lanzhou Women's Prison. At 5:40 p.m. on June 29, 2012, two police cars stopped in front of the snack shop operated by Niu Wanjiang and his wife, six police (four male and two female) came out, forced the couple into the police car without any procedure or explanation and took them to Gongjiawan Brainwashing Center.
After He Jianzhong was taken to Gongjiawan Brainwashing Center, his family was denied visitation. He has recently been transferred to Lanzhou City No. 2 Detention Center.