Manhattan, New York: Grand Parade Through Chinatown (Photos)
May 24, 2013 | By Dexiang and Tang Xiuming from New York
(Minghui.org) "I see the Falun Gong parade every year. It is getter bigger year after year. This one looks to be the largest one yet," said Ms. Huang who was watching the parade with her two children on May 18, 2013.
On Saturday, about seven thousand Falun Gong practitioners held a grand parade through Chinatown in Manhattan's New York City. The procession was miles long. The parade carried a striking momentum that made residents and shop clerks, as well as tourists, who were on the streets stop and watch in awe. Some of them were very cheerful and applauded the Falun Gong practitioners.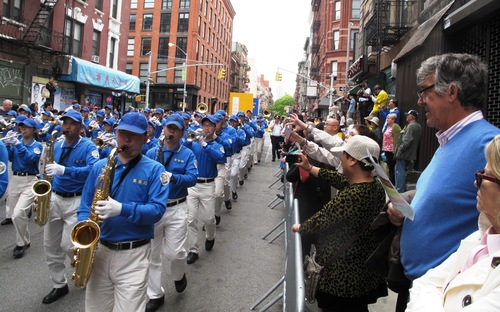 Spectators taking photos of the parade
Chinese People Respond Warmly
Fanny smiled happily and applauded for the procession. "It is great!" she said in Cantonese, "Truthfulness-Compassion-Forbearance. The country needs those principles, and the whole world needs them."
Ms. Wang said she saw a Falun Gong parade in Chinatown last year too. She said that she felt Falun Gong is great because she saw Falun Gong practitioners set up a table in the street to clarify the truth about the persecution that is occurring in China every day. "I see they work so hard. Sometimes I bring food and drink for them. I know they work so hard for us. I believe Falun Gong is truly good," she said.
Mr. Wu from Guangdong Province, China said that this is his first time he saw a Falun Gong parade and felt it was "pretty good." A tourist from Shanghai, China said that the parade is "majestic."
Ms. Zhang, a spectator, said, "I am proud of Falun Gong! I saw Falun Gong practitioners from countries all over the world." She continued, "I see many of them are well educated. I wonder why so many people have been fooled by the Chinese Communist Party's propaganda. The Chinese Communist Party has done countless bad things and it controls Chinese people very tightly."
"Falun Gong practitioners have perseverance. I am proud of them," she added.
Tourists Watch the "Moving Exhibition"
The majestic parade was like a moving exhibition. The procession had five sections, each with its own theme, including the introduction of Falun Gong, exercise demonstration, the persecution in China, quitting the Communist Party, etc. New York City has tourists from all over the world so the parade also attracted many foreign tourists who happened to be in Chinatown on the day.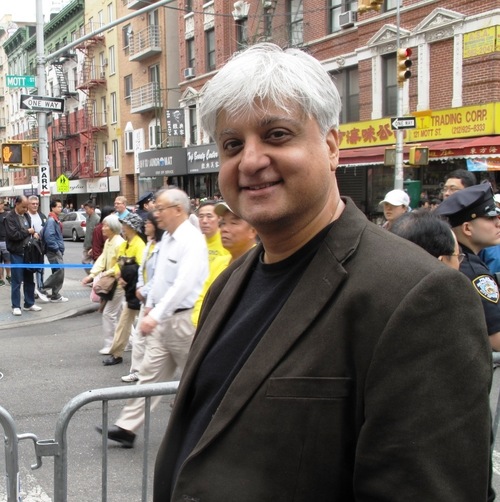 Indian British Mr. Sulygeda is watching Falun Gong's parade in Chinatown, New York.
Mr. Sulygeda is an Indian British who was on vacation in New York, visiting from London. He ran into the parade in Chinatown. After watching the first section of the parade "Falun Dafa around the World," he said, "I didn't know Falun Gong has spread to so many countries with so many people practicing it. I will learn more about it after I go back."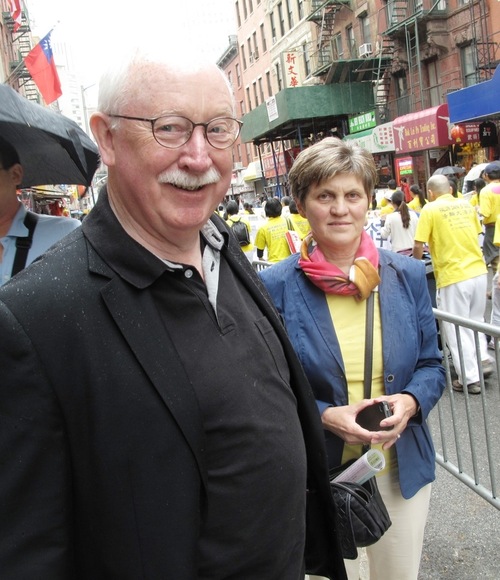 A couple from Germany was shocked that the Chinese Communist Party harvests organs from living Falun Gong practitioners.
The second section of the parade was about exposing the Chinese Communist Party's persecution of Falun Gong. A couple from Germany watched this part of the parade and were shocked to see the tortures and organ harvesting that Falun Gong practitioners are victims of. Mr. Manfred works for Amnesty International and his wife is a retired school principal. The wife took photos of the parade on her cellphone.
Mr. and Mrs. Manfred said the parade was "peaceful and rich in information, especially about the current human rights situation in China." Mr. Manfred said he had already learned from his work at Amnesty International about the organ harvesting atrocities in China.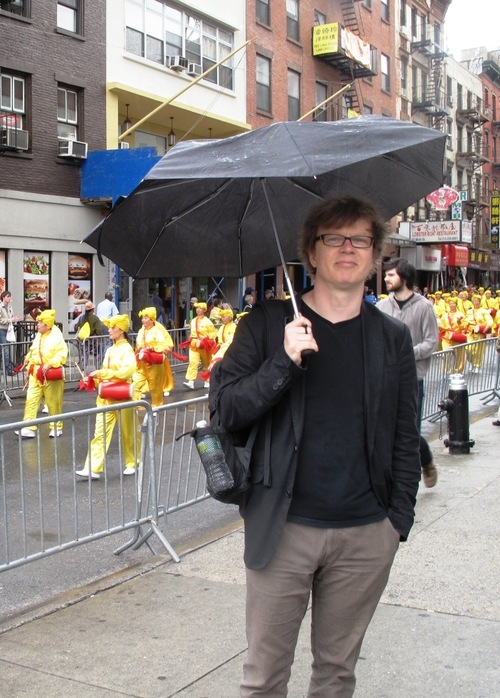 Mike from Finland: It is important to allow for more people learn about Falun Gong
Mike is a scientist from Finland. He watched the parade near the end of the route. He said he had heard about Falun Gong before, but didn't know much about it. Today, seeing the thousands of practitioners marching in front of him and having taken in all the information, he felt the situation has changed a lot in recent years. In the end, Mike said he believed it is very important to allow for more people learn about Falun Gong, so as to stop the brutal persecution.