New York: Participants of the 2013 International Falun Dafa Parade in Manhattan Share Their Stories (Photos)
(Minghui.org) On May 18, more than 7,000 Falun Gong practitioners from all over the world participated in a grand parade in Manhattan, celebrating the 21 st anniversary of Falun Dafa spreading in the world.
"Falun Dafa Changed My Life"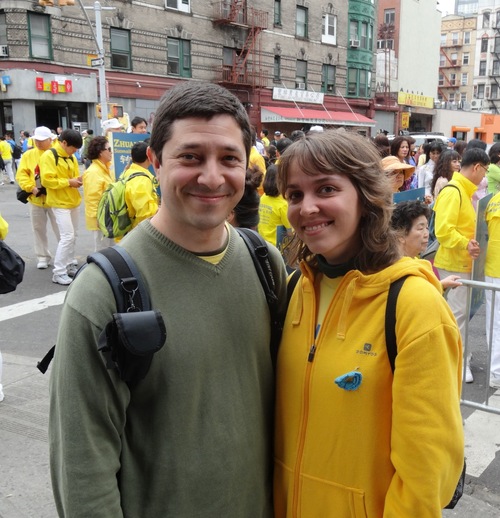 Alex Nadal and his wife Zulema Nunez from Spain
Alex Nadal and his wife Zulema Nunez come from Madrid, Spain. Alex said that they came to join other practitioners, celebrating the 21 st anniversary together and sharing the joy. Alex said, "Falun Dafa has changed my life. I had a lot of bad habits before I practiced. I was an alcoholic and used drugs. My life was depressing and hopeless. I started cultivating Falun Gong in 2005. When I first read the book Zhuan Falun , I told myself, 'This is what I've been looking for.' Since then, my life has changed dramatically. In only a few moths, I quit all the bad habits. I started to feel the beauty of life. My life was full of sunshine. Dafa opened my mind, and taught me how I should live. I am grateful, and I want share my joy with other people. So this event is very important and precious to me. I come here also because other practitioners will share their cultivation experiences at a conference, which will help me to improve."
"Falun Gong Gives Me Inner Peace"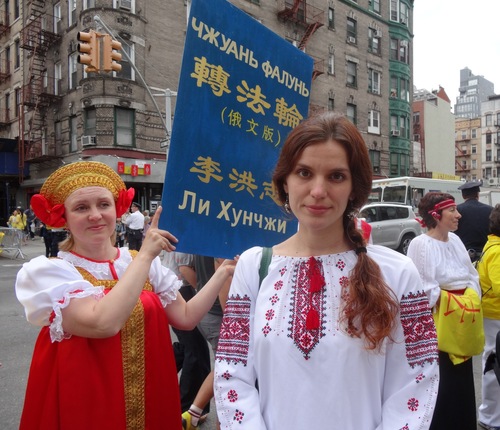 Tatianna Skulkina from the Ukraine
Tatianna skulkina comes from the Ukraine. She started practicing Falun Gong in 2000. She came here to New York to tell people that the persecution of Falun Gong in China is still going on. "I want to stand with other practitioners from all over the world, raising our voice to call for the end of the persecution," she said.
Tatianna said: "I've gained inner peace and wisdom from cultivating Falun Dafa. I have found the truth of life. My life has become peaceful and meaningful. I know what I really want now. I am not confused by superficial things in life. In my heart, I have true harmony."
"I Can Sleep Well Now"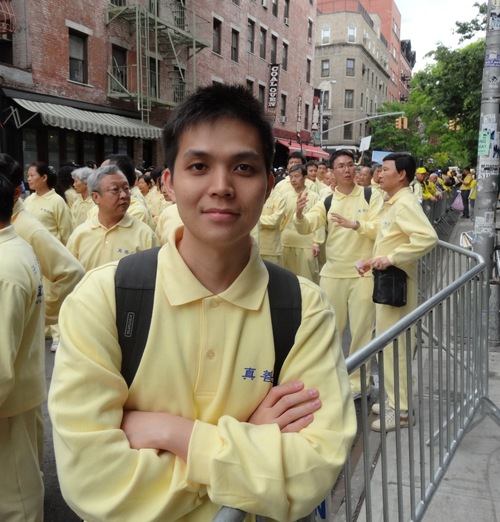 Ding Kaiting from Taiwan
Ding Kaiting is from Taiwan. He started practicing Falun Gong when he was a college freshman in 2004. He majored in medicine, and the school work was very stressful. He could not fall asleep before exams. One day he saw a Falun Gong practice site near his house, so he joined them. After practicing, he never had sleep problems.
Kaiting said: "There are a lot of bad influences from the society on us young people. Many of my classmates have bad habits, such as drinking alcohol, using drugs, or watching pornography. However, Falun Gong practitioners are pure. We avoid those things." This is Kaiting's first time visiting New York. He is glad to join others to celebrate this holiday.
New Practitioner: "It Is Lucky to Practice Falun Gong"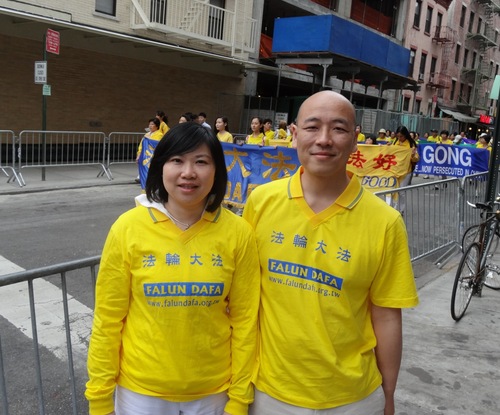 Mr. Su and Mrs. Xing
Mr. Su is a new practitioner. He started cultivating in 2012. This is his first time to attend a cultivation experience sharing conference. Mr. Su used to practice martial arts. In the last few months, he has benefited from practicing Falun Gong both physically and spiritually. He learned how to treat daily life problems with the mindset of a cultivator. He started to consider others and tries to see problems from other people's perspective.
Mrs. Xing started practicing in 2010. She has been to a New York experience-sharing conference before. She is glad to a have a chance to share with other practitioners, which helps her to improve in cultivation. "It is really lucky to practice Falun Gong," Ms. Xing said.