Practitioners in Ireland Celebrate World Falun Dafa Day (Photos)
May 23, 2013 | By Minghui correspondent Li Fengxiang in Dublin, Ireland
(Minghui.org) On May 13, 2013, practitioners in Ireland celebrated the 14th anniversary of World Falun Dafa Day and the birthday of Master Li Hongzhi, the founder of Falun Gong. They marched from Dublin City Centre along Parnell Street, also known as Dublin's Chinatown, and finished up in front of the General Post Office.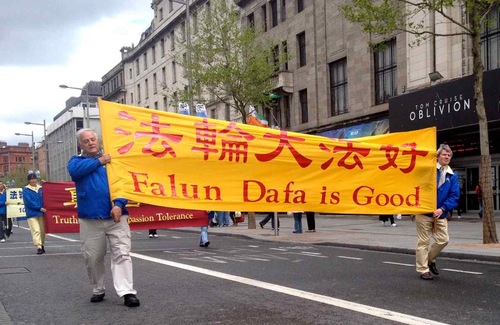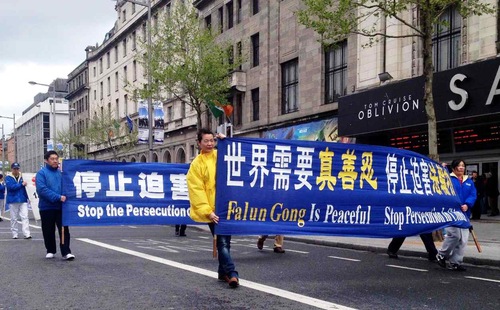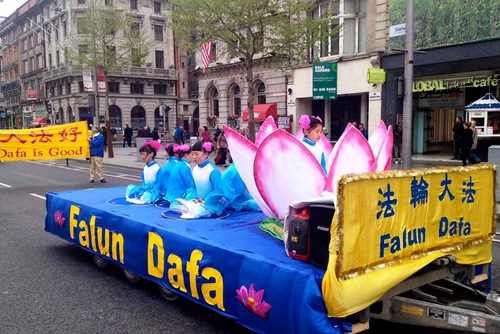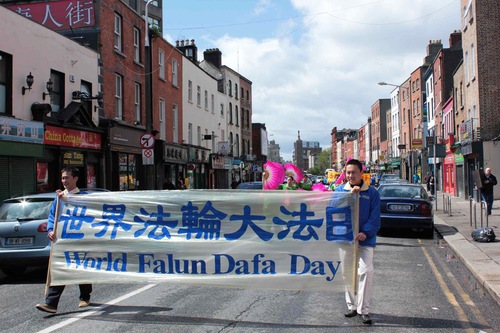 Practitioners march through Dublin City Centre
After the march, practitioners continued their celebration in front of the Monument of Light, where they gathered to wish Master Li a happy birthday.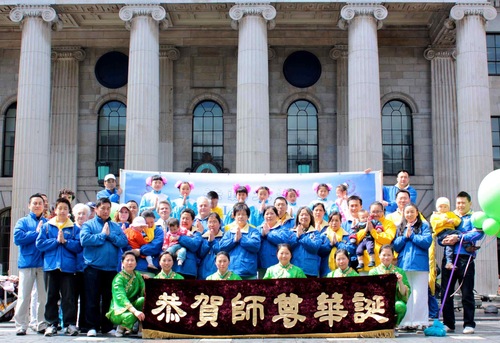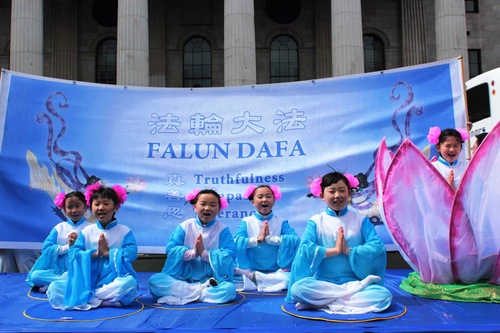 Practitioners wish Master happy birthday
At the rally, Ms. Dai from the Ireland Falun Dafa Association, talked about the origin of World Falun Dafa Day. She said, "Falun Dafa, also known as Falun Gong, is an advanced cultivation practice of mind and body. It was first introduced to the public by Master Li in 1992. Within seven years, the practice had grown to more than 100 million people in over 100 countries. The teachings of Falun Gong focus on cultivating the universal characteristics of Truthfulness-Compassion-Forbearance.
"Every year on this special day, practitioners in Ireland and around the world commemorate the introduction of Falun Dafa to the public," Ms. Dai added.
"Despite the perverse efforts of the former president of China, Jiang Zemin, to persecute Falun Gong and slander Master Li, the truth of the universe will never be changed or altered by dark forces. After more than 10 years of being brutally persecuted, Dafa practitioners still firmly believe in the principles of Truthfulness-Compassion-Forbearance and are even more determined than ever to counter this inhumane persecution.
"We hope that more people will learn Falun Gong so that they, too, can experience its miraculous effects. We welcome everyone's support in standing up to the Chinese regime's inhumane persecution."
Ms. Dai also read some of the congratulations and greetings that heads of state from around the world extended to Master Li and Falun Dafa.
Passersby warmly applauded the practitioners' waist drum troupe performance as well as the young Dafa disciples' dance set. Many people took photos and videos of the event.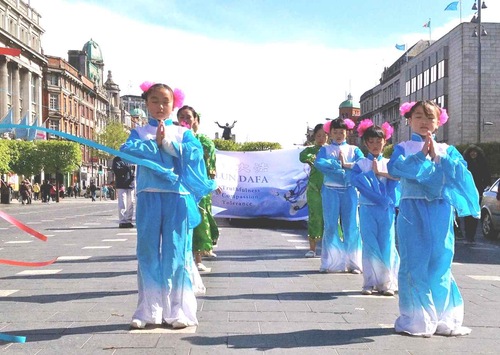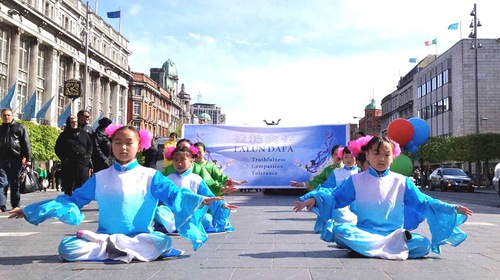 Demonstrating the exercises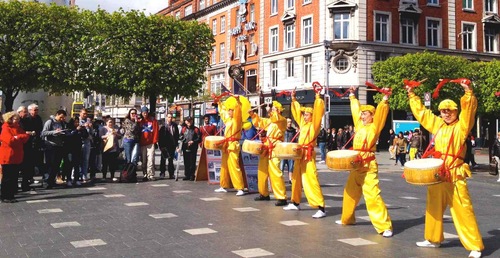 Waist drum troupe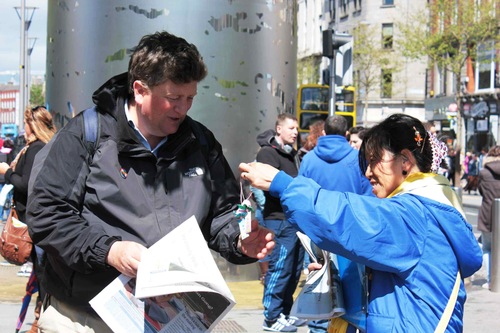 Lotus flower bookmark
Throughout the day, there were people either watching the different performances, reading display boards, listening to practitioners clarify the facts, or signing petition forms calling for an end to the persecution in China.
A young Western girl asked a practitioner why so many people around her were signing petition forms. Once the practitioner explained, she immediately signed the petition. She also encouraged her two friends to sign. One of her friends didn't speak English, so she had to ask another friend of theirs to help explain. In the end, they all signed the petition.
A young Western man carefully read the display boards and said that he had not heard about Falun Gong or the persecution. Before he left, he too signed the petition.
One lady, after watching the exercise demonstration, wanted to donate some money to show her support. A practitioner thanked her for her generosity, then explained that Falun Gong does not accept donations. He told her that signing the petition form was a great way to show her support. After she signed, another practitioner gave her a lotus flower bookmark, which made her very happy.
Several people mentioned how peaceful and relaxed they felt while watching the exercise demonstration. They found it very difficult to fathom why the Chinese dictatorship would persecute such a good practice.
Some passersby wanted to learn the exercises right then and there. Two people said that they wanted to learn, and left their phone numbers with the practitioners. Many tourists expressed an interest in learning the exercise when they returned to their respective countries.
An older Irish gentleman signed the petition after he read the display boards. He said it will be a good day for all Chinese when the CCP disintegrates, and he felt that that day was not too far off. Before he left he said, "Human rights and freedom should be respected everywhere in the world!"
One Polish man explained that he had read a Dafa flier about a week ago and was very eager to sign the petition. He exclaimed, "This inhumane persecution must be stopped!" He, too, inquired about learning the exercises.
Throughout the day, there were periods of gusty winds and torrential rain. Although at those times, most people sought shelter, there were always a few people who continued to take photos or videos of the event. Throughout all of this, practitioners persisted in holding up the banners. Many people were very moved by this touching scene.