Taiwan: Celebrating World Falun Dafa Day in Tainan (Photos)
(Minghui.org) More than 400 Falun Gong practitioners gathered in Tainan on May 11 to celebrate World Falun Dafa Day. They held an exhibition and a parade, performed, and distributed paper lotus flowers and information to celebrate the 21st anniversary of Falun Dafa's public introduction.
The event began on the playground beside Confucius Temple. Tiannan Deputy Mayor Yan Chun-tso; Deputy Speaker of the City Council Guo Hsin-liang; council members Tsung Hsiu-juan and Lee Wen-cheng; and representatives of several legislators, the mayor, and council members showed up to express their support. Legislator Hsu Tian-cai sent greetings.
Deputy Mayor Yan Chun-tso said that, in Taiwan, Falun Gong is welcomed. As a doctor, he learned that Falun Gong benefits one's physical and spiritual health. He encouraged everyone to keep up their efforts.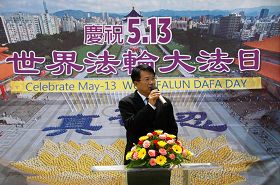 Deputy Mayor Yan Chun-tso
Deputy Speaker Guo Hsin-liang of Tainan City Council was impressed with Falun Gong. He said that in Australia, the US, and Taiwan, he saw Falun Gong practitioners holding banners to protest the Chinese Communist Party's violence and persecution of human rights. He was impressed that Falun Gong has been embraced all over the world and that there are so many people actively reporting on the persecution. He had admiration for Falun Gong.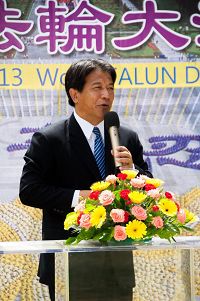 Deputy Speaker of Tainan City Council Guo Hsin-liang
City Council Member Lee Wen-cheng walked with practitioners in the parade to show his support. He said the parade was a meaningful way to let more people know about Falun Gong. He called on Taiwanese to pay attention to Falun Gong and especially for the government to be mindful of the persecution.
City Council Member Tsung Hsiu-juan said she first heard about Falun Gong five years ago when she was studying in London in the UK. She was sorry that Falun Gong has been persecuted for such a long time in China by the communist regime. She thought freedom of belief should be upheld and that Falun Gong practitioners who follow the principles of Truth-Compassion-Forbearance should not be unfairly treated or brutally persecuted. She spoke out in support of their efforts. She encouraged practitioners to keep up their efforts and encouraged them to share the practice with more people.
Several police officers on motorcycles were on site to direct traffic and the procession. They accepted information on Falun Gong and asked for paper lotus flowers to hang on their motorcycles.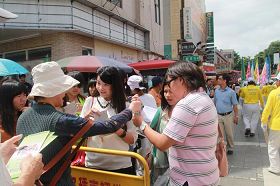 People take information on Falun Gong and paper lotus flowers.
The parade was led by the Divine Land Marching Band, followed by flags from the Northeastern peoples, triangle flags, banners, a celestial maiden team, a Falun Gong exercise demonstration, and waist drums, all demonstrating the beauty of Falun Dafa. Wherever they went, spectators stopped to watch and take photos. Many came forward to learn more about Falun Gong. Falun Gong flyers and the paper lotus flowers were very popular.
The procession arrived at Anping, where practitioners were invited to perform on the square behind Tianhou Palace. Chen Hong-ming, the director of the managing committee of the palace, said his daughter is a Falun Gong practitioner and that he had known about Falun Gong for more than ten years. His daughter became healthy after practicing. He believed that Falun Dafa could bring everyone a happy future.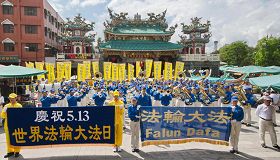 Performing on the square behind Tianhou Palace

The parade passes by Tainan Confucius Temple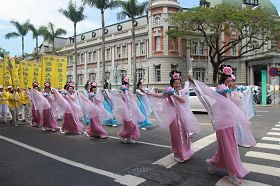 Passing by Taiwan Museum of Literature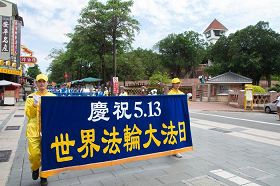 The parade passes by Anping ancient castle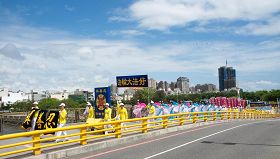 Passing by Anyi Bridge in Anping Harbor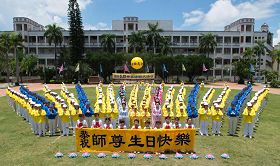 Falun Gong practitioners in Tainan wish Master happy birthday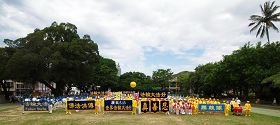 Tainan celebration venue