Canada: Edmonton Falun Gong Practitioners Celebrate World Falun Dafa Day (Photos)
May 14, 2013 | By a practitioner in Canada
(Minghui.org) Falun Gong practitioners in Edmonton, Canada gathered in a local park shortly before the May 13, 2013 World Falun Dafa Day, to celebrate World Falun Dafa Day and Master's birthday.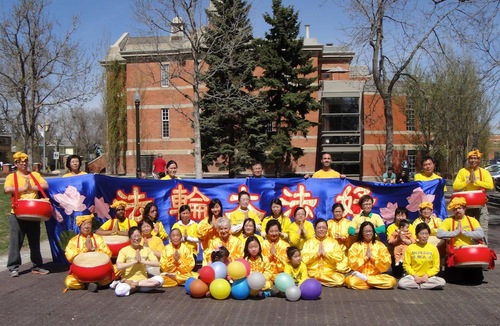 Falun Gong Practitioners in Edmonton Celebrate Master's Birthday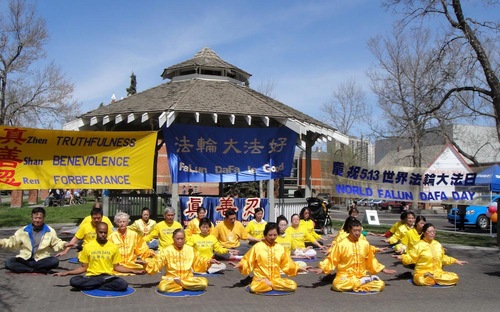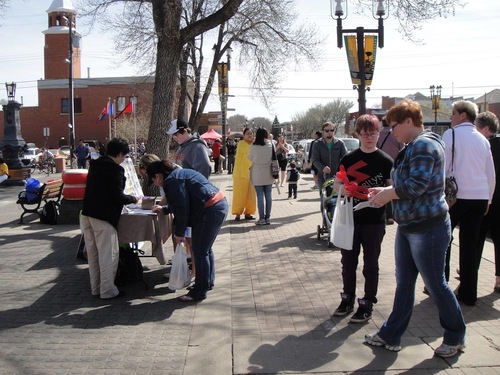 Citizens sign petitions after learning the truth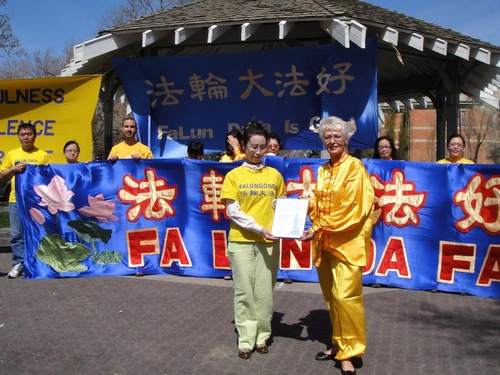 Proclamation from the mayor and all city council members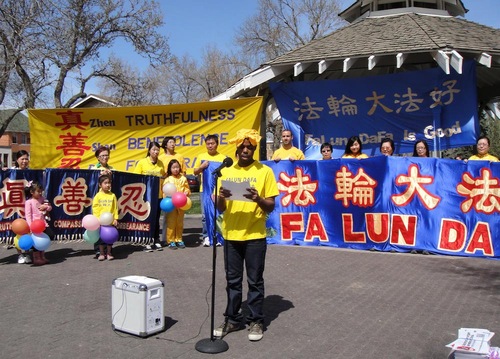 Practitioner speaks at ceremony
People saw colorful banners with "Falun Dafa is Great," "Truthfulness, Compassion, Forbearance," and "Celebrating May 13 World Falun Dafa Day" in the park, and practitioners handed out balloons and bookmarks with lotus flowers to visitors. The practitioners also performed drumming, demonstrated five sets of Falun Gong exercises. Many spectators stopped and talked with practitioners, trying to learn more about Falun Gong. People were surprised by what they saw on the display boards, which illustrated the tortures to which practitioners in China are subjected. They find it especially hard to imagine that Chinese practitioners were killed for their vital organs.
After the exercise demonstration, a brief ceremony was held. Host Mr. Ye told the audience about Falun Dafa and its history of twenty one years. He told people that more than 100 million people in over 100 countries practice Falun Gong. He also reminded people that practitioners in China are brutally persecuted. He also read congratulatory letters from Prime Minister Harper and members of Parliament of both national and provincial level. These officials expressed respect for Falun Dafa's principles, "Truthfulness-Compassion-Forbearance." They also praised Falun Gong practitioners' contributions to the society in the area of humanity, tolerance, and harmony.
Practitioners read poems in both Chinese and English during the ceremony, expressing their utmost esteem and gratitude to Master, for saving his disciples and sentient beings. They pledged to be more diligent and follow Master to the end of cultivation.
The ceremony concluded with the host reading proclamation letters from the mayor of Edmonton and city council members. The letters declared the month of May Edmonton Falun Dafa Month.