Washington D.C.: Falun Gong Practitioners Recount the Torture They Endured in China During April 25 Commemoration (Photos)
(Minghui.org) On April 24, Falun Gong practitioners from the greater Washington D.C. area held a candlelight vigil in front of the Chinese Embassy to commemorate the 14th anniversary of the April 25 Appeal. Several people gave speeches about their experience of being persecuted and tortured in China.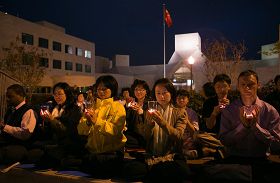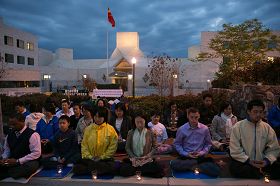 Candlelight vigil in front of the Chinese Embassy in Washington D.C.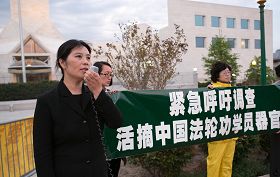 Ms. Ma Chunmei from Virginia spoke about how she had been arrested four times and imprisoned in labor camps twice since the persecution of Falun Gong began in 1999. In the labor camp, she was badly tortured and was made to do heavy labor. Her husband was forced to divorce her. Three of her sisters were arrested for practicing Falun Gong. Ms. Ma said that one of her sisters, Ma Chunling was arrested again last September, and sentenced to two years in a labor camp. She is now imprisoned in Masanjia Labor Camp.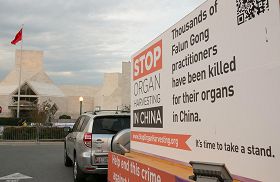 Practitioners set up a large display board on a truck, exposing the CCP's crimes of organ harvesting from imprisoned Falun Gong practitioners
Ms. Yu Zhenjie from Washington D.C. attended the April 25 Appeal in Beijing14 years ago. She was illegally arrested and tortured because she refused to renounce her faith in Falun Gong. She recalled, "My daughter, brother, sister, and sister-in-law were all jailed in the labor camp because they wouldn't give up their belief. My father passed away because so many of his children were being persecuted. My husband was forced to divorce me. But what I have told you is just the tip of the iceberg regarding this persecution."
Sixty-seven-year-old Ms. Wang Chunrong was the chair of the board of a large accounting firm with more than 100 employees in Dalian. In August 2007, she was arrested because of her belief, and her accounting firm was closed by the government. Ms. Wang was sentenced to three years and imprisoned in the Masanjia and Yaojia Labor Camps. At the candlelight vigil, Ms. Wang described her personal experiences of being tortured in the labor camps.
Jamil Lawrence, a lawyer from Washington D.C., also attended the candlelight vigil and was deeply moved by the speeches. Jamil said that he felt honored to stand with these practitioners, fighting for human rights. He said that he wants the Chinese embassy and the whole world to hear practitioners' voices. "From the angle of the law and human rights," he said, "the international community should help stop the persecution."