Mr. Gong Chengge and Mr. Sun Fa Illegally Sentenced Again (Photo)
April 27, 2013 | By a Minghui correspondent from Heilongjiang Province, China
(Minghui.org) Ms. Han Xiufang, Ms. Liu Chunlan, Mr. Gong Chengge, and Mr. Sun Fa were secretly put on trial in Aimin District Court in Mudanjiang City on February 4, 2013. Mr. Gong was sentenced to four-and-a-half years in prison and is being held in Mudanjiang City Detention Center. Mr. Sun was sentenced to four years and was taken to the prison.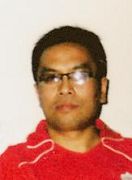 Mr. Gong Chengge
Mr. Gong Chengge was a mathematics teacher at Mudanjiang No. 2 High School. He has been illegally arrested and sentenced many times because of his belief in Truthfulness-Compassion-Forbearance. He has been severely abused in the Mudanjiang City, Jixi City, and Suihua City forced labor camps, and had to be carried out on a stretcher when his family visited him each time.
On April 24, 2003, Mr. Gong was brutally beaten with rope and electric batons by camp political commissar Wang Hongwu, chief Zhu Lijun, deputy head Wang Haifu, head of squadron Qi Min, and several dozen guards. He was covered with bruises.
Officers from the Mudanjiang Domestic Security Division and the Yangming Police Department arrested Mr. Gong on December 12, 2006, while he was working at school. He was released only after the police extorted money from his family.
Mr. Gong was arrested along with other practitioners on April 2008. He was illegally put on trial on September 10 in the Muling City Court and was sentenced to three-and-a-half years in prison. He was taken to the Training Group of Mudanjiang Prison on March 25, 2009, for three months and was then transferred to the No. 15 Ward, where he was forced to do hard labor.
On November 14, 2012, Mr. Gong; his wife, Ms. Su Wenling; and other practitioners were arrested by chief Wang Baolong and officers Jin Shaogang and Zhu Chenghua from the Tielinghe Town Office of the Yangming Police Department. The practitioners had been delivering truth-clarification materials to Qingmei Village in Tielinghe. The police ransacked Mr. Gong's home and confiscated his computer, printer, and other personal belongings. Mr. Gong and Ms. Su were held in the Mudanjiang Detention Center. Ms. Su was sentenced to one year of forced labor and was taken to the Qianjin Forced Labor Camp in Harbin City during the 2013 New Year. Her family are not allowed to visit her or deposit money into her account for her to buy daily necessities in the camp. Her family is very worried about her.
Mr. Sun Fa from Linkou County in Mudanjiang was first arrested on April 2008. He was tried in Muling Court on September 10, 2008, and sentenced to three-and-a-half years in prison. He had only been released for a short time before being arrested again at his home on the afternoon of November 2, 2012. He was then sentenced to four years in prison.