Ms. Qi Yaru Tortured in Heilongjiang Women's Prison, Her Young Daughter in Grief (Photos)
April 24, 2013 | By a Minghui correspondent in Heilongjiang Province, China
Name: Qi Yaru (祁亚茹)
Gender: Female
Age: Unknown
Address: Harbin City, Heilongjiang Province
Occupation: Unknown
Date of Most Recent Arrest: December 31, 2011
Most Recent Place of Detention: Heilongjiang Women's Prison (黑龙江省女子监狱)
Detention City: Harbin
Detention Province: Heilongjiang
Persecution Suffered: Detention, illegal sentencing, imprisonment, forced labor, brainwashing, beatings, torture, sleep deprivation, home ransacked
(Minghui.org) Ms. Qi Yaru, from Harbin City, has been arrested and detained five times for her belief in Falun Gong. Her young children have witnessed their mother being unjustly arrested and tried in court. They have been forced to grow up with the grief of the persecution, knowing that their mom has been repeatedly maltreated at the hands of the communist regime.
Below is a partial account of the persecution Ms. Qi has suffered to date. She is currently detained in Heilongjiang Women's Prison, where she has been tortured physically and mentally and is now in poor health.
Persecuted for Her Faith
Ms. Qi was very weekly and sickly as a child. Later, she was also diagnosed with Hepatitis B. she spent a lot of money on medical expenses and could not work. Her husband had to support the whole family financially by himself. After Ms. Qi started to practice Falun Gong, her illnesses gradually disappeared. She became very healthy and could now do all of the housework and take care of her two young kids, as well as her over-90-year-old father-in-law, without getting tired. As a result, Falun Gong benefited her entire family.
However, since the communist regime started persecuting Falun Gong in 1999, she has been arrested and detained five times. Police also extorted money from her family, and her children have been forced to grow up amidst the pain of the persecution.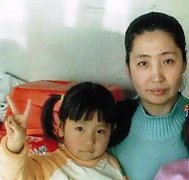 Ms. Qi Yaru and her daughter Shiyuan
Tortured in Wanjia Forced Labor Camp
Ms. Qi's daughter Shiyuan first witnessed her mother being arrested when she was only two years old. This happened on March 6, 2005. Ms. Qi Yaru held her son and Shiyuan's hand at a bus station when Zhou Dianlin and two other policemen from Liushun Police Station suddenly approached them and arrested Ms. Qi, taking her and her children to the police station. Later they went to ransack the family's home. Ms. Qi's husband requested that the police release Ms. Qi, but they refused. Subsequently, she was sentenced to three years of forced labor. She was taken to Wanjia Forced Labor Camp in Harbin City on April 21, 2005.
Shiyuan cried constantly, asking for her mom every night. Three years later, on January 25, 2008, Ms. Qi was finally released and returned home.
Ms. Qi was severely tortured in the labor camp. She was forced to sit on a small bench for prolonged periods of time, watch videos that defamed Falun Gong, and squat on a 1x1 square foot block with her hands tied behind her back. She was also handcuffed and hung up, cursed at and violently beaten numerous times. One of her teeth was knocked out.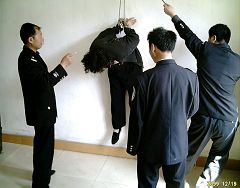 Torture re-enactment: handcuffed and hung up
The extended physical and mental torture made Ms. Qi look much older than her years. Even her hair turned gray.
Tortured at Heilongjiang Women's Prison
On December 31, 2011, Ms. Qi was at her sister's house in Wuzhan Town, Zhaodong City, with her now 9-year-old daughter Shiyuan. The family was preparing to celebrate New Year. A gang of policemen broke into the home and arrested them the women. Young Shiyuan was so frightened by the sudden violence that she burst to tears.
Four months later, on April 11, 2012, Ms. Qi was put on trial.
Ms. Qi's family had asked chief judge Guo Xiangxi how many people could attend the trial. Guo replied, "Anyone who holds an ID can enter the court." On the morning of the hearing, however, officials told them that only three close relatives could enter the courthouse. At that moment, a police car stopped in front of the courthouse and Shiyuan saw her mom get out of the car. She cried loudly for her mother, gaining sympathy from the passers-by.
Xiangfang District Court in Harbin City sentenced Ms. Qi to four and a half years in prison. She was taken to Heilongjiang Women's Prison, where she was deprived of sleep, beaten, tortured and cursed at, as officials attempted to "transform" her and make her renounce her belief in Falun Gong. Ms. Qi was not allowed to see her family for three months.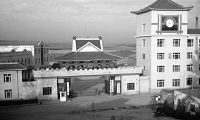 Heilongjiang Women's Prison
On July 11, 2012, Ms. Qi's lawyer, hired by her family, went to Heilongjiang Women's Prison to meet with Ms. Qi. When he requested to see her, however, a guard on duty claimed that she was not there. The lawyer argued with the guard and was finally permitted to see Ms. Qi. He noted that her arms were hurt. When he asked her about the injury, two guards came over to stop their meeting.
In October 2012, Ms. Qi's family was finally allowed to visit her in prison. She had to be supported by two inmates when she came out. She looked haggard and depressed. She informed the family that she had stomach problems, back pain, no appetite, and couldn't stand up straight while walking.
Ms. Qi's family are very worried about her condition.
Parties Involved in the Persecution
Heilongjiang Women's Prison:
Bai Xianying, head: +86-451-86639099
Shi Genghui, deputy head: +86-451-86639066
political commissar: Kang Min, +86-451-86639077
Nie Jing, manager: +86-451-86689088
Shao Jianmin, deputy head: +86-451-86618177
Yu Xiaoping, deputy head: +86-451-86636266
Yang Mingting, deputy head: +86-451-87085377
Qu Hong, director of political section: +86-451-86629766
Jiang Deyi, secretary of discipline commission: +86-451-86636900
supervision office: +86-451-86639014
Contact Management Office, specializing in persecuting Falun Gong:
Director: +86-451-86639028
Office: +86-451-86639072