Munich, Germany: Spreading the Facts about Falun Gong at a Health Expo (Photo)
April 24, 2013 | By a practitioner in Bavaria, Germany
(Minghui.org) Local practitioners participated in a popular health expo targeting the "baby boomers" generation from April 12 to 14, 2013, in Munich, Germany. They set up a booth to promote Falun Gong spiritual practice and expose communist regime's persecution of Falun Gong practitioners in China.
Many visitors expressed interest in the Falun Gong exercise demonstration and asked how they could learn the practice.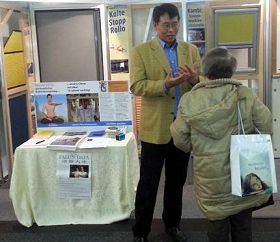 A woman stops by the practitioners' booth to learn about Falun Gong.
Expo attendees were shocked to learn of the brutal suppression of Falun Gong practitioners in China. Many signed a petition to call for the end of the persecution and condemn the communist regime's crime of organ harvesting from living Falun Gong practitioners.
A lady asked: "China has great philosophers like Lao Tzu and Confucius, bright ancient civilization and things like Chinese traditional medicine. Why was the heretical communist party introduced into China?" She noted that the communist regime was damaging Chinese traditional culture.
Many German people came to know the facts about Falun Gong during the three-day event.