Wife Followed and Monitored by Police after Her Husband Died
April 11, 2013 | By a Minghui correspondent from Heilongjiang Province, China
(Minghui.org) Falun Gong practitioner, Mr. Li Hongkui, from Harbin City, Heilongjiang Province died as a result of persecution on August 28, 2012. The local officials followed and monitored Mr. Li's family, fearing that they would appeal to higher authorities.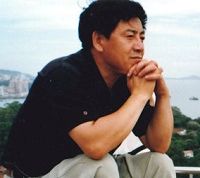 Mr. Li Hongkui
On March 8, 2013, Ms. Bai Qun, Mr. Li's wife, went to a hospital to fetch some medicine, when she found that three people were following her: two of them were probably in their 20s, the other one was middle-aged. Ms. Bai called her son to help. When her son got to the hospital, the people following her quickly left. On March 9 and 10, Ms. Bai again found that there were a few vehicles parked in front of her residence building from 7 a.m. to 7 p.m.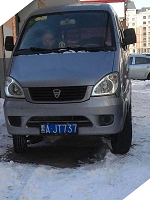 Vehicle that parked outside
Mr. Li used to be an engineer at Harbin City Post Office and a volunteer at a Falun Gong exercise site. After he started practicing Falun Gong, he did things according to the principles of Truthfulness-Compassion-Forbearance in his daily life. He was named "Model Worker" and "Advanced Worker" at the provincial level for the past decade and was considered a good person by those who knew him. However, since the Chinese Communist Party (CCP) started the persecution of Falun Gong in July 1999, such a kind person was arrested three times and sentenced twice.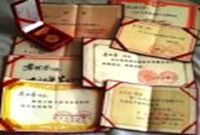 The awards and medals granted to Mr. Li Hongkui
Mr. Li was arrested for the first time on July 19, 1999 and detained in the Harbin City Police Department for 35 days. In October 1999, Mr. Li was arrested again and sentenced to three and a half years in Harbin No. 3 Prison. Mr. Li was arrested for the third time on September 22, 2005 and sentenced to seven years in the Daqing Prison.
On the evening of August 13, 2012, Mr. Li Hongkui's family was suddenly informed by a guard at the Daqing Prison that Mr. Li had been taken to the Daqing No. 4 Hospital for an operation because he had had a cerebral haemorrhage. Mr. Li's family then went to the hospital in a hurry, and found that Mr. Li was in a state of unconsciousness with a thick bandage covering the left side of his head. His hips and legs were bruised, with his skin peeling off. One of his right fingers had a bump on it, and his right ear had a deep cut.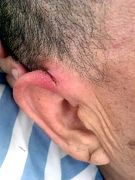 Mr. Li Hongkui had a 3cm-long crack above his right ear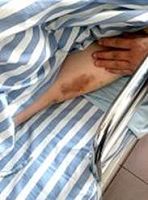 Mr. Li had bruises on his left calf
When Mr. Li Hongkui regained consciousness, his eyes looked terrible and he could not talk. The attending physician told Mr. Li's wife that her husband's operation was very successful. Under his family's care, Mr. Li was getting better with each passing day. On August 18, 2012, Mr. Li was taken out of intensive-care and was transferred to a regular ward; two days later he did not need the heart monitor or oxygen facilities. He even started to eat by himself and sat up for 10 minutes. By August 26 he could sit for 20 minutes. The attending physician informed Mr. Li's family a few times that he could go home. But the director of the hospital would not allow Mr. Li to leave. On August 27, Mr. Li Hongkui's temperature suddenly rose sharply, he started to get sick and was foaming at the mouth. He had convulsions and was sweating constantly. He died on August 28, 2012 at 5:14 a.m. under suspicious circumstances. Even the attending physician thought that it was strange and said: "I don't understand, I don't understand." Mr. Li's family did not receive any notice of his critical condition. The date of his death was only 23 days before the completion of his sentence.
In order to find out the true cause of Mr. Li Hongkui's death, Ms. Bai went to the Daqing Prison, the Daqing City Town Hall, and the Justice Bureau to ask for an investigation. But nobody wanted to help. They all just passed the buck, and threatened and intimidated her. Ms. Bai and her son were even both put under house arrest for over 20 days by the local 610 Office, residential committee and police station during the CCP's 18th National Congress. They were not allowed out of their home. The police told her that if she went out they would arrest her.
Ms. Bai is in poor health and has coronary heart disease, high blood pressure and diabetes. But the local officials limited her freedom for days, so that she could not live a normal life.
Earlier reports:

Wife and Son of Just-Killed Engineer Frequently Harassed by Police
http://en.minghui.org/html/articles/2012/11/18/136362.html

Mr. Li Hongkui Passes Away Due to Persecution; His Death Very Bizarre, Says Doctor http://en.minghui.org/html/articles/2012/9/15/135430.html