Finland: Candlelight Vigil Held in Helsinki to Commemorate Victims of Persecution (Photos)
February 07, 2013 | By a practitioner in Finland
(Minghui.org) January 27, 2013 was International Holocaust Remembrance Day. While remembering this tragedy from the past, Falun Gong practitioners in Helsinki hoped to raise awareness about the atrocities happening today in China. They gathered on the square next to the train station and lit candles to commemorate those who died in the Chinese Communist Party's (CCP's) cruel persecution in China, which has lasted over 13 years.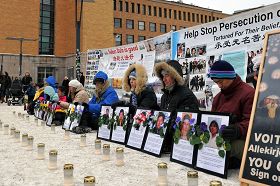 Helsinki practitioners hold an event calling for peace and to stop the persecution.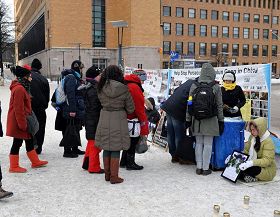 On the Square, people line up to sign the petition to protest the persecution of Falun Gong.
In July 1999, the CCP launched a brutal persecution campaign against Falun Gong, using all kinds of cruel torture methods on Falun Gong practitioners to force them to give up their belief. Hundreds and thousands of practitioners have been illegally prisoned or sent to brainwashing centers and mental hospitals. The most horrific thing is that the CCP is making a huge profit through selling vital organs forcefully harvested from live Falun Gong practitioners. In this unprecedented persecution, thousands of practitioners have been tortured to death. Hence, for the past 13 years, Falun Gong practitioners have been holding various activities to protest the persecution worldwide.
During this year's candlelight vigil in Helsinki, many people stopped to read about the persecution of Falun Gong that is currently going on in China. Frequently, lines formed in front of the petition.
A six-year-old boy and his mother stopped in front of a photo of a practitioner who had been tortured. Looking at the skeleton-like image in the photo, the mother explained to her son that this was due to inhumane torture of this practitioner in a Chinese prison. The boy listened attentively. Before leaving, the mother exclaimed:"I really don't understand! The torture is so cruel! This should stop immediately!"
After hearing the story of live organ removal, a passing-by Vietnamese said that he truly understood the ordeal of living under a dictatorship and he criticized the CCP for stripping people of their human rights. He signed the petition to support Falun Gong without hesitation.
Among the practitioners who were involved in this event, there was a Chinese couple. Due to the persecution, they were separated for eleven years, and finally reunited in Finland in 2012. Since the persecution started in 1999, countless families have been torn apart in China. Mr. Wu's family was one of them. Mr. Wu's mother was tortured to death in a CCP prison because she refused to give up her belief. For the same reason, Mrs. Wu was illegally sentenced to ten years in prison. She experienced 14-day non-stop interrogation by 40 policemen in turn. Many times she was forced to wear foot shackles of over ten kilos (over 20 lbs). She was shocked with electronic batons and tortured with all sorts of other torture devices. Mr. Wu was also detained in police stations many times.
Mrs. Wu said:"Chinese New Year is coming. Although I am glad to be able to spend it with my husband after a very long time. I am deeply saddened when thinking of the thousands of fellow practitioners in China who are still suffering from torture right now." She hopes Chinese practitioners who are being persecuted will be reunited with their families soon and Chinese people will soon be allowed to practice their beliefs freely.