Taipei, Taiwan: A Sincere New Year's Greeting to Master Li (Photos)
February 03, 2013 | By Yuyan Zheng and Wenxin Liu from Taipei, Taiwan
(Minghui.org) Every morning, when people visit Shilin Residence, the official residence of Taiwan's first president, Chiang Kai-shek, they are greeted by Falun Dafa practitioners' banners, beautiful exercise music, as well as the warm greetings of Dafa practitioners. However, a surprising change of scenery took place on January 26, 2013.
Along the left side of the path to the garden and the amphitheater were flags with the words "Falun Dafa is Good" every few meters. Along the right side of the path, there was a photo exhibition, "The Journey of Falun Dafa." As a steady stream of Chinese tourists came in and out of the residence, many of them slowed down to take in the photo exhibit chronicling Falun Dafa's spread to over one hundred countries and regions in the world.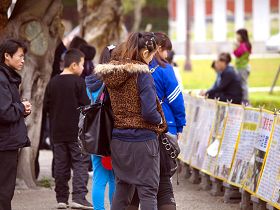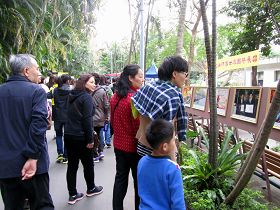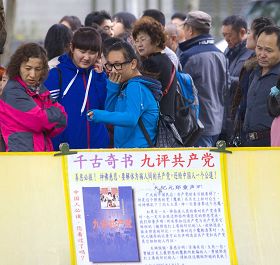 Tourists from Mainland China view the photo exhibition, "Journey of Falun Dafa" at Shilin Residence
The Most Sincere New Year's Greetings
In the afternoon, nearly a thousand Falun Dafa practitioners gathered at the amphitheater and wished Master Li Hongzhi a Happy New Year. They held a series of performances to honor Master Li, including music, dance, poetry recitation, and a waist drum performance. A chorus sang, "Master, Thank You," "Happy New Year Master!" "Falun Dafa Is Good" and "Coming For You."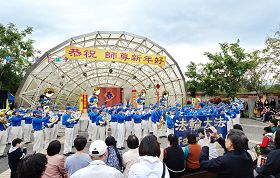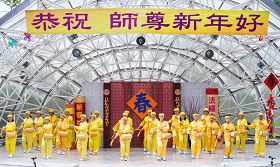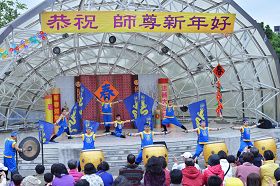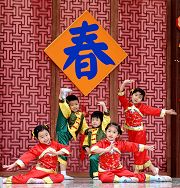 Falun Dafa practitioners gave a New Year's performance in the amphitheater at Shilin Residence in Taipei, Taiwan, in honor Master Li Hongzhi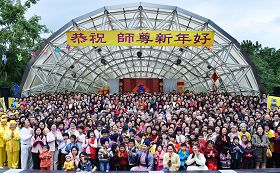 The performances ended with all participants gathering to say, "Happy New Year" to Master and sing along with the chorus
Chinese Tourist: Surprised to See So Many Falun Gong Practitioners
Many Chinese tourists were attracted to the amphitheater, and used their phones or camcorders to take video footage of the Dafa practitioners' performance. Several people from Jilin Province said they had never seen so many Falun Gong practitioners in Mainland China. A Chinese tourist praised the children's dance and said it was very lovely. One woman from China said that she was surprised to see so many Falun Dafa practitioners.
A tour guide talked to her tour group about Falun Gong and the performance. "On every important date, Falun Gong hosts activities like this." She added, "It is the same everywhere in the world. It is a normal activity and very popular." As a group of about five or six Chinese tourists took in the performance, a middle-aged man said, "This is good. Falun Gong can help people live longer." A younger man from China said, "Don't talk about it. Where we live, Falun Gong practitioners will be arrested and beaten up." A few others sighed, "Why are the Communists so different from others?"
A Meaningful Event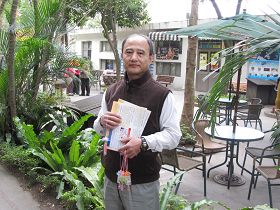 Falun Dafa practitioner Tsinghua Zheng from Sanchong, Taiwan
Tsinghua Zheng was one of the practitioners who took part in the event. Once, when he was moving a heavy box, he cracked his spine. Surgery repaired the fractures but numerous sequelae followed. One day in April 1997, he read a notice about a Falun Gong class in the newspaper. He attended a nine-day lecture series and has been practicing Falun Gong ever since. After he started cultivation practice, his back pain was gone without the need of medication.
Mr. Zheng said that he had two purposes in coming to Shilin Residence early in the morning. One was to say Happy New Year to Master Li and to show his respect; the other was to clarify the truth to the Chinese people, hoping that more people will see the beauty of Falun Dafa and learn the truth about the persecution in China.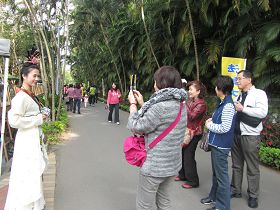 Chinese tourists take photos of a practitioner dressed as a celestial maiden
Wenting Li is a slim and attractive young lady. But years ago, she was not. First she developed scoliosis, after which her health deteriorated and she became depressed. She developed a bad temper and an unhealthy demeanor. In 2004, a schoolmate gave her a set of Falun Gong books, and since then she has been practicing Falun Gong. Along the path of cultivation practice, her attitude toward the world has changed to one that is more and more positive. Her illness left her quietly and her appearance has become more and more gentle and beautiful. Today, Ms. Li often dresses as a "celestial maiden" at various events to introduce Dafa.
Ms. Li believes that the photo exhibition, the free exercise teachings and the performances are very important for people from Mainland China. "There are so many tourists from Mainland China at this tourist site. No matter whether they take a lotus flower bookmark or other truth-clarification materials, they must surely have seen the photos and display boards," she said. "They will realize that there are many people practicing Falun Gong in Taiwan, and they will understand that there are more people practicing Falun Gong in the world. In this way, the Chinese Communist Party's lies about Falun Gong are defeated."
The One Who Hears the Truth Is Fortunate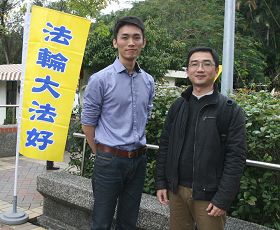 Minzhou Wu (left) and Weifan Liao from Hualien Taiwan
One night when he was in sixth grade, Wenzhou Liu's father returned home with a box of video cassettes. The family watched the nine lectures of Falun Dafa in front of the TV together and immediately the parents and three boys became Falun Dafa practitioners. After practicing Falun Dafa, the strict father abandoned his "military style education" and stopped physical punishment. The parents became more and more loving and the family became more and more harmonious.
"I am very happy and full of appreciation and respect for revered Master," Wu Minzhou said. "Being a Falun Dafa practitioner, I feel that I am the happiest person in the universe." Now a veteran working and living in Taipei, this is the third year that Wu has taken part in the New Year's greetings event in Taipei. He feels that the environment at Shilin Residence has changed a lot compared to two years ago. There are more Chinese tourists, and they no longer fear listening to the truth about Falun Gong. Many of them take the initiative to get truth-clarification materials. "I saw a lot of Chinese tourists come over to watch our performances and New Year greetings." Minzhou said, "Especially when we were singing 'Coming For You' and when we sang the key words 'Precious Chinese People,' I saw that they were listening carefully. Many turned to look at us as they were leaving, and more were coming in to watch."
Ms. Jianping Hou has been clarifying the truth to Chinese tourists for over five years. She said that Falun Dafa practitioners treat people with kindness and sincerity, and people return with positive responses. She had met many tour guides who have given Falun Gong silent support by telling the tourists, "Go inside [Shilin Residence] and take photos and we will meet again beside the Falun Gong display."
Ms. Hou said that many Chinese people know that the Communist Party is very bad and hopeless, but they dare not speak up against it. When they hear the truth and are persuaded to quit the Chinese Communist Party and its affiliated organizations (the Communist Youth League and the Young Pioneers), they express their appreciation to Falun Gong practitioners.
My Lifelong Pursuit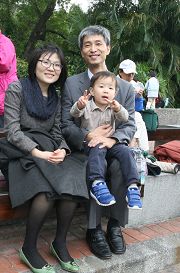 Professor Chengyu Cai from South Korea is studying Chinese in Taiwan so he will be able to read Zhuan Falun in Chinese
Mr. Chengyu Cai used to be a professor at the National University of South Korea. In February 2011 he went by a Chinese Embassy on his way to work. A Falun Dafa practitioner was meditating there, which caught his attention. He picked up a flyer and left. After he returned home, he followed the link in the flyer and downloaded Zhuan Falun and some other ebooks online. After he quickly finished reading the books, he said, "I have found what I had been searching for all my life." Mr. Cai shared, "I was very moved."
The next day, he went to look for the Falun Dafa practitioner and asked about how to practice the exercises. He felt that the meaning of Falun Dafa is profound and he longed to read Zhuan Falun in Chinese, so as to understand the inner meaning better. Since it is difficult to learn Chinese in Korea, he decided to move the family to Taiwan to study Chinese. For his first six month in Taiwan, he studied Chinese at Taiwan Normal University. Last September, he entered the Research Institute of Law at Taiwan University. In his studies, he has also been learning about traditional Chinese culture.
Cai's wife fully supports him and followed him to Taiwan. Upon seeing the changes in her husband after he began practicing Falun Dafa, she decided to cultivate in Dafa too.
Every practitioner has a story of how he or she has benefited from practicing Falun Dafa. On this New Year, they presented their most sincere greetings to Master Li and hope that more people will learn about Truthfulness-Compassion-Forbearance – Dafa's profound principles.