Nashville, Tennessee: Audiences Spellbound at Shen Yun's Flawless Performance (Photos)
(Minghui.org) Amidst thunderous applaud and cheers, Shen Yun Performing Arts wowed audiences during fours shows held at the Tennessee Performing Arts Center, in Nashville, on February 15-17, 2013. Each show ended with a standing ovation.
Shen Yun Orchestra Divine, Says Music Supervisor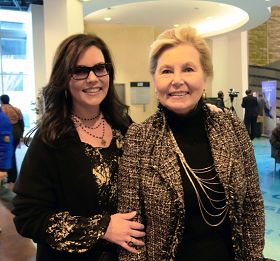 Music supervisor Anastasia Brown and her mother, Mrs. Katrina Brown, attend Shen Yun Performing Arts in Nashville
Among the many delighted guests of the show was the iconic Anastasia Brown, who beamed from ear to ear after seeing the Shen Yun show.
"I think that the show is a combination of music, dance, history, and spirituality packaged in one of the most beautiful experiences of my life," she said.
Ms. Brown helped launch Australian singer, Keith Urban, when she co-managed him in 1994; won an Emmy; was nominated for an Oscar; led projects; acted; has written a book, columns, and articles; and supervised music and sound tracks for many television shows and films.
Ms. Brown said that Shen Yun gave her a chance to learn about a spiritual journey. "I think if more people spent time on their spiritual journey, the world would be a gentler place," she said.
She commented on the dancers and their costumes, saying, "such beauty, such innocence!"
Ms. Brown concluded by saying that Shen Yun "is a nice escape that is positive, beautiful, informative, a must-see for everybody."
Distinguished Musician Spellbound by Shen Yun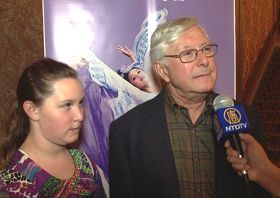 Michael Combs, former professor of percussion at the University of Tennessee, is full of praise for Shen Yun
Also in the audience was Michael Combs, a timpanist in the Knoxville Symphony Orchestra. He said that Shen Yun was even better than he had imagined.
"We knew it was going to be good. We knew it was going to be first class, but we did not expect to be so spellbound with that!" Mr. Combs enthused.
Based in New York, Shen Yun was established in 2006 by a group of classical Chinese artists with the desire to revive the divinely inspired Chinese civilization.
"It was amazing! I'm still amazed," Mr. Combs said. "They didn't miss a thing. Every note, every piece of music, every nuance choreographed so well with the dancers, it was just unbelievable!
"I mean what a perfect evening. I'm thinking about buying tickets to come back tomorrow; there was so much to see and it was so wonderful," he said.
Mr. Combs has been with the Knoxville Symphony Orchestra since 1968, and taught percussion at the University of Tennessee. He was recognized with a Tennessee Arts Academy Lifetime Achievement Award.
Mr. Combs described the Shen Yun Orchestra as "just flawless."
The Shen Yun Orchestra uses ancient Chinese instruments, like the erhu, the suona and the pipa, to carry the melodies and themes. It is a full Western philharmonic orchestra.
Mr. Combs said that Shen Yun's digital backdrops made the performance complete perfection.
According to Shen Yun's website, the digital backdrops transport "the audience to a world where heaven and earth are one."
Mr. Combs was moved by the dancers' heart and focus, and thought the male and female dancers were great.
"Each one was different. Each one was spectacular and everything was so well done," he said.
Mr. Combs was especially impressed with how fine and coordinated the orchestra was at just playing music, but he was even more impressed and amazed with how the orchestra coordinated with dancers.
"It was just fantastic all the way around," he said. "There has to be something in their heart for them to be so concentrated, so dedicated and produce at such a high artistic level. There has to be more than just training," he said.
Traditional Chinese culture has always placed importance on ones' inner character and values.
According to Shen Yun's website, "benevolence and justice, propriety and wisdom, respect for the heavens, and divine retribution, all come to life, washing over the audience."
"You can't just do stuff like that because you're told to, because it's a job and you're making money. There has to be a special, I would say spiritual, pulling to bring those people together like that," Mr. Combs said.
"That's exactly what I saw," said Mr. Combs.
He said he felt there was "so much emotion" in Shen Yun. "Physically, it was fantastic, the movements they can make." The coordination among the elements of music, choreography astonished him.
"I could see a three-minute dance put together, but a whole two-hour show with that type of artistic level, was just unbelievable," he said.
Mr. Combs sent his best wishes to Shen Yun: "Congratulations to you and to your company and best to you on your tour and here on out. I hope you enjoyed Knoxville!"
Newspaper Executive Brings Group to Shen Yun
Tennessee Tribune Associate Publisher William Miller attends Shen Yun Performing Arts in Nashville. (Photo courtesy of The Epoch Times)
Tennessee Tribune associate publisher, William Miller, supports Shen Yun Performing Arts because of its mission to revive Chinese culture and its commitment to freedom of belief and human rights.
Every time Shen Yun visits Nashville, his newspaper brings a group of young students to Tennessee Performing Arts Center, so that they can experience Shen Yun, along with him.
To Mr. Miller, spirituality is essential, especially in the context of human rights.
"When it comes down to civil rights, you cannot be a positive part of any civil rights movement unless you are spiritual, because if you are not spiritual, you don't have a conscience."
Shen Yun has not yet been allowed to visit mainland China, because of both the spiritual content of the performance and the contemporary history in it.
According to Shen Yun, "This is why the Communist Party fears Shen Yun, and why this kind of performance cannot be seen in China today."
Mr. Miller's mother, Rosetta Miller-Perry, founded the Tribune more than 21 years ago, and the paper has championed the cause of civil rights throughout its history. Mrs. Miller-Perry is also an avid Shen Yun supporter, attending every year.
"I really think it is great," Mr. Miller said.
Singer: Shen Yun Dancers "So Talented, Flawless"
Also attending the show was Faith Kelm, a dancer, and Ryan Donald, a singer. They said that Shen Yun is a perfect artistic presentation.
"I love it, I love it, I love all different cultures!" enthused Ms. Kelm.
As a dancer, Ms. Kelm said that she understood the intricacy and delicacy in each and every one of the dancers' movements.
"Every finger is the same, and they really convey that to me at least, I thought it was amazing," she said.
Mr. Donald agreed. "They were so talented, flawless," adding, "I loved the dry ice scene ["Sewing the Flowers of Heaven"]. I thought it was very cool for something traditional."
Mr. Donald was amazed by the Shen Yun Orchestra, saying it was "so clear and flawless."
Ms. Kelm agreed, "Definitely the orchestra was beautiful, they played it significantly beautiful."
As a singer, Mr. Donald paid attention to the solo vocalists singing Chinese lyrics in the bel canto style.
"Those lyrics really got me," Mr. Donald said, adding that he got a message of "unity, acceptance, and tolerance. It is kind of like a big hug."
Mr. Donald was also impressed with the performers standing up for their beliefs and values, which are not condoned under China's current regime.
"I had no idea that you couldn't do any of that in China, that was news to me," he concluded.
Sources:
http://www.theepochtimes.com/n2/shen-yun-on-tour/music-supervisor-anastasia-brown-shen-yun-music-divine-348864.html
http://www.theepochtimes.com/n2/shen-yun-on-tour/distinguished-musician-spellbound-by-shen-yun-347179.html
http://www.theepochtimes.com/n2/shen-yun-on-tour/newspaper-executive-brings-group-to-shen-yun-348784.html
http://www.theepochtimes.com/n2/shen-yun-on-tour/shen-yun-dancers-so-talented-flawless-348549.html