UK Parliament Forum on Organ Harvesting in China: Together to End This Crime against Humanity
December 05, 2013 | By Tang Xiuming, a Minghui correspondent in the United Kingdom
(Minghui.org) "Time is very much of the essence on this. I am certain that innocent men and women are currently being killed in China for their organs. You have within your power the ability to help stop this crime against humanity in various ways. Thank you for holding this seminar. Many of us in the international coalition to end organ pillaging in China are very pleased that you're doing this."
These were the opening remarks of David Kilgour, the former Canadian Secretary of State for Asia-Pacific, at a forum in the UK parliament on November 11 regarding forced organ harvesting from live Falun Gong practitioners. Neil Parish, a UK Conservative Member of Parliament (MP), hosted the forum.
The speeches presented evidence that organ harvesting from Falun Gong practitioners is occurring in China and emphasized that a large number of innocent lives have been taken--many more are at stake. The speakers also reminded the UK society and government that they should not be deceived by claims of the Chinese Communist Party (CCP) that they plan to "phase out" harvesting organs from executed prisoners in five years.
The speeches ignited thoughtful discussion among attendees, which included UK Members of Parliament, legislative aids, city council members, members of the press, people concerned with human rights issues, and overseas Chinese students.
Th participants focused their discussions on one essential question: In order to stop the crimes of forced organ harvesting from live Falun Gong practitioners in China, what can the UK do? What can the British people do?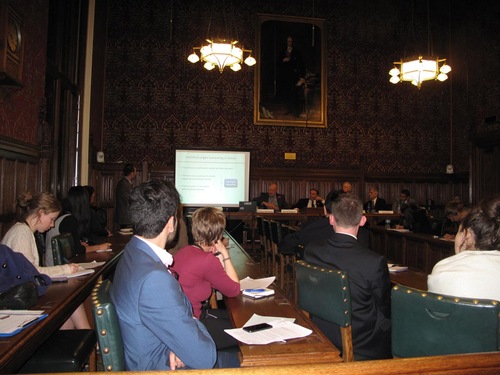 A forum regarding the crimes of forced organ harvesting from live Falun Gong practitioners in the UK parliament was held on November 11, 2013.
MP Neil Parish: UK Should Work Harder to Stop Organ Harvesting in China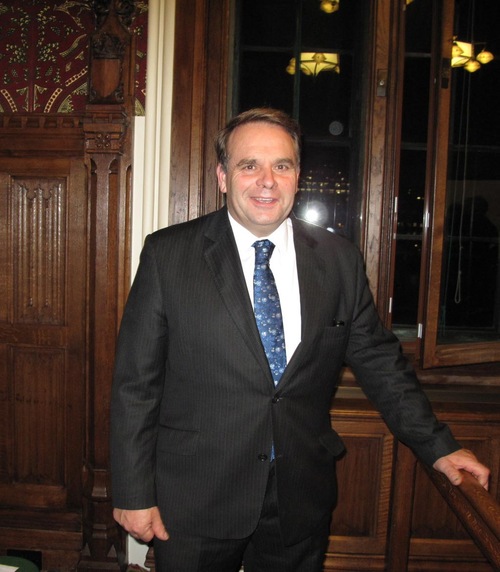 Mr. Neil Parish, a UK Conservative MP, hosted the forum in the UK parliament on forced organ harvesting from living Falun Gong practitioners.
This was the second time Mr. Neil Parish MP hosted a parliamentary forum on organ harvesting. He said that in order to uphold human rights, he will make every effort to stop the CCP's crimes of organ harvesting from living Falun Gong practitioners, and he hopes to push the UK government to make further substantial efforts.
He said, "I believe in basic human rights and I believe in what is right and what is wrong and harvesting people's organs without their consent, and who've committed no crime, must be one of the worst abuses of all."
Mr. Neil Parish MP hoped the British Government wouldn't be misled by the CCP's promises of so-called "gradual improvement," but to intensify their efforts in two ways:
One is to put pressure on the Chinese regime to urge them to stop the persecution; another is to have much better information to stop people in the UK from traveling to China for organ transplants. He mentioned that he is going to have a meeting with Baroness Warsi, the Foreign Office Minister, to discuss directly "what we can do to stop British people from going to China to receive organs that come from prisoners of conscience, especially from Falun Gong." He also plans to get the UK medical and health departments to provide people with relevant information online.
Kidney Transplant Expert: You Don't "Phase Out" Genocide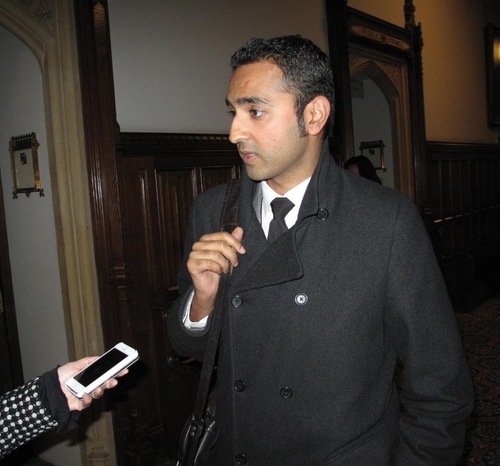 Dr. Adnan Sharif, UK kidney transplantation consultant, is interviewed after the forum.
Dr. Adnan Sharif, a kidney transplant expert from Queen Elizabeth Hospital Birmingham (QEHB), a member of the British Transplantation Society and DAFOH, traveled from Birmingham to the UK parliament to participate in the forum.
Dr. Sharif said that the ethical issue is a very important aspect of transplantation. "Forced organ harvesting" is ethically atrocious, and is completely unacceptable, he said. He hopes that the international community can unite together to put pressure on the Chinese communist regime to end forced organ harvesting crimes.
"You talk about criminal activity with forced organ harvesting – it could be individuals it could be organizations. This is essentially state sanctioned. It's unbelievable when we talk about the numbers being over 50-60,000 murdered for transplantation simply because it's a lucrative business.
"When you think about it it's absolutely shocking. If it was any other country I'm sure the international community would have come down on this like a ton of bricks.There's this tightrope act when engaging with China—we need to be critical from a distance, which I think is a shame."
Regarding to the CCP's promise to "phase out forced organ harvesting from executed prisoners," Dr. Sharif said, "It's ridiculous, you don't 'phase it out,' you just stop it. Take an example, if someone's committing genocide, you don't phase it out, you just stop it.
"All the statements we've seen from China there seems to be a fundamental lack of understanding and acknowledgment about what they are doing and that what they have been doing is wrong. It all seems to be 'yes we will stop this surely because it doesn't look good on the international stage and we can't go to the international meetings to present,' and they want to be equal players on the international transplantation scene. That seems to be the main drive to try and show that things are changing, not any acknowledgment that what they've done is wrong and unacceptable."
Short Wait-time Points to Killing on Demand
In his speech, Mr. Kilgour reaffirmed: "Our main conclusion is that there continues today to be large-scale organ seizures from unwilling Falun Gong practitioners. Their vital organs, including kidneys, livers, corneas and hearts, were seized involuntarily for sale at high prices, sometimes to foreigners, who normally face long waits for voluntary donations of such organs in their home countries."
A speech by Canadian human rights lawyer Mr. David Matas, who collaborated with Mr. Kilgour on investigating organ harvesting, was presented in lieu of his attendance. He wrote, "Waiting times for transplants of organs in China are days and weeks. Everywhere else in the world waiting times are months and years. A short waiting time for a deceased donor transplant means that someone is being killed for that transplant."
Mr. Matas pointed out that the CCP dares not allow him to go to China to tell Chinese people the facts. "I cannot go to China and tell the Chinese that their own people, following their own traditions, practitioners of the spiritually based set of exercises Falun Gong, are being killed for their organs. The Chinese Communist Party would not let me, not let anyone, tell the Chinese people in China that. But I can tell you that," he stated.
Persecution of Falun Gong Made the Most Evil Crimes Possible
China expert Mr. Ethan Gutmann, presented his research conclusion at the forum. He said that under the Chinese communist regime's rule, using executed prisoners as a source of organ transplants was already happening, but after the persecution of Falun Gong was launched by the regime, this crime against humanity became large-scale, the greatest evil in human history.
Mr. Gutmann also stressed that high-level CCP members were fully aware of the large-scale live forced organ harvesting of Falun Gong practitioners. His research and conclusion are detailed in his latest book, The Slaughter .
Professor Li Huige, representative of DAFOH (Doctors Against Forced Organ Harvesting) in Europe, said in his speech: "The CCP system destroyed traditional Chinese culture. They ruined Chinese people's moral values. This system abetted revenge on Falun Gong. They dehumanized Falun Gong practitioners and utilized the full machinery of the CCP system, to fully endorse and effect large-scale forced live organ harvesting from Falun Gong practitioners."
Professor Li produced many research cases and data revealing how the CCP's ruthless mandates stripped its followers of their own humanity. For example, Wang Lijun, former chief of Chongqing Public Security Bureau, killed thousands of people in the name of organ transplant experimentation.
Ending this Crime Requires International Support
Mr. Kilgour stressed the importance of global efforts, saying, "Other countries at least hold the power to end complicity with the abuse within our own countries."
He listed some concrete measures governments worldwide can make. "The UK and other responsible nations could enact measures to combat international organ transplant abuses through extraterritorial legislation, mandatory reporting of transplant tourism, health insurance systems not paying for transplantations abroad, barring entry of those involved in trafficking organs."
Appreciation for Greater Awareness
After the forum, a Falun Gong practitioner received an email from her MP who attended, expressing his appreciation and wish to receive updates on this issue. Two overseas Chinese students in attendance said they were shocked by what they learned. They said they appreciated the opportunity to access information that the regime works so hard to conceal from the Chinese people.