Turkey: Falun Gong Photo Exhibition Touches People's Hearts (Photos)
December 01, 2013 | By a practitioner from Turkey
(Minghui.org) A Falun Gong photo exhibition, themed "Peaceful Protest," was held in the city of Diyarbakir in east Turkey on November 22-24, 2013. The same exhibition had been held in the city of Hatay in south Turkey a month earlier.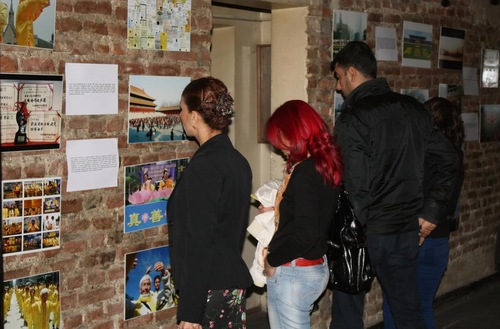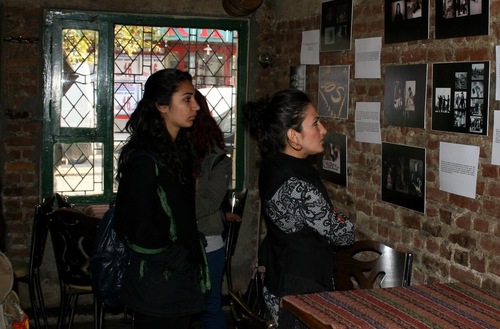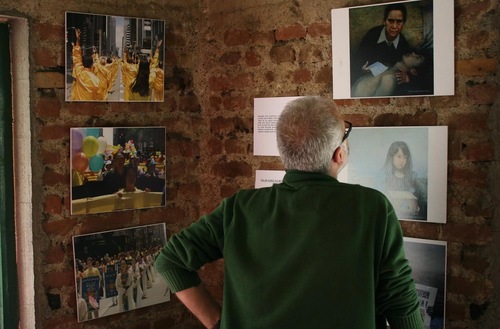 People view the photos at the exhibition in Diyarbakir.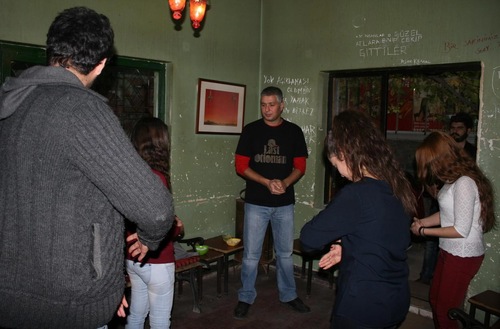 People learn the Falun Gong exercises.
The event was held in the exhibition hall of the Mahya Kahve Evi, a coffee shop known for its natural and classical features. The coffee shop is frequently visited by college students and artists.
Many people visited the exhibition within the three days.
Mr. Hasan, the owner of the coffee shop, is a well-known artist and human rights advocate. He had viewed the exhibition in Hatay a month earlier and was very touched by what he saw. Hence, he invited the practitioners to hold the exhibition in his hometown, giving them lots of support to set it up.
Ms. Sebahat, a staff member of the coffee shop, said she was outraged by the atrocities committed by the Chinese regime. She planned to tell her friends and acquaintances about the regime's brutality against Falun Gong practitioners. She got many informational flyers from the practitioners, saying that she would distribute them to those she knew after work.
The owner of a neighboring organic food shop praised the practitioners' enduring spirit after viewing the photos. In appreciation, he brought organic coffee to the practitioners taking care of the exhibition.
Among the viewers, doctors were especially shocked to learn of the Chinese communist regime's crime of organ harvesting from living Falun Gong practitioners for illicit profit. Many condemned these inhumane and immoral acts.
Many viewers expressed interest in learning Falun Gong. The practitioners set up an informational session in a room next door, teaching people the five meditative exercises of Falun Gong.
Local media also showed great interest in the exhibition. Several newspaper reporters talked with practitioners for a long time to learn about Falun Gong and the CCP's brutal, 14-year-long persecution. Before leaving, the journalists said they would report on the exhibition in detail to let local people know the facts.