Ms. Wang Xudong from Tangshan Detained for Over Ten Months--Family Visits Denied
November 19, 2013 | By a Minghui correspondent from Hebei Province, China
(Minghui.org) Wang Xudong, 28, from Tangshan City, was recently arrested, detained at Fengrun Brainwashing Center, then transferred to the No. 1 Detention Center of Tangshan City. She has been detained there for over ten months. During that time, she has been mistreated, including having her head covered with a black hood, and forced to perform slave labor. Police have not allowed her family members to visit her. Her family is very worried.
Ms. Wang was very goodhearted and optimistic when she was young. Whenever someone was unfriendly to her, she always forgave them.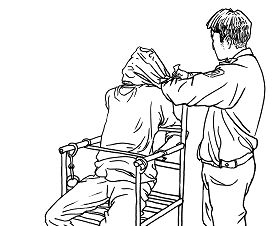 Torture reenactment: The black hood
Seventeen police officers from Tangshan City Police Department, Lubei Branch Police Department, and Dalilu Police Station, broke into Wang Xudong's home on November 3, 2012, at around 3:00 p.m., and took a desktop computer, a laptop computer, and some of Ms. Wang's books. Because she was not at home, police used spy techniques such as monitoring and tailing. At around 5:00 p.m. that day, the police broke into an ice cream store near a small mountain area and arrested Wang Xudong and Ms. An Qiufen, who was having a meal with her.
After Ms. Wang was arrested, her family did not know her whereabouts. Five days later (during which time she was detained at Fengrun Brainwashing Center), her family learned that she had been sent and detained at the No. 1 Detention Center of Tangshan City. One month later, no one knew why she was still being held without any evidence of wrongdoing. Wang Xudong was transferred from the No. 1 Detention Center of Tangshan City back to Fengrun Brainwashing Center. Twenty days later, she was transferred back to the No. 1 Detention Center of Tangshan City. Her family has not been allowed to visit the entire time.
In the meantime, Ms. An Qiufen, who was arrested at the same time, was detained for 15 days, after being arrested the next day. Police from Wenbei Police Station and staff members from the residential committee ransacked her home and took her computer, identification, bank card, etc. During her detention time, she requested a lawyer but was rejected. Police from the Lunan Branch Police Department told her while interrogating her, "You have no rights at all because you practice Falun Gong. We will not talk about the law to you!"
Ms. Wang was detained at the detention center. Police put a black hood over her head, deprived her of sleep, and forced her to attend brainwashing sessions, because she refused to wear the prison uniform. The detention center also forced her to do slave labor, which included dispensing gloves and swabs, etc. Her parents went to the Lubei Branch Police Department to seek an explanation. Zhao Lufei, the person in charge, would not explain, and told them that since they were still investigating her case, it had to be kept confidential. Wang Xudong's parents went to the detention center several times and requested to see her, but were rejected.
Ms. Wang graduated from the Department of Japanese Language of Tangshan Radio and TV University. She once worked at the Technical Training School, Primary and Secondary School of Counseling, and as a consultant. Because she was smart, kind, and had outstanding performance, she was praised by her company leaders and colleagues.
Wang Xudong suffered from a congenital heart disease. If she did strenuous exercise, she would have a rapid heartbeat and difficulty breathing. She often had to have injections. Because of having injections so many times, the doctor could no longer find her veins for the injections. In 1998, these diseases, which were so painful, disappeared after she began practicing Falun Gong with her mother.
After the Chinese Communist Party (CCP) began the persecution of Falun Gong in 1999, Wang Xudong's mother Zhou Guirong was arrested by her work unit because she wanted to tell people the facts about the practice and the persecution. She was first detained at the No. 2 Detention Center of Tangshan, and then in the brainwashing center at Textile University for over two years. At that time, Wang Xudong was in middle school. She had no one to take care of her at such a young age. She had to live at school.
She often had only a thin quilt to cover herself on cold winter days, and she was not given winter boots. The teacher in the No. 54 Middle School of Tangshan forced her to write a guarantee statement renouncing her practice of Falun Gong. Otherwise she would be dismissed from the school. The school suspended Wang Xudong from school for one month, which made her scores dropped sharply, and she was unable to enter a better college.
Ms. An Qiufen, 35, was arrested along with Wang Xudong. She was a former college student of the 97's undergraduates, from Hebei Normal University. She was dismissed from the school by the end of 1999 because she practiced Falun Gong, then later detained at the No. 2 Detention Center in Tangshan City, and the Textile University brainwashing center for nearly three years. During that time, Xing Lixin, a female police officer, brutally hurt her arms and made them turned black and purple. As a result she could not raise her arms for several days. She was forced to sit on an iron chair for over ten days so that her legs became swollen and she could not walk. Her father was a cadre from the Discipline Inspection Committee of Lunan District, and was once suspended from his work because her daughter had not been "transformed." He passed away from a heart attack in 2002, caused by excessive mental stress.
Wang Xudong has been detained at the detention center for ten months. Lubei Branch Police Department and Dalilu Police Station did not give her parents any reason for detaining her. Her parents only received a notice of detention from the detention center and then she was transferred. On November 4, Wang Xudong's mother was under house arrest by her work unit (Lunan Hospital). She was freed after several days.
CCP personnel have attempted to further persecute Wang Xudong, and sent her case to the Lubei Procuratorate. Her parents worry about their daughter's situation. They ask kindhearted people to pay attention to her case.
Partial list of departments involved:
Dalilu Police Station: +86-315-2331401, +86-315-2253200, +86-315-2236108
Related articles:
Ms. Wang Xudong of Tangshan Incarcerated for Over Four Months
Ms. Wang Xudong from Tangshan Persecuted for Practicing Falun Gong