Zhongshan District Court Attempts to Try Critically-ill Mr. Qu Bin
November 10, 2013 | By a Minghui correspondent in Liaoning Province, China
(Minghui.org)
Summary of Key Persecution Facts:
Name: Qu Bin (曲滨)
Gender: Male
Age: 40
Address: Dalian, Liaoning province
Occupation: Unknown
Date of Most Recent Arrest: August 30, 2013
Most Recent Place of Detention: Dalian Detention Center (大连看守所)
City: Dalian
Province: Liaoning
Persecution Suffered: Electric shock, sleep deprivation, forced labor, brainwashing, illegal sentencing, beatings, hung up, imprisonment, torture, forced-feedings, extortion, physical restraint, home ransacked, interrogation, detention
Key Persecutors: Zhongshan District Court in Dalian大连中山区法院
Falun Gong practitioner Mr. Qu Bin, from Dalian, is detained and in critical condition, yet the Dalian Zhongshan District Court was planning to indict him in a court hearing on October 2, 2013.
Mr. Qu was illegally arrested near the courthouse during a trial of 13 practitioners. He was released for health reason on August 8, 2013, but continued to be closely monitored.
Mr. Qu was again arrested on August 30, 2013, and his arrest was approved by the Zhongshan Procuratorate the same day. His case was submitted to the Zhongshan District Court just a few days later.
He was taken to the Dalian Detention Center. Mr. Qu is on special diet because his esophagus was ruptured while being brutally force-fed during a prior detention. He was in and out of consciousness and coughing up blood. He was taken to the hospital several times. Therefore, the detention center submitted a physician's recommendations to the Zhongshan District Court many times stating that Mr. Qu should be released from detention because of he was in critical condition. Also Mr. Qu's family repeatedly contacted the court asking for his release. The court refused to have him released, but finally allowed family visitation.
Mr. Qu's wife visited him on October 25, with staff from the Zhongshan District Court present. Mr. Qu was carried into the visitation room because he was unable to walk, talk, sit or open his eyes. He was put on a chair but fell off. His face appeared jaundiced and edema was noticed. He did not respond to his wife's questions. Ms. Qu demanded the immediate release of her husband, but was refused by the Zhongshan District Court. Not long after, staff from the court stopped answering phone calls from Mr. Qu's family.
Mr. Qu was arrested multiple times over the past years of persecution. When he was arrested on July 6, 2012, he went on a hunger strike for 20 days in protest. He was brutally force-fed by the detention center guards. The feeding tube was inserted into his airway and food was pushed into his lungs. Mr. Qu lost consciousness and vomited blood. He was transported to the hospital emergency room, where he went into a coma. His family was notified and told to take him home after his pupils started to dilate. He has never fully recovered.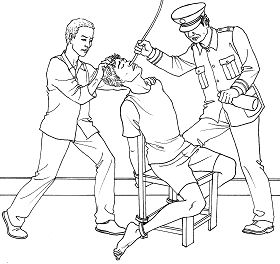 Torture illustration: forced-feeding
Fifteen Practitioners Taken to Court
The Zhongshan District Court held a hearing against 13 Falun Gong practitioners on August 2, 2013.
The Zhongshan District Court held hearings against practitioners Ms. Lin Lihong and Mr. Wang Tao on October 21 and 22, 2013.
Related articles:
After Suffering Years of Brutal Persecution, Mr. Qu Bin is Arrested Again
Lawyers Protest in Dalian after an Attorney was Beaten During a Hearing
Falun Gong Practitioners Continue to Be Detained and Tortured in Dalian Rehabilitation Center (Graphic Photo)