Falun Gong Practitioners Continue to Be Detained and Tortured in Dalian Rehabilitation Center (Graphic Photo)
September 24, 2013 | By a Minghui correspondent from Liaoning Province, China
(Minghui.org) The Dalian Rehabilitation Center, formerly known as the Dalian Forced Labor Camp, has released several of its detainees. However, Falun Gong practitioners are still being held in the center and tortured.
Although the Chinese Communist Party (CCP) claims that it is shutting down the forced labor camp system, practitioners are still being persecuted in other locations such as brainwashing centers and prisons. Although some practitioners have been released from Beijing Xin'an Forced Labor Camp, Beijing Women's Forced Labor Camp, and Xidayingzi Forced Labor Camp in Chaoyang City, Liaoning Province, many of them have been transferred to different brainwashing centers and prisons.
Name Change to Deceive the Public
Since 2008, the Dalian Forced Labor Camp in Liaoning Province has been notorious for the methods of torture it uses on practitioners. To cover up its crimes and continue persecuting practitioners, officials at the camp changed the name to the "Dalian Rehabilitation Center."
Forced Labor Camp Tactics
Mr. Shi Hongbo was arrested by officers from Rixin Police Station in the Xigang District in Dalian City on October 14, 2008, and was later sentenced to one and a half years in the Second Division of Dalian Forced Labor Camp. He developed a heart problem and had high blood pressure as a result of torture.
Instructor Dong Geqi and others tied him to a death bed on June 22, 2009. Guard Zhou Houming then shocked the back of Mr. Shi's neck with an electric baton. He was not released from the death bed until Dong Geqi ordered guards to untie him four days later. They then handcuffed him to the ends of the bed.
Mr. Shi and two other practitioners were transferred to the "Law Education Center" in Weiningying Forced Labor Camp, Benxi City, on September 21, 2009, where they continued to be tortured. When Mr. Shi was in critical condition as a result of torture, officials at the camp allowed him to return home on April 1, 2010, to avoid responsibility if he died there. Instructor Wang Aiguo said, "You can't die here. We will send you home." Mr. Shi passed away at home on the morning of February 28, 2011.
Another practitioner who was tortured in Dalian Forced Labor Camp wrote: "In the Dalian Forced Labor Camp, I witnessed Falun Gong practitioners being cruelly tortured. One time, guards stripped off Ms. Han Shuhua's clothes, hung her up on a beam, and poured boiling water over her. We could all hear her piercing screams. Afterward, four inmates dragged her around on the floor, opening up all of the wounds on her body. The guards then forced her to do hard labor. Another time, guards hung Ms. Wang Shuhong from a beam and jammed a cucumber tied to a string inside her vagina. They then pulled on the string until she bled profusely."
Deaths as a Result of Torture
Officials at the now-called Dalian Rehabilitation Center claim that its goal is "Education, Persuasion, and Redemption." However, many practitioners have been tortured to death there. They include: Chen Jiafu, Liu Yonglai, Sun Lianxia, Wang Qiuxia, Yu Lixin, and Zheng Wei.
As a result of torture, Yang Ming, Li Hua, and Yan Shoulin suffered a mental breakdown, while Liu Wencan, Xue Nan, and Qu Hui became disabled. Li Jun, who worked at Dalian Chinese Medicine Hospital, had a ruptured liver and spleen. Liu Jilian from the Dalian Petrochemical Company suffered from a ruptured rectum after being shocked with electric batons.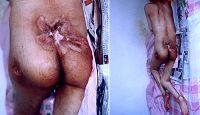 Ruptured lower back, a result of being tortured
Over 100 male practitioners have been shocked with electric batons and many were sexual abused. Qu Hui suffered ulcerations and infection of his genitals, a fractured cervical vertebra, and paraplegia as a result of torture. In his letter, "Notice to Dalian Residents," Mr. Qu wrote: "I was dragged to that horrifying room at around 9:00 p.m. on March 29, 2001. I was tortured until 8:00 a.m. the following morning. They changed electric batons numerous times that night. I had wounds all over my body. My knees were swollen and my upper spine was fractured. I vomited blood and lost consciousness many times. Every time I regained consciousness, the doctor in the labor camp, Han Qiong, examined me and said, 'He is alright. You can continue to beat him.' I remember the most vicious guard named Qiao Wei. He laughed while torturing me and said, 'I haven't had this much fun for many years.'"
Other torture methods used in the rehabilitation center include the tiger bench, solitary confinement, an iron cage, injection with harmful substances, unknown drugs in food, beatings with rubber batons, being forced to stand for long periods of time, sleep deprivation, denial of restroom use and washing privileges, and force-feeding of wine, hot spicy water, urine, and feces.
Even when practitioners are in critical condition from the torture, they are not allowed family visits. The guards claim that it is no big deal if they die, as they will not be held accountable for the deaths.
Longer Terms
Even though the labor camp system is supposedly shutting down, practitioners are still facing lengthy sentences in other places of detention. Dai Zhizheng from Dalian was sentenced to four years in prison by the Zhongshan District Court. Wang Jiang was sentenced to seven years in prison by Shahekou District Court, and Sun Guanghui was sentenced to eight years in prison by Lushunkou District Court.
At present, at least 28 practitioners in Dalian are facing illegal trials. Yan Jinhua and Qu Shumei had a hearing in the Ganjingzi District Court. Che Zhongshan, Zhu Chengqian, Wang Shouchen, Wang Tao, She Yue, Shi Zhanshun, Pei Zhenbo, Pan Xiuqing, Lin Lihong, Bai Ruyu, Li Shengjie, Guo Song, and Yu Bo had a hearing in the Zhongshan District Court. Twelve practitioners from the development district are also awaiting prosecution, while Guo Lihua was recently arrested.