St. Catharines, Canada: Falun Dafa Group Leads the Niagara Wine Festival Parade
(Minghui.org) The 62 nd Niagara Wine Festival was held on September 28 in St. Catharines, Canada. This annual event is listed as one of the top 100 events in the North America. The event organizers asked the Toronto Falun Dafa group, with its popular Divine Land Marching Band and waist drum team, to lead the parade.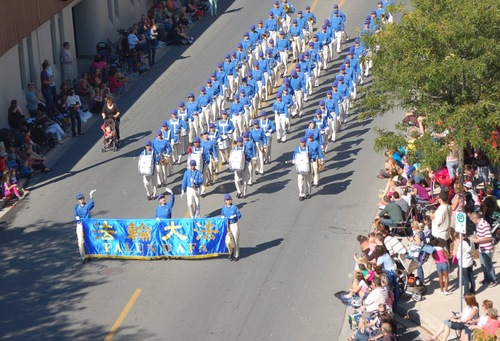 The Falun Dafa group leads the parade.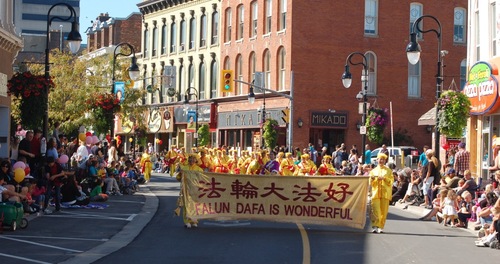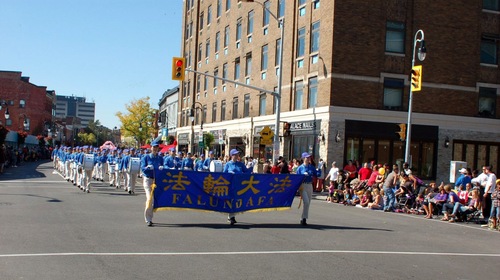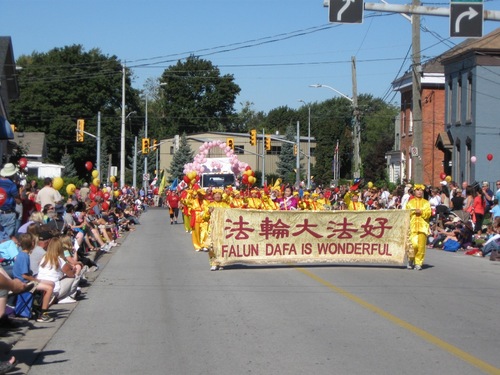 Over 100 thousand people attended the parade, which was also televised. As one of the largest parades in the North America, it attracted many tourists from the U.S. and China as well.
A group of Chinese students took videos of the parade. A young Chinese man shouted, "Falun Dafa is great!" and the rest chimed in. The young man said, "You know, you cannot see this in China. We are very excited to see Falun Gong here in such a great parade. We are lucky, because we just got here a month ago." The students said they would take advantage of being outside China and learn the facts behind the communist regime's persecution of Falun Gong.
At the end of the parade, three Chinese students had high praise for the practitioners' performance and asked many questions about Falun Gong. They realized that the Communist Party's propaganda attacking Falun Gong had deceived them. One of them said, "The Communist Party is really good at lying." Practitioners told them more about the persecution and the organ harvesting atrocities. The students agreed to renounce their memberships in the Chinese Communist Party and thanked the practitioners for their help.
According to one of the parade organizers, a gentleman named Mike, 74 groups participated in the parade this year. Commenting on the Falun Gong entry, he said, "The band was so powerful, and the waist drum team was so lively. I hope they will come every year."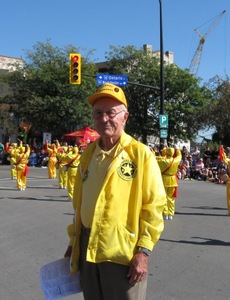 Mike, one of the parade organizers, expressed appreciation for the Falun Dafa group's contribution to the celebration.
After the parade, Evan Lince, a police officer on duty during the event, approached the practitioners. He praised the group, saying that their performance was outstanding. He also asked the practitioners to come again next time.
When he learned that Falun Gong has been persecuted in China for the past 14 years, he was alarmed. "Are you kidding? That's unbelievable! How can a peaceful group like you be persecuted?" he asked and took a Falun Gong flyer. He said he would read more about the persecution and see if there was anything he could do to help stop it.