60-Year-Old Woman Forced into Homelessness by Laixi City Police
October 17, 2013 | By a Minghui correspondent from Shandong Province, China
(Minghui.org) Several days before the Mid-Autumn Festival, several police officers from Laixi City, Shandong Province, once again drove to Ms. Chen Meichun's neighborhood. They wanted to take advantage of a time when the family was gathered together for the Mid-Autumn Festival to arrest Ms. Chen, a practitioner, who has been moving from place to place to evade them.
Neighbors Annoyed with the Police
On the morning of September 14, 2013, they took with them a "warrant" that they themselves had made. In the neighborhood, they questioned the neighbors, asking if they knew Ms. Chen, showing them her photo. None the neighbors wanted to cooperate with them and said they did not know her. The residents were extremely annoyed with the police, who knocked on their doors to ask about Ms. Chen until after 8:00 p.m. that night.
Family Harassed
Ms. Chen Meichun is a resident of Laixi City. She will not give up practicing Falun Gong, so he has been repeatedly arrested, detained, and fined by Chinese Communist Party (CCP) officials and the police. Members of her family were also repeatedly threatened over the past year with being fired from their jobs. Ms. Chen, although over 60, has been forced to leave home and wander about, homeless.
Before and After Practicing Falun Gong
In fact, before cultivating Dafa, Ms. Chen was nearly disabled. Her leg constantly ached, her hand joints ached, and she could not even stand at the sink to wash towels. Whenever her lower back hurt, she had to lie down in bed, often for days, unable to do anything. Whenever her shoulders ached, she suffered tremendous pain, as if her shoulders were dislocated. When Ms. Chen's child was born, she suffered from an odd, undiagnosed illness. She couldn't remember much, although her eyes were wide open, as if in a daze. Then she was in a lot of pain. She continued to experience pain, but a check-up at the hospital revealed nothing wrong. Along with the pain, she often was out of breath and had great difficulty walking or cooking. Her lips would turn purple and when she moved, she felt congestion in her heart and was unable to straighten her lower back.
Some time later, her neighbors told her about Falun Dafa, and she began to practice. After listening to one of Master's lectures, she felt physically light. Continuing to listen to Master's lectures, she made a full recovery. All her family was very happy. Her husband was so happy he said that he wished she had been able to study Dafa much earlier in life.
After the CCP started to persecute Falun Gong, Ms. Chen understood that it was Falun Gong that had given her a new life, so whenever she had the chance, she would tell people about the beauty of Falun Gong. Because of this, she has been arrested and detained several times.
Previous Incidents of Harassment
In June 2001, Ms. Chen was posting Falun Gong truth-clarifying posters in Xincun when she was arrested by the Laixi City 610 Office. She was detained overnight and the next day was transferred to Qingdao Detention Center. The police at the detention center asked for Ms. Chen's medical record, so the Laixi police drove her to a small hospital in Qingdao to make up a medical record. Knowing the dangerous circumstance she was in, Ms. Chen ran away from the hospital and stayed away from home for over two months.
On August 15, 2001, the police again broke into her home. They lied to her family so they would open the door. Officer dragged Ms. Che out the door. Her younger daughter tried to stop the police from taking her mother, so she too was taken and detained at Dashan Detention Center in Qingdao for one night. They extorted 200 yuan from her before they released her and allowed her to return home.
They detained Ms. Chen in Dashan Detention Center and tortured her for over 20 days. Later, they drove her to Laixi Qingdao Road Police Station and handcuffed her inside an iron cage. The next morning, they admitted her to Wangcun Women's Labor Camp for two years.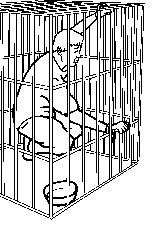 Picture of the iron cage
On March 23, 2009, Ms. Chen Meichun and Wang Jianying were reported when they were giving out truth-clarifying materials at a Shaling construction site. They were arrested by Qingdao Road Police Station officers. Their home was searched and they were detained at the Laixi Detention Center and tortured for 15 days. They had over 400 yuan extorted from them.
On March 8, 2012, Ms. Chen was reported and detained at Binhelu Police Station for one day for distributing truth-clarifying materials at Shicun in Liujiayuan. When she failed the physical, she was detained in Laixi Detention Center for 15 days.
Son-in-Law Implicated
The police tried to force Ms. Chen to give up practicing Falun Gong and believing in Truthfulness-Compassion-Forbearance, but she refused. The police then ordered her eldest son-in-law, Wang Bin, to write a guarantee statement that Ms. Chen wouldn't practice Falun Gong after being released and wouldn't do anything related to clarifying the truth. Otherwise they would fire her son-in-law.
Eventually the police extorted 585 yuan from them and put Ms. Chen Meichun on probation for one year. They ensured that her son-in-law was her "guarantor." The director of the Binhelu Police Station threatened Wang Bin by telling him that if Ms. Chen did not distribute Falun Gong truth-clarifying materials all year, all would be well. However, if she did, not only will she be sentenced, but Wang Bin would be fired. Wang Bin was forced to be her "guarantor." The police wrote several guarantee statements and told Wang Bin to sign them. It basically said that she should come to the police whenever they called her, and they placed restrictions on her whereabouts as well.
After Ms. Chen returned home, the police kept harassing her with phone-calls. In August 2012, the police told her to come to the station. Her son-in-law drove her to the Binhelu Police Substation. Eventually he signed a paper and forced her to give her fingerprints on it as well.
On January 30, 2013, the police again notified Wang Bin to have Ms. Chen come to the criminal police team the next day. Wang Bin drove her there. One of the officers asked Ms. Chen if she was still practicing Falun Gong. Ms. Chen tried to explain to him why she practiced Falun Gong and how Falun Gong had spread worldwide, and how evil the Chinese Communist Party was to persecute Falun Gong. She talked for nearly half an hour. The officer had nothing to say and released her.
On March 12, 2013, her son-in-law, Wang Bin, told Ms. Chen that the procuratorial office wanted to see her, so Ms. Chen went. Section chief Cheng Xu (female) said, "The public security bureau believes that you are a suspect in some crimes." Ms. Chen clarified the truth to Ms. Cheng, who, instead of listening, told her to leave.
The local CCP threatened to fire Wang Bin. As a result, Wang Bin went home and tried to force Ms. Chen to give up practicing Falun Gong. He claimed that the police said if she gave in, they would give her just three years' probation. Otherwise they would sentence her to many years in jail.
In order to lessen the CCP persecution of her family, Ms. Chen felt it was necessary to leave her home and remain homeless.
The repeated harassment and persecution by the Laixi CCP has brought tremendous hardship to Ms. Chen Meichun's family. She is no longer able to care for her 90-year-old mother-in-law, her hard-working husband, or her pregnant daughter. It has taken its toll on her entire family.
Parties Involved in Persecuting Ms. Chen:
Laixi City Public Security Bureau: Guan Enfu, police chief: +86-13863907877(Cell)
Laixi City 610 Office: Bo Weidong, director: +86-13573266777(Cell), +86-18863966777(Cell), +86-532-88431566(Home), +86-532-88431566
Qingdao Road Police Station: Li Yuanmin, director: +86-13953211699(Cell), +86-532-88483392(Office), +86-532-88483392, +86-532-88468718(Home), +86-532-88468718
Laixi City Procuratorial Office: Sun Jian, chief: +86-13605328807(Cell), +86-532-88488018(Office), +86-532-88488018