New York: Falun Gong Practitioners Call for the End of Persecution in China during UN General Assembly (Photos)
(Minghui.org) The 68 th Session of the United Nations General Assembly was held in New York on September 24-27, 2013. Representatives from over 130 countries attended the meeting. Local Falun Gong practitioners took this chance to call for an end to the 14-year-long persecution in China.
Practitioners spoke to passersby, held banners and distributed informational materials in front of the UN Headquarters and the Waldorf Astoria Hotel, where the representatives stayed.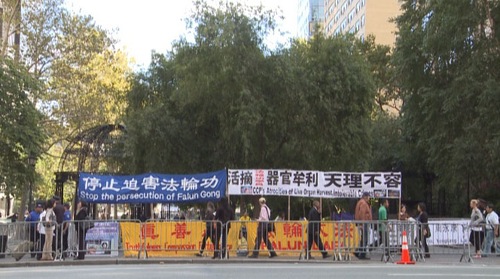 Banners displayed in front of the UN Headquarters read "Stop the Persecution of Falun Gong" and "Murderers Who Harvest Organs from Living Falun Gong Practitioners Will Be Punished by Heaven."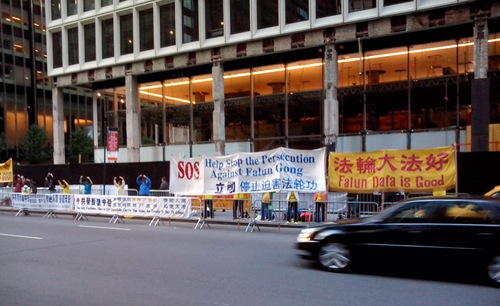 Banners in front of the Waldorf Astoria Hotel read "Help Stop the Persecution Against Falun Gong" and "Falun Dafa is Good."
Several practitioners participating in the events had been brutally tortured in China for their belief in Falun Gong.
At least 3,727 practitioners have been confirmed to have been tortured to death since the persecution began in July 1999. Among them, 53% were women, and 57% were over 50 years old. The death cases include practitioners from all provinces in China.
Public Support
Many people stopped by the protest in front of the Waldorf Astoria Hotel. Several businessmen spoke to practitioners, expressing their concerns about China's abysmal human rights record. An executive leader from a U.S. bank told practitioners that he knew very well about the persecution. He asked what he could do to help stop it.
Many attendees of the UN meeting also stopped by to speak to practitioners.
Courtney Francis expressed that many governments hesitate to speak up for Falun Gong because they are business partners with China.
Ali Goshtasbi said that people should continue to raise awareness about the Chinese regime's crimes and the harm it has brought to people. Chinese people should also collectively stand up for their rights, he added. Otherwise, the tyrants will continue to do whatever they want.
Mr. Goshtasbi believes that protests can push some countries toward freedom. He encouraged practitioners to keep up their efforts. The UN cannot get involved in a country's internal politics, he said, but the people of that country should demand freedom, work to change the government, and call for the government to protect its people.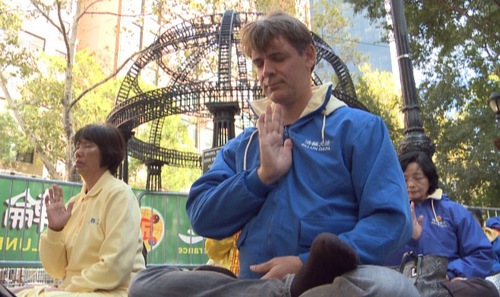 David Tompkins
David Tompkins, a Falun Gong practitioner from Canada, was previously a manager of an international transportation company. He moved to New York last March and became a volunteer at the Global Service Center for Quitting the Communist Party.
David said that practitioners had come to UN Headquarters to appeal for Falun Gong many times during the past few years.
"We hope that more people will pay attention to the persecution of Falun Gong in China," he said.
More than 140 million Chinese people have quit the Communist Party and its affiliated organizations to date, David said, and volunteers have recently set up an English website so that more English speakers can learn about this unfolding historic event.