Firsthand Account of Two and a half Years in Zhejiang Province Women's Prison
January 05, 2013 | By a Minghui correspondent in China
Name: Xiao Jing (肖静)
Gender: Female
Age: 42
Address: Unknown
Occupation: Accountant
Date of Most Recent Arrest: June 2, 2009
Most Recent Place of Detention: Zhejiang Women's Prison (浙江省女子监狱)
City: Hangzhou
Province: Zhejiang
Persecution Suffered: Sleep deprivation, forced labor, brainwashing, illegal sentencing, beatings, imprisonment, solitary confinement, physical restraint, home ransacked, interrogation, detention, denial of restroom use
(Minghui.org) Out of the two and a half years in Zhejiang Province Women's Prison, Falun Gong practitioner Ms. Xiao Jing was locked up in solitary confinement for 10 and a half months and in another room for the rest of the time. In both cases, she was confined in the room day in and day out and had to eat, use the toilet, and sleep in the same room.
The following is her personal account of the ordeal.
Arrested and Sentenced
I was an accountant in Yiwu City, Zhejiang Province. I started practicing Falun Gong in June 2006. Around 4:00 p.m. on August 28, 2008, officers from the Yiqu City Domestic Security Division illegally arrested me and took me to the police station. At the same time, five or six officers from the division barged into my home to interrogate my teenage daughter, who was home alone, and ransacked my home. My daughter was terrified and couldn't stop crying. The officers did not call my husband, who worked in another city, Hangzhou, until 9:00 p.m., and they did not release me until 28 days later.
The police arrested me a second time on June 2, 2009, for giving out Shen Yun CDs. They took me to the Beiyuan Police Station. They did not inform my husband this time. Instead they waited till my daughter got home from school, broke in, and interrogated her again. They ransacked our home in front of her. My daughter was terrified once again.
I was held at the detention center. After five days, they wouldn't let me sleep by making me stand from 9 p.m. to 6 a.m. with my hands cuffed, and I had to do slave labor during the day. On the ninth day, they covered the window with a black cloth. I carried out a hunger strike. A female guard in her 50s brought me food, but I refused to eat. Male guard Cao hit me in the face with a newspaper stick for two hours. When he hit my face with a broom, I told him to stop; he then used the newspaper stick to hit my knees.
A trial was held in the Yiwu City Court, but my family was not informed. I testified in my own defense, but the presiding judge adjourned the proceedings without letting me finish. When the court convened for my second appearance, everyone, including the presiding judge, was new. The judge said, "I am just here to read out the sentence on someone else's behalf; I know nothing about the case." I was sentenced to prison for three years and two months.
Persecuted the Zhejiang Province Women's Prison
I was taken to the Zhejiang Women's Prison at about 2 p.m. on January 14, 2010, and was kept in a solitary cell. To keep me from doing the exercises, they cuffed my hands and legs to the floor, so I laid on the floor. Fifteen days later, I was so dizzy that I couldn't stand, so they had me sit on a small bench with my hands and feet still cuffed. They wouldn't un-cuff me even when I slept. This went on for three months.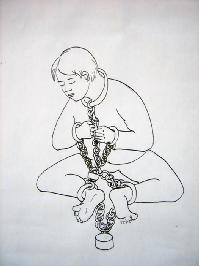 Torture reenactment: Cuffed to the floor
My father was critically ill on January 29, 2011. My husband called the prison, asking if I could see my father for the last time, but the prison authorities never told me about my husband's call.
Hearing that I sang Falun Gong songs while in solitary confinement, the prison guards installed speakers. As soon as I started to sing, they played loud music through the speakers. To drown out my voice, they turned the volume up so loud that the iron gate, the bed plate, and the floor shook. They also didn't let me take a shower.
Two months later, they tied my hands very tightly behind me, with one arm over my shoulder, and left me like that. A few days later, I developed symptoms of high blood pressure. They let me sit on a small bench but with my hands still tied. They didn't take me to the clinic until I shook as I walked and almost fell over while seated.
They played audio recordings that denounced Falun Gong in the clinic.
On December 16, 2010, they said I did the Falun Gong exercises and put me in solitary confinement again. They arranged for two inmates to watch me day and night to make sure I didn't do the exercises. When I sang Falun Gong songs, they played loud music through the speakers again. When I made ear plugs with toilet paper, they ordered the inmates to take them out. Not letting me take a shower for 2 to 3 weeks in a row was the norm. One month, they gave me only 500 ml (17oz) of water per day. My skin dried out and started peeling. They didn't resume supplying me with enough water until I stopped making urine. One day they made me sit on a small bench for 20 hours with my hands and legs cuffed.
On April 20, 2011, I was let out of the solitary cell and taken to the reading room. All the Falun Gong practitioners who hadn't been transferred were held there. We were locked up in the room day in and day out and had to eat, use the toilet, and sleep in that room.
At about 10 p.m. on October 29, 2011, an inmate, Zheng Yumin, walked over, kicked my lower abdomen, and leaned on my chest with her knees. At first I tried to keep quiet so as not to wake anyone, but I couldn't stand it anymore when she pressed me so hard that I couldn't breathe. I wrote a letter to the authorities in charge of that area of the prison to appeal for justice, but received no response. I wrote another letter to the prison director but never got a response.
At about 9 p.m. on January 29, 2012, because I did the exercises, Zheng Yumin got two other inmates to hold my hands and legs and take me to solitary again. Nobody looked into this matter either.
For two years and six and a half months, the guards locked me in a room and had inmates watch me.
On August 1, 2012, I was released. But the Yiwu City Domestic Security Division authorities sent agents to follow me again.