Petition Calls for the Release of Two Senior Falun Gong Practitioners
January 27, 2013 | By a Minghui correspondent in Hebei Province, China
(Minghui.org) Tangshan City Fengrun District Court secretly tried two Falun Gong practitioners in their 60s on August 20, 2012. Xu Tianpeng served as the chief judge. Ms. Zhang Mingfeng was sentenced to three years in prison and Ms. Zhang Guizhi to four years. Both of them are now in Shijiazhuang Women's Prison.
When people learned that these two women had been imprisoned for their belief, they wrote a petition calling for their release. Within a short period of time, 404 people had signed the petition.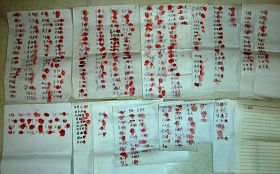 People in Tangshan, Hebei Province, signed and fingerprinted a petition calling for the release of Ms. Zhang Guizhi and Ms. Zhang Mingfeng.
Persecuted for Spreading Falun Dafa
Ms. Zhang Mingfeng, 60, is from Shawuzhuang Village, Laozhuangzi Town, Tangshan City. Before she started practicing Falun Gong in 1998, she had severe rheumatic arthritis and neurasthenia and had a hard time breathing at night.
As Ms. Zhang Mingfeng cultivated Falun Dafa, her diseases disappeared. She willingly helped others and volunteered to be in charge of two wells in the village without being paid. While others demanded a fee for well-drilling machinery to pass through their fields, she didn't charge anything. She put others' interests ahead of hers and did her best to help others. She used her tractor to help villagers harvest their potatoes. People in nearby villages all knew of her kindness and often asked for her help to harvest their potatoes. She helped them gladly and did not ask for anything in return.
Ms. Zhang Guizhi is a 68-year-old retired teacher from Nanwangzhuang Village, Laozhuangzi Township, Tangshan. She used to have heart disease, but it was cured when she began practicing Falun Dafa in 1998. She has been persecuted many times. She was held in Fengrun Detention Center on May 25, 2001, for refusing to give up her belief. She was hung up, beaten, force-fed, and shocked with electric batons. Two of her front teeth were knocked out during force-feeding. She was denied restroom use. The head of the Cultural Education Bureau brought Ms. Zhang's family members to the detention center to pressure her. Ms. Zhang refused to sign a guarantee statement to not practice Falun Gong. The director told a jailer to beat her. Ms. Zhang's daughter began crying when she saw the jailer grab her mother by her hair and throw her. After Ms. Zhang's family left, the jailer repeatedly struck her ankle with a baton. Then 57, Ms. Zhang, was tortured for three days. As result of the abuse she became incontinent and was covered with bruises.
Ms. Zhang Guizhi was sentenced forced labor for three years in the fall of 2001 and transferred to Kaiping Forced Labor Camp in Tangshan. She was tortured until she couldn't walk. The camp let her family take her home for medical treatment. She was bedridden and completely dependent on others. She continued to practice Falun Gong, which gradually restored her health. She told others about her experience of being persecuted.
When Ms. Zhang Mingfeng and Ms. Zhang Guizhi passed Xizhengzhuang Village on April 4, 2012, officer Zheng Baogang from Fengdengwu Town Police Station deceived them. Dressed in plainclothes, Zheng asked the ladies for a Shen Yun show DVD. As they were talking, a police car pulled up, and several officers arrested the two ladies and took them Fengdengwu Police Station. They were transferred to Fengrun Detention Center for a 15-day detention. Without notifying their families or giving them any opportunity to hire attorneys, Fengrun District Court tried them secretly on August 20. When they tried to defend themselves, Xu Tianpeng, the chief judge, interrupted them, sentencing Ms. Zhang Mingfeng to three years in prison and Ms. Zhang Guizhi to four years. They are now in in Shijiazhuang Women's Prison.
CCP Judge Sued for Illegal Conduct
Xu Tianpeng is the president of the Second Criminal Court of Fengrun District Court in Tangshan City. He has sentenced more than ten Falun Gong practitioners to prison since the persecution began. Ms. Zhang Mingfeng and Ms. Zhang Guizhi's families have sued him over his illegal conduct and will make him face justice.
Xu tried two innocent practitioners in secret and pronounced them guilty. What he did was against the law, and he should be punished.
As chief judge, Xu didn't announce the time and location of the trial in the court public bulletin, making it impossible for the defendants' families to attend. This was a serious violation of legal procedure.
Xu stopped Ms. Zhang Guizhi and Ms. Zhang Mingfeng from defending themselves during the trial, thus depriving them of that legal right.
People in Tangshan heard about the injustice perpetrated against the two senior practitioners and have supported them by signing a petition. The news of the illegal arrests spread at many marketplaces in Tangshan. People became angry and said, "The CCP officials don't obey the laws. It's hard to be a good person in China. People don't have human rights here. Falun Gong practitioners are good people and we support them. They are great. Falun Dafa is great!"
In the past 12 years, hundreds of attorneys have presented profound arguments to defend Falun Gong practitioners' innocence. However, the CCP's Political and Legislative Affairs Committee has been carrying out an illegal policy. It turned the legal system in China into an illegal farce and has made legal professionals commit crimes. As attorney Xie Yanyi told a judge, "You may not be on trial now, but that doesn't mean you won't be in the future."
The world has seen that Falun Gong has not been wiped out by the CCP persecution. More and more people are standing up and taking action against the persecution to support the righteous.
Related article: "Fengrun District Court in Tangshan Falsely Accuses Innocent Women" http://en.minghui.org/html/articles/2012/9/27/135602.html.