Mr. She Yue Arrested Again after Nine Years in Prison (Photos)
September 09, 2012 | By a Minghui correspondent in Liaoning Province
(Minghui.org) Several dozen Falun Gong practitioners were illegally arrested in Dalian on July 6, 2012. Mr. She Yue from Dalian was among the practitioners arrested that day. This recent arrest comes less than two years of Mr. She's having served a nine-year prison sentence in Dalian, during which time he suffered brutal persecution and torture. Mr. She Yue's current whereabouts are unknown.
The local Political and Legislative Affairs Committee and the 610 Office arrested the practitioners because they believed them to be involved with setting up satellite receivers in people's homes to enable them to view the overseas independent television network, New Tang Dynasty (NTD) Television. Because NTDTV reports uncensored news, including stories of human rights abuses in China, the Chinese authorities actively try to prevent citizens from accessing the network.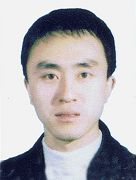 Falun Gong practitioner Mr. She Yue
Arrested Many Times, Long Term Imprisonment
Mr. She, 45 years old, used to be a taxi driver. He was an honest and sincere person. In April 2000, Mr. She began to practice Falun Dafa. He quit smoking and drinking alcohol. He was always ready to help others. After the illegal persecution of Falun Gong was launched on July 20, 1999, Mr. She tried to tell people the facts about Falun Gong and the persecution. Therefore, Chinese Communist Party (CCP) agents frequently tried to arrest him. He was forced to leave home and became destitute to avoid further harassment and arrest.
In October 2001, the CCP arrested Mr. She and sentenced him to nine years in prison for "printing and distributing 10,000 copies of Falun Gong fliers." He was held in Wadianfang Prison in Dalian City.
Mr. She was imprisoned in 2001, when he was in his 30s, by Chen Xin, captain of the Zhongshan District Domestic Security Brigade of Dalian. Minghui.org has exposed Chen's crimes in several articles. Since July 1999, Chen has relentlessly persecuted Falun Gong practitioners. He is responsible for tapping practitioners' phones, monitoring them, using torture during interrogations and threatening practitioners. He also bribed police, enticing them to arrest practitioners, ransack their homes, interrogate under torture, and sentence practitioners to forced labor and prison. Several Falun Gong practitioners have died as a direct result of Chen's persecution program.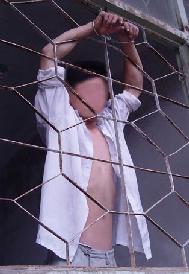 Torture reenactment: hanging by handcuffed wrists from window grille
Mr. She was tortured in Wafangdian Prison in Dalian. He was locked in a solitary confinement cell for almost three months, where he was tortured and humiliated. He was handcuffed and hung by the handcuffs from the iron bars of a window. His toes could not touch the ground, causing severe strain to his shoulders and wrists. The guards burned his fingers with a cigarette lighter. Once, a guard slapped his face for forty minutes, injuring his mouth, so he could not eat for a month. Mr. She suffered broken ribs, an injured back, chest pain, breathing problems, could barely swallow, and was very weak.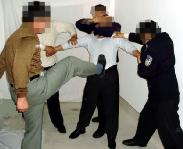 Torture reenactment: brutal beating
On April 13, 2005, when Mr. She's family visited him, they saw that his face was swollen and bruised. His mother learned that a guard had ordered an inmate to beat Mr. She. As they were talking, guard Lv Chuangui yelled "Stop the conversation!" Later, Lv promised that Mr. She would not be beaten again.
A week later on April 20, Mr. She's family visited him again. They saw that there were new injuries on top of the old ones. His face and neck were covered with wounds. This time his family asked no questions and left with tears in their eyes.
Wang Tao, deputy director of the Prison Disciplinary Committee, said to Mr. She, "What could you do if Lv Chuangui denied beating you?" The guards who beat Mr. She, including Gai Dong, were not punished but instead promoted and rewarded later that year.
On December 19, 2007, Mr. She was transferred to Nanshan Prison in Jinzhou. In April 2009, the prison authority denied Mr. She's family visits because he "refused to renounce Falun Gong." This situation lasted for over a year. His mother, who was in her 70s, was denied seeing her son many times. On October 24, 2010, when Mr. She was released from prison, the Dalian City 610 Office tried to arrest him as he was leaving Nanshan Prison. Their plan failed because of strong opposition by his family and bystanders.
Police Arrest Mr. She and Confiscate His Property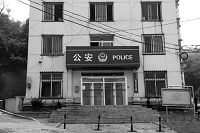 The Xiuyuejie Police Station in Dalian City
After Mr. She was released, he worked at Dalian U. Hotel as part of the kitchen staff and as a driver. On the morning of July 6, 2012, four policemen from the Xiuyuejie Police Station in Dalian arrested Mr. She without showing any badge or identifying themselves. They confiscated his white Toyota, which was being used for his work. The police claimed that it was "a tool of crime" and refused to give it back.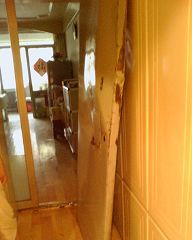 On July 6, 2012, police from the Xiuyuejie Police Station broke Mr. She's front door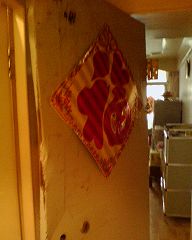 The key hole of the front of the security door was broken and the door was damaged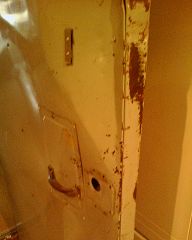 Damages to the door frame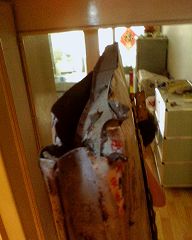 Damage to the top of the door, which no longer closes properly
After his arrest, the police ransacked Mr. She's apartment. They mobilized a fire truck and tried to break into his house through the window. However, the street in front of Mr. She's apartment was too small for a fire truck, so the police broke Ms. She's security door. While they were ransacking the home, Ms. She's younger brother She Gang walked in to visit his mother. She Gang argued with the police and questioned the legality of the search. The police handcuffed She Gang in a corner while they continued to ransack the apartment. They confiscated Mr. She's Falun Dafa books, his computer, his satellite receiver, the precious souvenirs his father had left him, and many other belongings.
Three weeks later on July 27, 2012, Mr. She's mother went to the Xiuyuejie Police Station to ask about her son's whereabouts. She was told that Mr. She was sent to Yaojia Detention Center in Dalian the day of his arrest. The policemen refused to tell the mother their names, and only said that the arrest was on order from the Zhongshan Public Security Bureau in Dalian.
Those who participated in Mr. She's arrest are:
The Zhongshan Public Security Bureau in Dalian, who gave the order of arrest

Yu Qnubin, Chief of the Zhongshan Public Security Bureau in Dalian
Political Commissioners of the Zhongshan Public Security Bureau in Dalian: Wang Zhongmin, Yu Zhuang, Zhang Chen, Zhu Yi, Chu Lecheng, Lian Zhengdong, Fan Qiang, Zhang Xubin
Office: +886-0411-82640661
Xiuyuejie Police Station of Zhongshan Public Security Bureau in Dalian
Address: No. 81, Gaoyuan Street, Zhongshan District
Telephone: +86-411-82681071
Gai Yanfang, Chief of Xiuyuejie Police Station of Zhongshan Public Security Bureau in Dalian: +86-411-82671371, 41182725157
Wang Shaohuai, Deputy Chief of Xiuyuejie Police Station: +886-0411-82979701
Li Shaohua: +86-411-82979702
Liu Yong: +86-13324110007
Song Xiaoyou: +86-13322230007
Gao Tianbo, sheriff: +86-411-81929712
Li Chuntian, police officer: +86-411-82939709
Gao Tiansheng, police officer: +86-13940957510, +86-411-83792042
Domestic Security Brigade of Dalian City
Chen Xin, captain: +86-411-82706208 (O), 84331218 (H), +86-13009497373 (M), +86-411-81907373 (PHS)
Jiao Jian: +86-411-82637089 (O), +86-13050510924 (M)
Yaojia Detention Center in Dalian City, where Mr. She was detained
Address: No. 270, Yaojia Street, Ganjingzi District, Dalian City
Phone: +86-411-86886166, 86887811
Wang Hongtao, Director