China: More Sign Public Petition to Rescue Mr. Zheng Xiangxing (Photo)
September 07, 2012 | By a Minghui correspondent from Hebei Province, China
(Minghui.org) Falun Gong practitioner Mr. Zheng Xiangxing, the owner of a small appliance store in the administrative department of the 10th Farm in Tanghai County, Tangshan City in Hebei Province, was arrested at around 6 a.m. on February 25, 2012, when Li Fuguo led over a dozen officers from the Tanghai County Domestic Security Division to his store. Mr. Zheng was later illegally sentenced to ten years in prison.
This case caused intense anger among the public and quickly drew support from 387 people in 4 townships and towns, who signed a petition to call for the unconditional release of Mr. Zheng. Some people who signed the petition even said that they did not believe the Chinese Communist Party (CCP) would ever give up its violent conduct and become good. News of Mr. Zheng's situation has now spread far and wide, and support for him has grown. Over 3,000 people, from close to 20 townships and towns in 4 counties have now signed a petition calling for his unconditional release.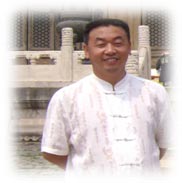 Mr. Zheng Xiangxing
When 562 people signed a petition and provided their fingerprints to publicly request the release of Mr. Zheng, it caused great concern with the authorities, prompting Li Fuguo and Police Department Associate Director Liu Jiaman to continuously threaten the 10th Farm officials and villagers for several days. Li even tried to get the villagers to sign a guarantee statement not to support Falun Gong, but they refused.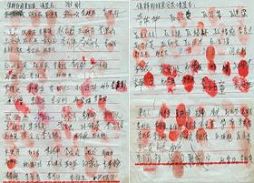 562 villagers from Tanghai provide fingerprints to request the release of Mr. Zheng
When news got out that Mr. Zheng was being tortured and was in critical condition, over 1200 people from eight townships and towns in two counties in Tangshan and Qinhuangdao City added their names to the petition calling for his release. One young woman even used her blood to leave her fingerprint when the ink ran out. A farm worker in his 50's said, "The CCP is extremely bad. I'll sign it." A couple came to learn the facts about Falun Gong when people were collecting signatures for the petition. The husband was a retired government employee, and said, "The CCP should have been finished a long time ago." Both of them withdrew from the CCP, signed the petition and provided their fingerprints.

Petition form of over 1200 signatures from 8 townships and towns in 2 counties from Tangshan and Qinhuangdao City
Another 979 people from six townships and towns in one county in Tangshan signed a petition to request that the government immediately and unconditionally release Mr. Zheng, when they heard news that the authorities were intending to sentence Mr. Zheng.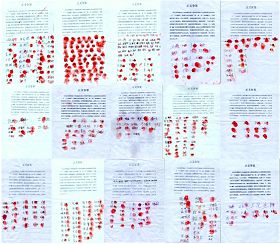 979 people from 6 townships and towns in 1 county of Tangshan sign the petition form
The Law Enforcement Agency ignored the people's appeal to release Mr. Zheng, and sentenced him to ten years in prison on May 29. A man sitting at the observers' seating area seemed to be communicating with the judge through hand gestures during the trial. The sentencing caused further indignation from the local people, and individuals are now collecting signatures and fingerprints again to request Mr. Zheng's release. As a result, another 387 people from four townships and towns have added their signatures to appeal for Mr. Zheng's release.

387 people from 4 townships and towns in 1 county put finger prints to support Mr. Zheng
Related article:
Tangshan City Business Owner Mr. Zheng Xiangxing Arrested
http://en.minghui.org/html/articles/2012/3/21/132309.html#.UDEXbnqF8uM