Falun Gong Practitioners Call for an End to the Persecution during the 67th Session of UN General Assembly (Photo)
September 30, 2012 | By a practitioner in New York
(Minghui.org) On the morning of September 24, 2012, Falun Gong practitioners in New York gathered on the square across from the UN headquarters and called for an end to the Chinese Communist Party's (CCP) 13-year-long brutal persecution. General debate at the 67th session of the United Nations General Assembly is held from September 25 to October 1, 2012 at the UN Headquarters in New York. Heads of state, heads of government, as well as senior representatives from more than 120 countries and regions in the world gathered at the UN headquarters on September 24.
Some of the Falun Gong practitioners held large banners that read, "Immediately stop the persecution." Some demonstrated the exercises, while others distributed information materials. The CCP's brutal persecution of Falun Gong practitioners, especially the CCP's atrocities of live organ harvesting, were exposed via loudspeakers.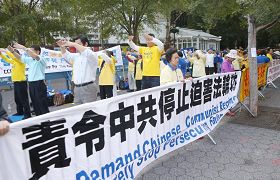 Falun Gong practitioners hold a rally on the square across from the UN headquarters, to expose the CCP's persecution and to call for its end
Several Falun Gong practitioners taking part in the event narrated their first-hand experiences of persecution in China. They called on all people to help stop the persecution and rescue their relatives still under persecution in China.
Three sisters persecuted for 13 years
Ms. Ma Chunxia and her two sisters practice Falun Gong. Over the past 13 years, they have been imprisoned for a total of 9 years. On August 29, 2012, Ms. Ma's elder sister Chunling was arrested for telling a sailor in Dalian to remember that "Falun Dafa is good." Five policemen and a policewoman took her away and ransacked her home. On September 5, Chunling was secretly transferred from Jinjia Detention Center to Yaojia Detention Center. She is being tortured and has been denied family visitation.
A family of five arrested
During the evening of July 1 this year, police forcibly entered the home of Liu Junchen's parents in Liaoyuan, Jilin Province and took away his father Liu Jinhua and mother Zhang Jinghua. The police also confiscated their cash, computers, TV and other personal belongings. Junchen's uncle and aunt were also taken away on the same day. His 17-year-old cousin Liu Xinyu was taken away on July 2. The police also unlawfully detained 22 other Falun Gong practitioners. In the detention center, the practitioners were beaten, tortured and subjected to forced labor.
In 1997, when Junchen was seven years old, he was diagnosed with idiopathic thrombocytopenic purpura, an incurable life-threatening disease. Upon hearing of the heartbreaking news, his father suffered from acute cirrhosis overnight and became bedridden. His uncle suffered from bone tuberculosis. His back was bent at a ninety-degree angle and he was almost completely deaf. As the whole family was falling into hopelessness, they started practicing Falun Dafa. Gradually, they regained a new life. The health of Junchen's father and uncle improved, and they appeared to be younger and more energized. Junchen became perfectly healthy and grew up to be a tall and healthy young man. Today, under the CCP's persecution, the 22-year-old Junchen has been forced to flee overseas. His parents and uncle are still illegally detained and suffering forced brainwashing and torture in China.
Falun Gong practitioner: Silence in the face of evil amounts to abetting it
Ms. Jian Jiao from Beijing graduated from Beijing Second Foreign Language College in 1997. After a colleague's suggestion, she read Zhuan Falun in 1997 when she worked in Sohu, a high-tech company. After that, she started practicing Falun Gong.
In November 2001, before the Guangzhou Asian Sports Games, the police took Ms. Jian away and imprisoned her for three years in a forced labor camp. She suffered from forced brainwashing. Many police officers were curious and asked her why she practiced Falun Gong, as she had a good job and was healthy. She said sincerely, "Zhuan Falun teaches me how to be a good person and an outstanding manager at work." One year later, she still refused to renounce Truth-Compassion-Forbearance. Chatou Labor Camp in Guangzhou brutally tortured her, which resulted in injuries to her right leg and foot. She became disabled. Under the precondition of not appealing and not exposing what had happened to her, her family took her back to Beijing under medical parole.
In February 2008, before the Beijing Olympics, again Ms. Jian was taken away from home and imprisoned in a forced labor camp for two and a half years. This time, she and other practitioners were subjected to sleep deprivation and the loss of the most basic rights such as restroom use.They were also regularly subjected to brainwashing and torture. Due to forced sitting on a tiny stool for extended periods, Ms. Jian had serious invasive lesions in her coccyx and her situation was precarious. In May 2010, she could not walk on her own. After being illegally detained for two years and four months, she was released on medical parole.
Ms. Jiao said, "The persecution of Falun Gong practitioners has gone beyond illegal detention and torture. They are murdering those who believe in Truthfulness-Compassion-Forbearance. This crime is a challenge to the moral baseline of all people on this earth. I appeal to the leaders of each government here at the United Nations: Please stand on the side of justice, help Falun Gong practitioners to stop this most evil persecution in the history of mankind! Silence and numbness towards this evil amounts to helping it. I really hope you will make a righteous choice!"
From September 24 to 28, Falun Gong practitioners have gathered in front of the UN Headquarters every day, exposed the CCP's killing of practitioners and calling on all people to stand up to help stop the persecution in China.