Switzerland: President of Human Rights Commission Calls for End to Forced Organ Harvesting in China
(Minghui.org) The 21st meeting of United Nations Human Rights Council was held from September 10 to 28, 2012 in Geneva, Switzerland. The Chinese Communist Party's atrocities of organ harvesting from living Falun Gong practitioners were exposed during the meeting. Mr. Marc Falquet, President of the Human Rights Commission, Parliament of Canton of Geneva, Switzerland, issued a statement condemning the crimes of forced organ harvesting and calling on Chinese officials to take action to stop the crimes.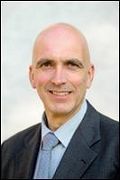 Mr. Marc Falquet, President of Human Rights Commission, Parliament of Canton of Geneva, Switzerland
The following is a translation of his statement:
An increasing number of Swiss Members of Parliament are now aware of, and extremely shocked by, the crimes perpetrated on such a large scale in China for the forced removal of organs.
Truly, China today, due to its lack of morality, cannot be considered a great Power worthy of the name.
Despite its economic strength, the criminal actions of members of the Chinese Government against its own people totally discredit that country in the eyes of the International Community.
What can be said of a government which allows its own people to be assassinated for the large-scale forced removal and traffic in organs?
More serious, more shameful still, Chinese citizens who practise a discipline to improve bodily and spiritual health and who try hard to live daily in peace are being assassinated with the complicity of the Chinese Government. I speak of course of Falun Gong practitioners.
Concerning human rights, if the Chinese authorities wish to be respected by the International Community, they should set an example and immediately stop behaving like a gang of barbarians from the Middle Ages and the mentally retarded.
Yes, Ladies and Gentlemen, a government which allows the most evolved and peaceful elements among its people to be assassinated can only be composed of worthless criminals and dangerous psychopaths who should think of undergoing treatment before the consequences of their crimes fall inevitably once again on their own heads.
Neither wealth nor power makes the greatness of a human being but rather the moral qualities and courage to fight against his own weaknesses.
Among the Chinese responsible, there must of course also be those honest and worthy individuals who feel shame in view of the barbarity perpetrated against their citizens. These honest people have the responsibility to take their courage in both hands, to openly denounce such odious criminal practices, so that the Chinese Government will rapidly and definitively end them.