Cultivation Experience Sharing Conference Held in San Francisco (Photos)
(Minghui.org) On September 15, 2012, the San Francisco Falun Dafa Cultivation Experience Sharing Conference was held at the Masonic Center. Over 1,000 practitioners from the Western United States attended this grand occasion. Twenty practitioners shared their cultivation experiences in the areas of Fa study, relinquishing attachments, uplifting xinxing, clarifying the truth, and saving sentient beings.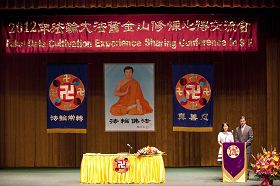 San Francisco Falun Dafa Cultivation Experience Sharing Conference held at the Masonic Center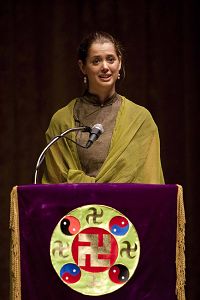 Practitioners shared their cultivation experience at the conference
Saving People Is of Foremost Importance
Mr. Guo, who came to America four years ago, shared his experience in clarifying the truth to people in the United States. He said: "While the environment here is very different from China, I remind myself to make clarifying the truth the top priority. When I was looking for a job, for example, I talked about Falun Gong to the people who interviewed me. I also realized that clarifying the truth during interviews helped me to create a good work environment, which allows me to clarify the truth to colleagues."
Saving People through Working at the Epoch Times
Ms. Zou was a doctor of Traditional Chinese Medicine while she was in China. With this background, she found her niche to approach doctors about advertising with the Epoch Times. "If a doctor chooses another newspaper over the Epoch Times to advertise his/her business, it is because they do not know the truth. Once they know that the paper can uphold justice, carry objective and in-depth reports about China, and give them a good future, I am sure that they will choose us soon. So by working at the Epoch Times as a salesperson, one of my missions is to clarify the truth."
Zou has brought many doctors to the paper as customers. For example, the paper recently launched a special edition geared towards those in the medical profession, in which 25 experts from the medical circle were interviewed. Ninety percent of these experts decided to run advertisements in the paper.
Cultivating the Self While Promoting Shen Yun
Ms. Yang shared her cultivation experiences related to promoting Shen Yun Performing Arts. As a company project manager, she thought that she had the perfect skills to be used in Shen Yun promotions. When she ran into difficulties, she used to complain and feel frustrated. Later, she realized that she had to let go of sentiment and attachments. Otherwise, she would be doing the work as an ordinary person, not as a Dafa practitioner who must cultivate the self unconditionally.
Ms. Yang shared, "I realized that when working with righteous actions and thoughts and maintaining a pure heart, I can overcome any obstacles and do well what Master wants us to do."
Cultivation Experiences of Fei Tian Academy Students
Four students from the Fei Tian Academy shared how they improved their xinxing at school and in clarifying the truth in Chinatown. Zhang Jiaxin shared that it was very hard to do well several things at the same time and she felt that she couldn't continue. She said, "Through Fa study, I realized that difficulty is a good thing as it offers a chance to improve mind nature. In the past, I always felt that I did not have enough time to sleep. Through diligent Fa study, I now feel O.K. with four hours of sleep daily. During this process, I also learned to help others. Having let go my attachment, I feel very happy!"
Overcoming Sickness Karma
Practitioner Ms. Chen is 74 years of old. Last year, she was very ill and a 5-cm diameter tumor was found in her stomach. Her doctor recommended surgery, but Ms. Chen chose to study the Fa and practice the Falun Gong exercises as usual. Meanwhile, she continued to clarify the truth by phoning people in China. One month later, her son took her to see the doctor again for another checkup, and the doctor told her that the tumor was gone.
Working as One Body
Ms. Hu from Oakland shared how her Fa study group works together as one body during Shen Yun promotions. She said, "We gave high priority to using everyone's abilities. We realized that we had to do the following things well: 1) Study Fa well; 2) Share openly on the Fa; 3) remind each other by phone so that more can join this effort and have the opportunity to cultivate themselves.
Clarifying the Truth in Chinatown
Practitioner Ms. Chen, in her seventies, travels to San Francisco's Chinatown to clarify the truth about Falun Gong to the people there. She has to take a bus and the subway, and it typically takes her over one hour each way. She disciplines herself with the principles of Truthfulness-Compassion-Tolerance and treats everyone in Chinatown with compassion no matter how they treat her.
Ms. Chen realized that clarifying the truth was not limited to distributing materials, and that she needs to talk to people also. Through the great efforts of Ms. Chen and many other fellow practitioners, people in Chinatown have been changing. In the past, people were very cold to the practitioners, but now many greet them with, "Thank you! You have been working so hard."