Promoting Falun Dafa and Raising Awareness in Cyprus (Photos)
(Minghui.org) From August 1 to 13, Falun Gong practitioners from Europe held a series of activities in Nicosia, the capital of Cyprus, introducing Falun Dafa to the public and exposing the brutal persecution of the meditation practice in China.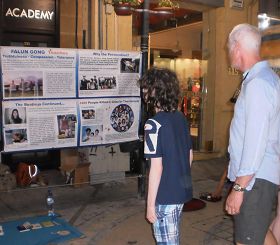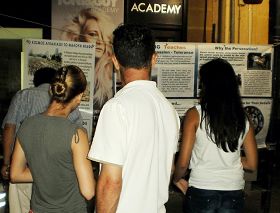 People view the display boards.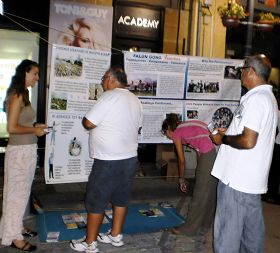 Tourists learn about Falun Gong and the persecution
Although it was very hot—above 100°F at noon—every day, practitioners went out to distribute flyers and raise awareness. During the night, they held activities on Ledra Street, a major shopping thoroughfare. Every day, they set up informational display boards. Some demonstrated the exercises, while others talked to tourists. Some local people learned the exercises.
Many local citizens and tourists were shocked by the brutal persecution. They signed the petition to express support for Falun Gong. One young man said to the practitioners: "The communist party tries to transform people into machines, and make them lose the ability to think independently. That is why they persecute you, because you have your own belief." After reading the materials, a businessman from the city of Limassol said that Falun Gong practitioners have been persecuted because they try to make this world better, which is becoming more corrupt.
Some Chinese students also talked with practitioners. Two Chinese young women expressed support for Falun Gong and quit the Communist Youth League.
A Chinese couple said to practitioners: "We know clearly that the Chinese Communist Party is horrible. It is a matter of time that the party will be destroyed by heaven. We want to quit the party now."