Mrs. Chien Is Healthy, Happy and Content Because of Falun Gong
August 21, 2012 | By Huang Yusheng, a Minghui.org reporter in Taoyuan, Taiwan
(Minghui.org) Mrs. Chien, 73, is a friendly, pleasant lady who started practicing Falun Gong in 2008. She had been a Catholic for nearly 40 years. What made her become a practitioner of Falun Gong?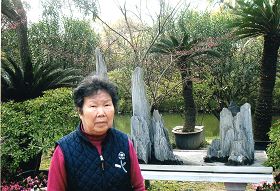 Mrs. Chien
Mrs. Chien exercised every day at Long An Park. One day she took refuge from the rain in a pavilion in the park. A group of Falun Gong practitioners practicing their exercises took the opportunity to introduce Falun Gong to her. She was instantly interested when she heard the stories of Falun Gong curing illnesses. She came back the next day because she was tormented by her poor health.
The doctor told her that she might have Parkinson's disease because of the involuntary trembling of her neck and head. She was told to do some rehabilitation exercises to mitigate the trembling. She had an artificial joint installed in her right leg in 1994, as before she was told her left leg would soon lose its function. She had to rely on frequent massages to mitigate the pain in her legs.
Because of the steel screws in her right leg, she had difficulty squatting, let alone sitting cross-legged on the ground. Practicing the sitting meditation was mission impossible for her. Yet she can now sit cross-legged and practices Falun Gong's sitting meditation. The involuntary trembling and leg pain have also been reduced without any need for massage or rehabilitation exercises.
She was even more pleasantly surprised by the fact that she could now enjoy shaved ice, a popular dessert dish in Taiwan. Her children were thrilled about her health transformation as well. Before, she couldn't have any cool-nature vegetables, such as napa cabbage or bitter melon, without getting a stomachache. She can now enjoy everything without stomach discomfort. She has a family history of heart disease and hypertension. She no longer needs to take any medicine for hypertension, and she also recovers very quickly when she catches a cold. She feels free.
Mrs. Chien said that she had been going to church for 40 years since her schoolteacher took her, but she has never finished reading the Bible and other Christian texts because she couldn't understand them, especially the many references to western names and customs. She only knows Christianity teaches people to be good. She went to church out of habit.
After she started practicing Falun Gong, she learned that one must follow only one cultivation way. After about four months, Mrs. Chien stopped going to church. She decided to practice Falun Gong because she understands its teachings and is able to conduct herself based on the teachings. She can actually feel it as her morality improves. When she went to church and confession, she continued to conduct herself poorly without any clue on how to improve herself. She is drawn to Mr. Li Hongzhi's Falun Gong and wants to know more.
Mrs. Chien has never been argumentative, but she has learned from Falun Gong how to conduct herself better. One day she called on her son and became very upset when she saw that his room was a complete mess. When her son phoned her, she could not help telling him to get lost. She learned that she had not cultivated her speech. From then on, she would remind her son to keep his home clean when she found it untidy again. Mrs. Chien said she could feel her blood pressure rising at the time and was certain she would have collapsed if she had not practiced Falun Gong.
She then decided that nagging will not change anything. She might as well help him clean it if she does not want to see her grandchildren living in a mess. More importantly, she would never say anything confrontational or insulting ever again. The day she told her son to get lost, she was so furious that she had a stomachache until 3 a.m. She decided to get up and study Zhuan Falun, Falun Gong's main text of teachings. After about 60 minutes, her stomachache went away and she was no longer mad at her son.
That was when she realized that she would have scolded and reprimanded him incessantly if it had not been for Falun Gong. Now that she is a Falun Gong practitioner, she realized she failed the test even though she simply told him to get lost.
Mrs. Chien is from Jiangsu Province, China and grew up in Sichuan Province. She moved to Taiwan with her parents when she was young and escaped the Great Cultural Revolution. Her brothers, who were left behind in China, were victims of the political movement. When she visited them in China, they would tell her horrible stories about the Chinese Communist Party (CCP). She decided to stay away from anything that has anything remotely to do with the CCP. That is why she initially stayed away from Falun Gong, which was introduced from China.
She regretted not learning Falun Gong sooner. She thinks her husband might still be alive today if he had the opportunity to practice Falun Gong when he was diagnosed with cancer.
Mrs. Chien has three children. The youngest daughter is a Catholic, but she respects her mother's choice. About three months after Mrs. Chien started practicing Falun Gong, she visited her youngest daughter in Japan. A friend of her daughter's asked which qigong she is currently practicing. When the friend heard it was Falun Gong, he commented, "I know about Falun Gong. Falun Gong practitioners are good people."
Mrs. Chien has been steadfast in her faith in Falun Gong. She feels fortunate to be healthy and free of troubles, and is very content. Many of her elderly friends and neighbors are suffering from a myriad of illnesses. One had a heart bypass, and another has bone spurs and has to take steroids. Many have physical pain of different sorts. In the days that she spent in the hospital looking after her late husband, she witnessed many people, young and old, suffering from all kinds of health problems. She finds herself very fortunate and treasures her relationship with Falun Gong.
Mrs. Chien's oldest daughter once had a car accident and suffered from insomnia. She now too practices Falun Gong, and can sleep through the night. When her oldest daughter first practiced Falun Gong's sitting meditation, she was in tears because of the leg pain. She can now sit in the full lotus position. She has been practicing Falun Gong for two years.
Mrs. Chien enjoys listening to fellow practitioners sharing their cultivation experiences. She also spreads the truth about Falun Gong and the CCP by sending text messages, making phone calls and writing letters. She wants nothing in return, except that more people in China learn the truth about Falun Gong. She even hopes that they will start practicing Falun Gong and enjoy a happy, healthy life like her.