Germany: Beginners Experience the Beauty of Falun Gong (Photos)
(Minghui.org) Falun Gong practitioners from Hamburg, Germany, participated in the event "China Time" in August. On August 11, practitioners held a workshop to introduce Falun Gong to the public. A dozen participants learned the five sets of exercises. They also learned about the history of Falun Gong's worldwide spread and the persecution in China. Many of them said that they would join the weekly group exercises.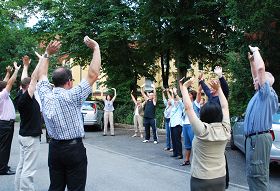 Learning the exercises
Dirk and his Asian girlfriend had seen a practitioner doing the exercises in a park. He was surprised to learn about the miraculous effects of Falun Gong on people's health, so he bought a Falun Gong exercise instruction DVD, and learned it at home. Two weeks ago, he learned about this workshop, so he came with his girlfriend.
"I felt very good and relaxed after practicing the exercises," he said. "Now I know why Falun Gong is so effective. It is because the practice and teachings of Truthfulness-Compassion-Forbearance improve the body and the mind." His girlfriend said that she enjoyed doing the exercises. "Although the movements are quite easy, I felt warm energy flow going through my body. It is very comfortable," she said.
Wedl and his wife enthusiastically shared their thoughts after the workshop. They both like qigong, and have learned many forms of qigong before. A few weeks ago, they accepted a flyer from a local practitioner, so they came to the workshop. Wedl said: "I felt inner peace. The energy field is comfortable and peaceful. I have never had such a feeling before. It is very kind of you to introduce Falun Gong to us. How come I didn't know about it before? The principles of Truthfulness-Compassion-Forbearance are something that we can all agree on."