Italy: Practitioners Call for End to CCP's Persecution of Falun Gong (Photos)
(Minghui.org) July 22, 2012 marked the 13th anniversary of Falun Gong practitioners' peaceful resistance to the persecution in China. Falun Gong practitioners in Italy held activities in Rome, Milan and other cities, spreading the facts about Falun Gong, condemning the violence towards and abuse of peaceful practitioners by the Chinese Communist regime, and calling for an end to the persecution.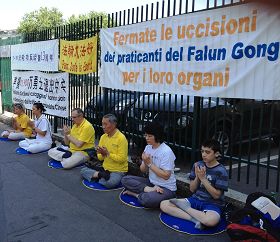 Italian practitioners meditate in front of Chinese Consulate in Milan
On the 16th and 17th of July, Italian practitioners held rallies in front of the Chinese Consulate in Milan to commemorate their fellow Chinese practitioners who have died in the persecution and to protest the continuing brutal persecution of Falun Gong practitioners in China.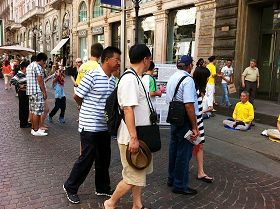 Chinese tourists read display panels
On the 19th of July, Falun Gong practitioners in Rome held a rally at Palazzo Montecitorio, the House of Italy, also commemorating the 13th year of peaceful resistance to the CCP's persecution in China and calling for an end to the persecution.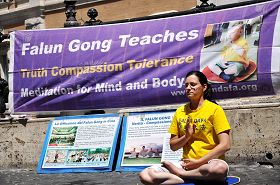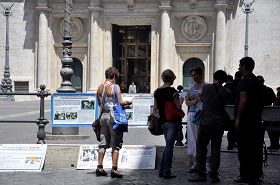 People in Rome learn about Falun Gong
In the afternoon, Falun Gong practitioners held activities at the famous view point of Milan. They displayed information for tourists from all over the world to expose the CCP's brutal persecution.
Over the past thirteen years, because of internet censorship, propaganda on TV and in newspapers, fabricated lies by the CCP, and the oppression policy on Falun Gong, many Chinese have little understanding about the truth of Falun Gong. Many Chinese tourists showed their surprise when they read the Falun Gong display boards. Some tourists read quietly, some took fliers from practitioners and began to read them, some spoke with practitioners to learn more.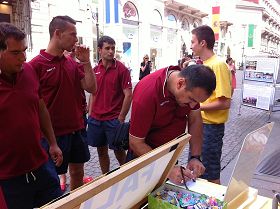 Tourists from Romania sign the petition to support Falun Gong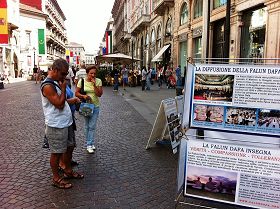 Italians read Falun Gong display boards
A British couple with their children took fliers and asked practitioners about Falun Gong. Practitioners told them that Falun Gong includes peaceful movements and meditation as well as spiritual principles: Truthfulness-Compassion-Forbearance. In China, tens of millions of practitioners are persecuted because they practice Falun Gong. The British couple was shocked and said some European countries are eager to do business with China, without considering the country's horrible human rights record. Then they signed the petition to express their support and their wish for the persecution to stop.