Australia: Falun Gong Practitioners Win Top Award in Blacktown City Festival Three Years in a Row (Photos)
(Minghui.org) The Divine Land Marching Band in Australia, consisting of local Falun Gong practitioners, participated in the Blacktown City Festival parade and won the "Champion Community Entry" award for the third time. The award ceremony was held on June 26.

The mayor of Blacktown City presents the first place award to a band representative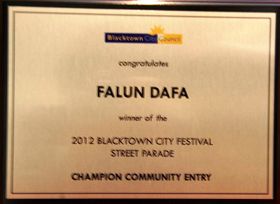 The certificate
Blacktown is the third largest city in Australia with a 220-year history. It is a very multicultural culture, with its 300,000 people representing 186 ethnic groups.
The City Festival parade was held on May 26, and, for the 12th time, the Falun Gong group was invited by the city government to participate. As last year's champions, they were positioned as the first group to lead the parade.
More than 1700 people from 72 groups participated in the parade. Falun Gong practitioners demonstrated the exercises in lotus flowers on their float. Again, they were given a warm welcome by the spectators.
Alan Pendleton, the mayor of the city, praised the Falun Gong group for their excellent performances and splendid float. "They are a group of nice people," he said.