Toronto, Canada: Divine Land Marching Band Participates in Canada Day Parades
July 04, 2012 | By Minghui reporter Zhang Yun from Toronto
(Minghui.org) It was the 145th anniversary of Canada Day on July 1, 2012. To celebrate the national holiday, Falun Gong's Divine Land Marching Band was invited to participate in a parade in Niagara Falls. In the afternoon, the band and the Waist Drum Team joined another parade in Scarborough, just east of Toronto. Many spectators were inspired by the performances, and one of them said, "Every year Falun Gong's teams are the most magnificent!"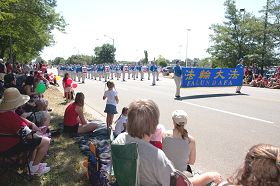 Divine Land Marching Band at the parade in Niagara Falls

Divine Land Marching Band at the parade in Scarborough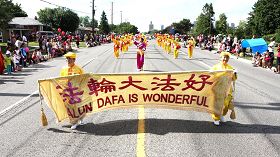 Waist Drum Team in Scarborough
They Bring Good News from Afar
This was the first time that the Divine Land Marching Band agreed to participate in the Canada Day parade in Niagara Falls because of the long distance between Niagara Falls and Toronto. Ms. Ma from Zhejiang Province, China, brought her child and her child's friend to see the parade. She said, "I've been in Canada for three years and this is my first time seeing Falun Gong's performance. It's so magnificent! I have heard bad things about Falun Gong practitioners in China. Now I see them and their performance is truly inspiring. I will get online to learn more about (the persecution)." [Note: Falun Gong is persecuted in China by the Communist regime, thus many Chinese citizens have only heard the false propaganda.]
Ms. Ma's friend Ms. Wu was from Shanghai. She also brought her child. She quickly added, "It is thrilling! The performance is refreshing and the most magnificent of all entries."
Michelle from Hong Kong was impressed by this band from Toronto, "When I saw this large group of Chinese people, I was stunned and excited. I wondered where they all came from. The music was graceful and the colors of their costumes are soothing. It's a terrific performance. Thanks for bringing us this beautiful message from afar."
Laura walked with the band until the end. She wanted to know what Falun Dafa was, "My 90-year-old grandmother is sitting there. When she saw the band performing, she was very excited, saying that it was the best band she's seen so far. She wanted me to learned about the band and what Falun Dafa is. I've already talked to the man who plays tuba and I will check out more online."
Henry and Ken are residents of Niagara Falls. They followed the band to take pictures. "The music is great and the rhythms strong; the movements were in sync and the colors were eye-catching. This band has the combination of the best elements for this holiday," said Henry.
Paul liked the band a lot, "This is my first time seeing such a magnificent band. I am grateful that they came today."
Dorothy was 65 years old and she enjoyed the performance of the Divine Land Marching Band very much, "It was an outstanding performance. I am glad to see something from a different culture today. I thank them for coming all the way."
At the Scarborough Parade: "Every year the Falun Gong contingent is the most magnificent!"
Ms. Zhang and her husband from Jiansu Province, China brought their two children to the parade. Ms. Zhang did not stop taking pictures. She said, "Luxurious! The band and the Waist Drum Team are so eye-catching. You can't see this in China."
Ms. Wu immigrated to Canada from Guangdong Province a long time ago. She said, "I know about Falun Gong and I support it! I read the Epoch Times every day and I've watched Shen Yun's performances. Every year I see Falun Gong's fantastic entries in the parade! Being a Chinese, I am very proud."
Ms. Tang from Shanghai clapped to the rhythm of the music. "Every year the Falun Gong contingent is the most magnificent! They are my favorite. I learned about Falun Dafa from the Epoch Times."
Irma was from the Philippines. Her family members took turns to have their pictures taken with the band. "This band gives me a very friendly feeling. I see them every year and I know about Falun Gong. I also know about the persecution in China. I admire their courage in countering the persecution. How wonderful. It's great that Canada is a free country."
Fern from Scarborough and her family liked the band. "The band is blue and the Waist Drum Team is yellow. They bring summer with them," said Fern. Fern's daughter loved Chinese culture and was glad to see the manifestation of traditional Chinese culture. "It's awesome! It's beautiful!" she shouted.