Germany: People of Bruchsal Show Support for Falun Gong (Photos)
July 31, 2012 | By a practitioner in Germany
(Minghui.org) Bruchsal is a small city near Karlsruhe, where the German Federal Public Prosecutor's Office is located. Falun Gong practitioners living in the surrounding area held another Information Day Activity downtown on July 21, 2012. They continued to raise public awareness about the 13-year brutal persecution of Falun Gong by the Chinese Communist Party (CCP), and call for support to end the persecution.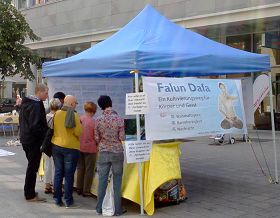 People in a small city in Germany learn the facts about Falun Gong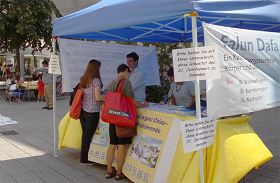 Signing a petition to support practitioners' efforts to end the persecution
Practitioners hung photos and signs at their information booth exposing the CCP's persecution and informing the public about the popularity of Falun Gong around the world. Passersby were drawn to the booth. Many people asked for details about the true situation and signed the petition to support the practitioners' efforts to end the persecution.
A man in his 40s signed the petition last week during the practitioners' information day activity. This time, as he passed by the booth, he walked up to the practitioners and said, "The persecution is terrible, we must help more people learn about it. I want to sign one more time, I wish I could sign 100 times." Practitioners thanked him, and told him that signing once would be enough. He asked for more informational materials to deliver to his friends.
A middle-aged woman signed the petition form and told a practitioner that she took an informational brochure at the booth last week. After she got back and read it carefully, she learned what had happened in China. This time, she saw the practitioners again, and came straight to sign the petition to express her support for Falun Gong.
A young man in his 30s had a conversation with a practitioner. When he learned about the persecution of Falun Gong practitioners who believe in Truthfulness-Compassion-Forbearance in China, he said, "Our government is doing business with China, but human rights is more important than doing business. It's great that you are telling us about the true situation. I support you!"
The practitioners happened to meet a group of five Chinese people in this small city. One of them took informational materials and hurried away, while four others learned the truth and announced their resignations from the CCP and its affiliated organizations.
An elderly Chinese woman said that she had come to visit her relatives and seldom came out, nor did she meet any other Chinese people. She happened to walk out today and saw the Falun Gong practitioners. She said she had heard about the quitting-the-CCP movement, and she announced her resignation from the Young Pioneers organization.