Taiwan: Practitioners Brave the Summer Heat to Protest the Persecution of Falun Gong (Photos)
July 31, 2012 | By Huang Yusheng and Song Shinming, Minghui correspondents from Taoyuan, Taiwan
(Minghui.org) On July 21, 2012, Falun Dafa practitioners from three Northern Taiwan counties rallied and marched in Bright Park at Chungli. They called upon the public to help stop the atrocities the Chinese Communist Party (CCP) has committed for 13 years against Falun Gong practitioners, including torture and murder.
Despite the hot weather, these Falun Gong practitioners of all ages and genders—who have benefited from the cultivation—chose to spend their vacation time delivering their common wishes to the people: helping them learn about Falun Dafa and urging them to help stop the brutal persecution of the CCP against Falun Gong.
Raising Awareness about Falun Gong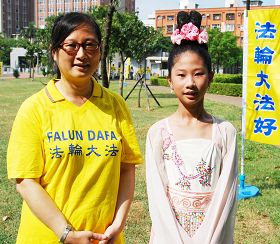 Liao Peng-Shuan and her Mother Wang Shiou-Wen
Liao Peng-shuan, a 6th grader, dressed up as a celestial maiden for the first time for the parade. She distributed lotus flowers to pedestrians and advised them to remember that Falun Dafa is good. She hopes the world's people will not be misled by the CCP's lies. "The CCP started persecuting Falun Gong on July 20,1 999," said Liao. "I want to let the whole world know that Falun Gong is wonderful."
Wang Shiou-Wen and her daughter Peng-shuan were happy to be able to tell people about Falun Dafa. She was introduced to Zhuan Falun by a friend seven years ago. While reading the teachings, she was drawn to the principles of Truthfulness-Compassion-Forbearance. She said: "I have physically and spiritually benefited from the cultivation, especially my moral character. The Dafa principles constantly remind me that, as a practitioner, I should change my bad temper." Shiou-Wen has never missed any of the local activities to raise awarness about the persecution in the past seven years.
Becoming Truly Calm after Practicing Dafa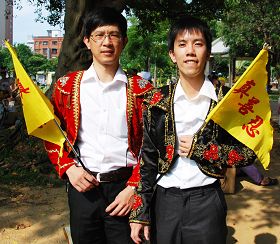 Frank (Right) in the rally
Frank began practicing when a friend introduced him to Falun Gong seven years ago. He said that hardships take up more than 80 percent of events in personal life and they seem to continuously occur in various forms at different stages of life. Prior to cultivation, Frank used to divert his attention by shopping and seeing movies when he was scolded by his professor at school or by his supervisor at work. But he still was unable to calm down. Now the Falun Dafa principles guide him and enable him to let go and become truly peaceful.
Frank grew up and was educated abroad. He knows that people abroad think human rights are very important and they place it above their own personal benefits. While some of his colleagues don't understand why he sacrificed his vacation time for volunteer efforts to raise awareness, Frank believes that it is very worthwhile to participate in these activties.
Getting the Message to Mainland China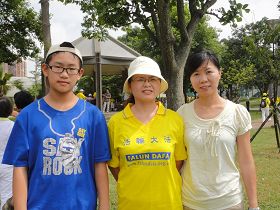 Ms. Ho (Right), Ms. Chen (Middle) and her son
Ms. Chen Yu-Ping is pained by the fact that fellow practitioners in China are still enduring persecution by the CCP. She feels that "talking" is the simplest thing she can do. She spent almost a month actively learning how to clarify the truth about Falun Gong to mainland Chinese by phone. During the phone calls, she was deeply moved when listeners had a change of heart and eagerly wanted to hear the information from practitioners.
Ms. Chen studies the Fa with her middle-school aged son. She no longer has to worry that her son will become addicted to internet games as many teenagers are. He even reminded her when she was busy to remember to study the Fa.
Falun Dafa Brings Harmony to Our Family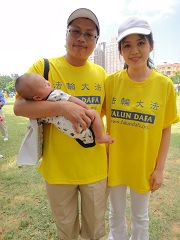 Mr. and Mrs. Lin Yuey-Chi and their three-month-old baby
Mr. Lin Yuey-Chi has practiced Dafa for nine years. He said he is much more calm and has become more mature since he started cultivating. His energy has improved. He no longer complains and gets angry. Since both he and his wife became practitioners, their relationship has improved and they argue less. Instead, they have become more considerate of each other and communicate better due to improving their understanding of Falun Dafa's teachings.
The couple attended the rally with their three-month-old baby. Mr. Lin said: "I have benefited from Dafa substantially. As Dafa disciples, my whole family has come out to tell the public how wonderful Falun Dafa is."
A Graduate Student Urges All Communities to Pay Attention to Persecution
Ms. Shiao Ching-Mei is a graduate student at Tsing Hua University. She has practiced cultivation for 16 months. This is the first time she attended an event to protest the persecution. She thinks that attending the protest activities will remind her of the difficult cultivation environment fellow practitioners in China have faced.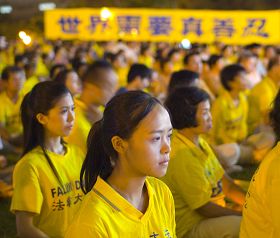 Ms. Shiao
Ms. Shiao also talked about the plight of Mr. Chung Ting-pang, who was recently arrested by the CCP while visiting relatives in China. She found during her signature collections to support Mr. Chung that the young generation—who grow up in a free society—do not know about the horrendous oppressive environment under the Chinese Communist Party. Ms. Shiao started paying attention to human rights issues only after she started practicing cultivation. She urges all communities in Taiwan to pay more attention to the CCP's persecution of Falun Gong.