Kaohsiung, Taiwan: Candlelight Vigil and Other Activities in West Bay Help Visitors from China Understand the Truth (Photos)
July 30, 2012 | By Sun Bai and Su Rong in Kaohsiung
(Minghui.org) On July 21, 2012, Falun Gong practitioners from across Kaohsiung, Taiwan gathered in West Bay, a well-known scenic spot located in Kaohsiung, to hold a candlelight vigil to honor the practitioners in China who lost their lives for remaining steadfast in their belief. The practitioners condemned the 13 years of brutal persecution by the Chinese Communist Party (CCP). Many Chinese tourists stopped to watch and listen to practitioners' speeches and became aware of the true situation. Many took informational flyers to learn more about Falun Gong and the persecution.
A series of activities began at 4:00 p.m. The practitioners demonstrated the peaceful Falun Gong exercises as several dozen buses of Chinese tourists visited West Bay. The Waist Drum Team performed, and young practitioners performed the musical compositions "Falun Dafa Is Good," and other pieces. After that, the candlelight vigil began. The practitioners condemned the CCP's persecution and called for bringing the chief culprits to justice. Finally, all participants observed a minute of silence, and the 3-hour activity concluded with the songs "Please Sit By My Side" and "Candlelight."
A truth-clarification week was scheduled from July 15-22 in the Kaohsiung area, so that practitioners could share the truth more comprehensively with Chinese tourists.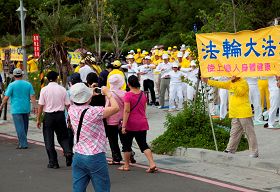 Practitioners demonstrate the five sets of Falun Gong exercises as Chinese tourists visit West Bay in Kaohsiung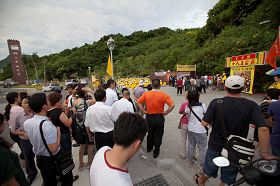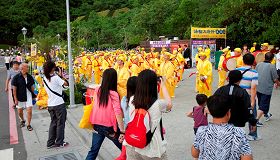 Waist Drum Team's performance attracts visitors from China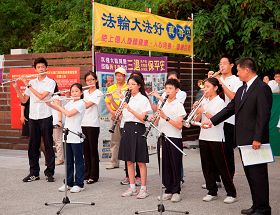 Young practitioners' instrumental performance drew a number of people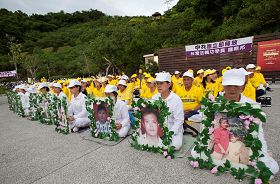 Practitioners hold a candlelight vigil in West Bay in Kaohsiung on July 20
July 20, 1999 marked the start of Falun Gong practitioners' peaceful resistance to the CCP's brutal persecution. Practitioners inside and outside of China have made great effort over the past 13 years to raise public awareness about Falun Gong and the persecution, and to call for an end to the persecution.
Ms. Wu, one of the hosts of the activity, said, "Today we mourn those fellow practitioners who have died as a result of the persecution. They used their lives to awaken people's conscience, to enable them to think things over for themselves and learn the truth. All the more do we hope that more Chinese tourists will gain a deeper understanding of Falun Gong and bring the facts and the message about quitting the CCP and its affiliated organizations back to China."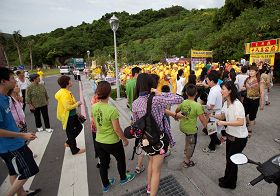 Practitioners hope that Chinese tourists will bring the truth back to China
Ms. Wu, who came to Taiwan from mainland China many years ago, said, "Human rights organizations, U.S. Members of Congress and several human rights foundations have strongly denounced the CCP's persecution, and more and more people have clearly seen the CCP's evil nature. Falun Gong practitioners have had an arduous journey over the past 13 years of peaceful resistance to the persecution, but with our continuous efforts, we have seen hope. In some places in China, people have recently taken action to stand up for Falun Gong practitioners by signing and putting their thumbprints on petitions to demand the release of illegally detained Falun Gong practitioners. It's a critical moment for people to tell right from wrong and choose a wonderful future for themselves."