Washington, DC: Practitioners from Around the World Call for End of Persecution (Photos)
July 21, 2012 | By Zhang Ran, Minghui reporter in Washington, DC
(Minghui.org) Nearly 5,000 Falun Dafa practitioners from around the world gathered in Washington, D.C., on July 13, 2012, to call for the end of the persecution of Falun Dafa in China. Spanning different enthnicities, languages, continents and cultures, they came to the U.S. capital with one purpose: to stop the persecution and share the beauty of Falun Dafa with the world's people. A grand march along Pennsylvania Avenue and a rally in front of the Washington Monument attracted many passersby, who were eager to show their support.
The brutal suppression of Falun Dafa was launched by the Chinese Communist Party (CCP) in July 1999 and has lasted for 13 years, still continuing today. Thousands of practitioners in China have been imprisoned, tortured and subjected to slave labor for their belief, with over 3,500 deaths confirmed and many more suspected.

Through peaceful protests, parades and informative events over the past 13 years, Dafa practitioners around the globe have aimed to raise public awareness of the gross human rights abuses in China, believing that together, the people of the world can influence a positive change.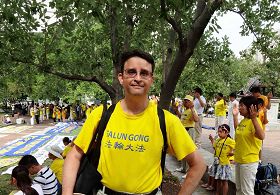 Joseph Beckenback from Georgia, United States
Joseph Beckenback and his wife traveled to Washington, D.C. from Georgia. They helped to distribute informational materials during the events.
Mr. Beckenback has practiced Falun Dafa for nearly 14 years. He said he has noticed a great change in the public's understanding and support of Falun Dafa in recent years, with people becoming more open to accepting information and learning about the current situation in China. "They can understand that this [persecution] is wrong and support us," he said, adding that people from all walks of life, regions and nationalities can identify with the universal concepts of Truthfulness, Compassion and Tolerance, the main principles of Falun Dafa.

Colin from Virginia, United States
Colin, a new practitioner, came from Fairfax, Virginia. He was first introduced to Falun Dafa at a public event in Washington, D.C., two years ago and decided to enter the practice about 4 months ago.
"This is something I have been looking for my whole life," said Colin. He deeply appreciated the opportunity "to be here with the rest of practitioners to support Falun Dafa" and raise awareness about the persecution in China.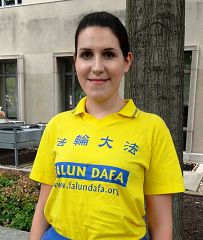 Dianna Benedetti from Florida, United States
Dianna Benedetti from Florida has practiced Falun Dafa for 6 years. She said she comes to participate in Washington, D.C. events to call for the end of the persecution every year. "It is very important to let people know about the persecution in China," she said. "It is a great opportunity here in the capital of the United States to let everybody know what's going on."
Ms. Benedetti said she has seen a "huge change" in Chinese people's attitude toward Falun Dafa in recent times. "A lot more people know about Dafa and the persecution, especially the Chinese people's attitude has changed so much," she said, as many people have learned the facts and no longer believe the slanderous lies of the communist regime. Events like the parade and rally in Washington, D.C. can let more people learn the truth, she noted, as "there are still people who do not know about the persecution."
"It is really nice to meet practitioners from all over the world," added Ms. Benedetti. "You have so much in common with them. Everybody is so nice. You kind of feel like a family."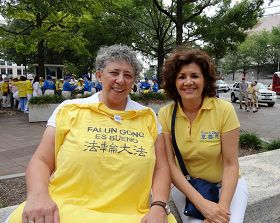 Ms. Maru and a fellow Dafa practitioner from Mexico
Ms. Maru from Mexico came to Washington, D.C., with 5 fellow practitioners. She was introduced to Falun Dafa through a friend and received informational materials in Spanish. She has been practicing Falun Dafa for 5 years.
There are about 200 practitioners in Mexico, said Ms. Maru, with the majority having practiced for 5-10 years and some newer practitioners as well.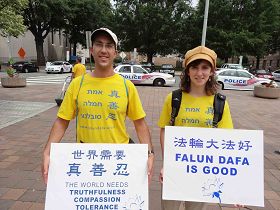 Elad and Dikla from Israel
Elad and Dikla, wearing yellow T-shirts with "Truthfulness, Compassion, Tolerance" printed in Hebrew and Chinese, arrived from Israel.
"It is vey important that everyone knows about the persecution," said Dikla, noting that people must "choose between good and bad." She hoped that they would "choose the good" and support Falun Dafa.
Elad shared that practitioners in Israel have also put in a lot of effort to clarify the facts about the persecution. They have held Truthfulness-Compassion-Forbearance Art Exhibition and other informational events "all over Israel," and publish The Epoch Times and broadcast news on New Tang Dynasty (NTD) Television in Hebrew. "People come to the see the exhibition, and people are reading The Epoch Times and watching NTD news" to learn about the true situation in China, he said.
Israeli practitioners have also exposed the CCP's atrocious crime of harvesting organs from living Falun Dafa practitioners to medical professionals and government officials in Israel, said Elad. As a result, Israel has passed a new law that prohibits people from going to China for organ transplantation, since obtained organs may be from "innocent people like Falun Gong practitioners."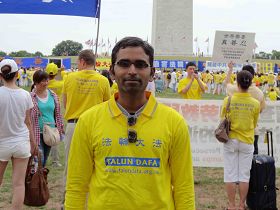 Suman Srinivasan from New York, United States
Suman Srinivasan, originally from India, now lives in New York. This was the 10th consecutive year he traveled to the U.S. capital to participate in the events calling for the end of the persecution of Falun Dafa in China. "I come here every year. I have been coming since 2002 ... to take part in the activities and to raise the awareness of the persecution," he said.
While the message—to stop the persecution—has not changed, every year "more and more [people] come to join the rally and parade," noted Mr. Srinivasan, with more and more Chinese renouncing their affiliation with the communist regime and people from all nationalities voicing their support. "I've been very moved and very touched [by this]," said Mr. Srinivasan.