Melbourne: Falun Gong Grand March at the 13th Anniversary of the Peaceful Resistance (Photos)
(Minghui.org) The Chinese Communist Party (CCP) launched the persecution of Falun Gong on July 20, 1999. Falun Gong practitioners have since peacefully resisted the persecution.
On July 13, 2012, at the thirteenth anniversary of the resistance, Falun Gong practitioners from Melbourne, Australia held a grand march, calling for an end to the persecution.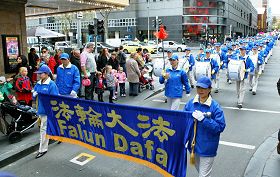 The Divine Land Marching Band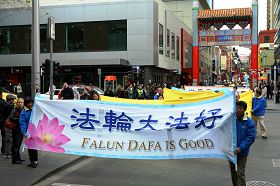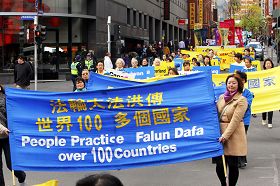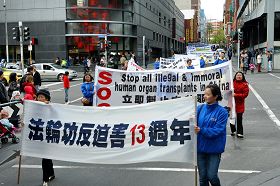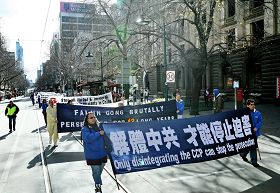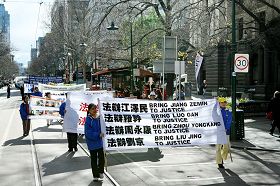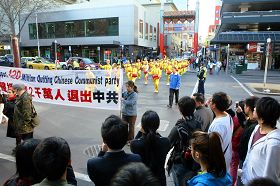 The grand march
The march started at noon, beginning from a park in downtown, and proceeding through the business area and Chinatown, ending at the City Square. The Divine Land Marching Band led the march, followed by the waist drum team. Practitioners demonstrated the exercises, exposed the persecution, and showed the spread of Falun Gong around the world. They also distributed information about quitting the CCP to the public.
Luke and Jasmine are newlyweds on their honeymoon. They heard the music from the hotel, and came out to watch the march. Luke said that he had heard about the persecution in China. "Falun Gong practitioners are brave. They persist in their belief in spite of the persecution. They are great," he said.
Chris and his family are from New Zealand. He watched the entire march. "I knew about the persecution. I am aware of the evilness of the communism," he said. "This is a large scale march with a rich amount of information."
Tony, a Chinese from Malaysia, said, "I am glad that you can hold such a great march in Australia. I heard about Falun Gong in Malaysia. The CCP doesn't give people freedom of belief. My parents didn't like the CCP, so they went to Malaysia. I don't want to go to China. There is corruption everywhere in China. I cannot do business there." Before he left, Tony said, "I also know that the reason the CCP persecutes Falun Gong is because there are more Falun Gong practitioners than CCP members in China."
After the march, the practitioners held a rally. Several guests gave speeches. Practitioners also performed dancing and singing.