Swedish Practitioners Raise Awareness about Falun Gong and Persecution at Stockholm City Hall (Photos)
July 18, 2012 | By Swedish practitioner
(Minghui.org) The Swedish capital of Stockholm has a reputation for being the "Northern Venice." The city is distributed over fourteen islands on one peninsula, with over seventy bridges connecting the islands into one whole. This beautiful water city attracts many tourists, who come to visit all year-round, but especially in the summer, when visitors from all around the world stream in.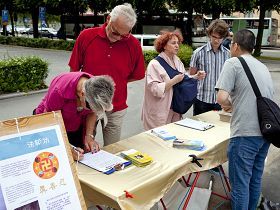 People learn the facts about Falun Gong and sign petition supporting Falun Gong practitioners' efforts to end the persecution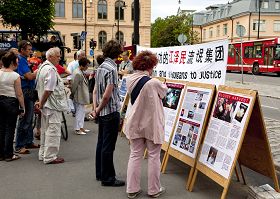 People stand in front of the display boards reading facts about Falun Gong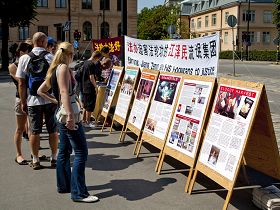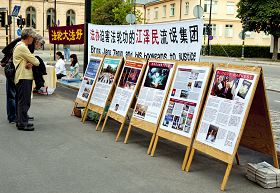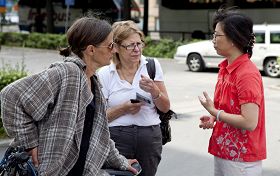 A practitioner speaks with people about Falun Gong and the persecution
Swedish practitioners held an activity to introduce Falun Gong and raise awareness about the persecution on July 7-8, 2012, a weekend holiday, at Stockholm City Hall, which has gained the title of 'Swan On Water' due to its distinctive shape. At the activity, practitioners hung striking banners with messages reading, "Falun Dafa is Good," and "Bring Jiang Zemin and His Gang to Justice for Persecuting Falun Gong." Display boards depicted the spreading of Falun Gong around the world and Falun Gong practitioners suffering from the brutal persecution in China, which attracted many visitors to stop. Many tourist coaches and buses passed by the site.
Among the tourists that came from around the world, some already knew about Falun Gong, while others were not familiar with it. Three Spanish tourists were very angry upon learning about the persecution of Falun Gong practitioners. A lady among them said, "It's horrible, extracting organs from living people, thank you for telling us these facts. How can we help you?" They all signed the petition to support Falun Gong.
A mother and her son from Lithuania asked for materials in Chinese. The son mentioned that his brother can read Chinese. They said they knew much about the Chinese Communist regime's persecution of people, and they signed the petition to support Falun Gong. A group of Polish tourists signed the petition on their own initiative and encouraged Falun Gong practitioners to keep it up. They hope that more people will become aware of the true situation. One of them, after learning the truth, respectfully put her hands together in front of her chest to practitioners to show her gratitude.
A Swedish lady was sweating from cycling to the activity site. Once she got off the bicycle she found a practitioner and signed the petition to support Falun Gong. She also asked the practitioner if she could sign for her husband, as he couldn't come. When she got permission, she was very happy. She said that she had seen the Falun Gong leaflets before and fully understood after reading. That's why she rushed there to sign, in order to show that she was opposed to the persecution and in support of Falun Gong. This lady also said to practitioners, "You've done the best thing."
There were also many tourists from China. When Chinese people saw the striking banner with "Falun Dafa Is Good" on it, many of them spoke out "Falun Dafa is good" and remained still. Some approached to ask for the truth-clarifying materials and read the display boards. There were a few large Chinese tour groups, and many of them received materials. A guide even told his group "Take one! Everyone take one to read. It's good for you." There was another tour guide who provided practitioners with information about the best time and place to distribute the material to Chinese tourists.
A young overseas Chinese in his twenties was reading a display board and listening to a practitioner telling him about the persecution. When he heard that the CCP agents harvested organs from living Falun Gong practitioners, he couldn't believe it and was shocked. He went on to say that these heinous crimes committed by the CCP were unbelievable, and completely inhumane. When talking about widespread crimes against the people of China and CCP's destruction of Chinese tradition culture etc., he agreed completely. This young man, having learned the truth, whin he was about to leave, agreed to quit the Communist Youth League that he once joined, and to be forever severed from the evil CCP.
There was a charming elderly Chinese lady who has lived in Stockholm for over 30 years. When she received the truth materials from a practitioner, she smiled and said, "I am amazed by you (Falun Gong). Because China has you (Falun Gong), it has hope! I will always support you!"
Mr. Tian, a Falun Gong practitioner, sighed emotionally, "I am glad to see that the world's people are awakening. Today I saw so many people come to sign the petition to support Falun Gong. Especially some people who had passed by but then returned to sign to support us on such a hot day. I am so touched. It seems the lies will no longer last. When people learn the truth, their powerful righteousness cannot be subdued. We should try harder to raise people's awareness, until the day the persecution ends!"