France: Paris City Government Invites Falun Gong Practitioners to Participate in Paris Tropical Carnival Parade (Photos)
(Minghui.org) The Paris city government invited the Falun Dafa Association to participate in the Paris Tropical Carnival parade, which was held on July 7, 2012. Twenty-two countries participated in the event, including more than 40 groups and more than 4,000 singers, dancers, and musicians. Crowds of close to 200,000 locals and visitors lined the road to watch the parade. The Falun Gong contingent stood out, as it was the only Chinese group invited to take part in the celebration.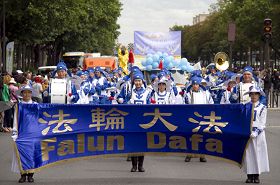 Falun Dafa contingent in the Paris Tropical Carnival Parade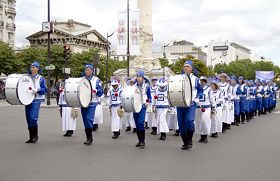 Divine Land Marching Band composed of Falun Gong practitioners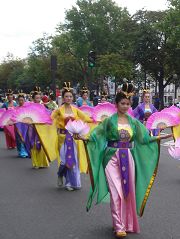 Falun Gong practitioners dressed in Tang Dynasty Costumes danced during the parade
Falun Gong practitioners demonstrate the exercises on a beautifully-decorated float
The Falun Gong contingent was unique. The elegant costumes, pleasant music, and graceful dancing impressed the spectators who applauded and cheered. The Divine Land Marching Band composed of more than 70 Falun Gong practitioners wearing traditional costumes, performed the songs, "Falun Dafa Is Good," "Fa Drums and Fa Trumpets Shake the World in Ten Directions," "Delivery of Treasure," and "Ode to Joy," among other pieces. They brought the positive message of Falun Dafa to the citizens of Paris and visitors from around the world. Celestial maidens presented beautifully-folded paper lotus flowers to the spectators, who happily accepted them and expressed their appreciation.