Canada: Falun Gong Practitioners Participate in the Bread and Honey Festival (Photos)
(Minghui.org) On June 2, Falun Gong practitioners from Mississauga, Ontario Canada, participated in the Bread and Honey Festival parade, which was watched by more than 10 thousand people.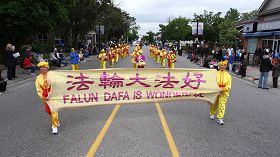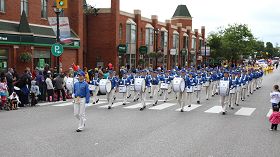 The Bread and Honey Festival has been held in Streetsville on the first weekend in June since 1973.
The Divine Land Marching Band, consisting of Falun Gong practitioners, performed in the parade. Many Chinese spectators highly praised the band. Ms. He heard about the persecution of Falun Gong. She said: "I like Canada. It is a free country, where we have the freedom of belief." Ms. He liked the band's performances. She also liked Falun Gong's waist drum team, especially their colorful costumes.