Mr. Ge Yijun Sent to Forced Labor Camp in Shanghai
June 19, 2012 | By a Minghui correspondent in Shanghai
(Minghui.org) Falun Gong practitioner Mr. Ge Yijun from Jing'an District, Shanghai went missing for more than two months, and only recently did we learn that Shanghai 610 Office agents had subjected him to 15 months of forced labor in April. Mr. Ge is currently on a hunger strike, and has been hospitalized in the Zhoupu Prison Hospital.
On the evening of March 13, 2012, when Mr. Ge returned home from work, officers from the Changshou Road Police Station in Putuo District called him in to the police station to have a talk. His friends and family were unable to contact him.
After Mr. Ge Yijun graduated from college on August 1, 2008, and three months after he began working, police officer Gu Xiang from Caojiadu Street in Jing'an District and agent Zhu Ying from the 610 Office urged Mr. Ge's employers to fire him. On August 28, Mr. Ge was arrested by the 610 Office agents, and subjected to 15 months of forced labor. He was sent to the Shanghai No.3 Forced Labor Camp.
The forced labor camp guards arranged criminal Li Jianmin and others to physically abuse and mistreat Mr. Ge. Li turned over a square stool, and forced Mr. Ge to sit on the stool's support bar. Criminal Zhang Qing made Mr. Ge sit up straight on the small stool without moving. As Mr. Ge remained steadfast in his belief in Falun Dafa, the guards arranged for criminals to accelerate the persecution. Criminals Cai Shengnian, Liu Zhen and Huang Wenbin forced Mr. Ge to sit from 5:00 a.m. till 1:30 a.m. the next day. A guard surnamed Ma (police badge: 3130540) ordered all these physical abuses on Mr. Ge.
The Shanghai Prison General Hospital is located inside the Nanpu Prison. They systematically abuse Falun Gong practitioners who hold hunger strikes.
When a practitioner is sent to the hospital, his or her hands, feet and chest are tightly bound with thick woven ropes.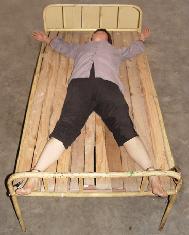 Torture Reenactment: Death Bed
Practitioner Du Ting, who has been held in the Tilanqiao Prison in Shanghai for many years, is kept tied to a bed regardless of whether he is in the prison or in the hospital.