When an Honest Man Is Tried, Hundreds Sign a Petition to Demand His Release and the Area Experiences Earthquakes and a Sandstorm
June 18, 2012 | By a Minghui correspondent from Hebei Province, China
(Minghui.org)
On February 25, police officers arrested an honest businessman, Mr. Zheng Xiangxing. On the afternoon of May 29, he was tried in Tanghai County Court in Hebei Province. His lawyer defended him with a not-guilty plea and presented a petition with 562 signatures plus the signers' fingerprints, demanding Mr. Zheng's release. On the day of the trial and the days before and after, there were earthquakes and a sandstorm in Tangshan City and Tanghai County. Local citizens commented, "Bringing a good person to trial has upset the heavens."

Falun Gong practitioner Mr. Zheng Xiangxing
Honest Merchant Arrested and Detained
Mr. Zheng runs an electronics store in Tanghai County. He and his wife run an honest business and have never sold any counterfeit merchandise. They have also been providing excellent service to their clients, such as home delivery and full installation of TVs. They do everything they can to satisfy their customers and their business was doing very well. The locals all recommend Mr. Zheng's as the place to buy electric-powered bicycles and refrigerators. He also helps to fix bicycles free of charge. His customers all think that he is very dependable.
On February 25, 2012, at 6 p.m., Li Guofu, team leader of Tanghai County Domestic Security Department; the chief of Shinongchang Police Station; and a dozen officers entered his store. Two female police officers lied to him, saying that they had electricity-powered bicycles for him to repair. When Mr. Zheng opened the door to his store, a dozen officers in plainclothes rushed in and took him away. They also confiscated his personal belongings from his store. Witnesses said that the authorities confiscated a large number of items. Mr. Zheng was taken to the Tanghai County Detention Center. By the end of the following month he was emaciated.
Taken to the Mental Hospital for "Treatment"
On April 6, Li Fuguo teamed up with Tanghai County Detention Center officials and took Mr. Zheng to Tangshan City Ankang Hospital, a mental hospital, for "treatment," extorting 10,000 yuan from Mr. Zheng's family members in the process.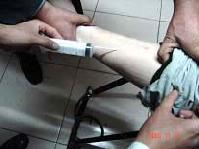 Torture reenactment: Injected with unknown drugs
Insiders say that practitioners admitted to Tangshan City Ankang Hospital are all injected with unknown drugs. Such drugs are classified into many types, and their side-effects vary. For example, Ms. Liang Zhiqin, a retiree from Tangshan City, has become emaciated since she was taken to the hospital; Ms. Ni Yingqin from Kaiping City appeared to have the symptoms of cerebral thrombosis, and, as a result, for nearly three years, she couldn't take care of herself and passed away on December 8; Ms. Shao Liyan, formerly with Tangshan Rolling Mill, was tortured and suffered from a mental collapse; Ms. Li Fengzhen from Tanghai County lost her memory after she was taken to Ankang Hospital.
The Lawyers Enter a Not-Guilty Plea on His Behalf
Ever since the police seized Mr. Zheng, his family members have been appealing on his behalf. They hired two lawyers to defend him. On May 29 in Tanghai County Court, they entered a not-guilty plea on his behalf.
On the day of the trial, officers created a police line around the front of the courthouse and didn't allow anyone in. They also announced to local citizens that they would not allow anyone into the courtroom. Local officials from nearby were called in to watch local Falun Gong practitioners and their family members to keep them from going into the courthouse. However, many of them were not scared away and ended up sitting in the courtroom. As soon as the two lawyers entered the courthouse, they were stopped by the court police and held up for more than 10 minutes.
During the trial, the lawyers listed the laws and described the evidence. They also talked about the fact that Falun Gong was not an evil cult, but, rather, a belief that taught people to be good. More importantly, they emphasized that for Mr. Zheng to believe in Falun Gong and to make and spread Falun Gong materials was not a crime.
Three Letters of Appeal and 562 Signatures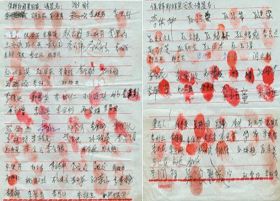 People who knew Mr. Zheng signed the petition to demand his release
Both lawyers defended him aggressively and asserted that Mr. Zheng was innocent, that practicing Falun Gong and being a good person were not crimes. They presented a witness, who said, "Mr. Zheng used to be a bully, but after he began to practice Falun Gong, he was considerate of others and was a good person." The lawyers presented to the judge three letters of appeal from people who knew Mr. Zheng from his neighborhood and a petition with signatures of 560 local citizens, who also put their fingerprints on it, to demand his release.
During the trial, Mr. Zheng said to the judge that the items that the police had confiscated from him, including DVDs and truth-clarification materials, were his personal belongings. Given that, he hoped the judge would hand down a fair verdict. Mr. Zhang also told the courtroom, "I have chosen to believe in Truth-Compassion-Forbearance, I have chosen to believe in Dafa. It is not my trial, but, rather, for you to choose your own future! It is an opportunity for you to choose your position for the future! I hope you all treasure this opportunity!"
After the trial concluded, as he was walking out, many people were shouting, "Falun Dafa is wonderful!" This shocked people nearby and also increased their admiration.
A Mysterious Man Gave the Judge Directions
During the trial, a mysterious man sitting nearby used his finger to direct the judge. The judge looked to this man for direction. When the judge was speaking, as soon as the man waved his finger, the judge either stopped right away or changed the topic. The judge was completely under the control of this mysterious man. When the lawyers were defending Mr. Zheng, the man began to either kick the desk or make other movements to interfere with them.
This mysterious man was purportedly from the 610 Office in Tangshan City. He publicly controlled the judge, which is over and above the law. Evidence indicates that this court is completely controlled by the 610 Office. The Chinese Communist Party (CCP) has never abided by any laws in the persecution of Falun Gong practitioners.
When a Good Person Is Brought to Trial, Even the Heavens Get Upset
On the day of the trial and the days before and after, there were earthquakes and a sandstorm in Tangshan City and Tanghai County, which left local citizens wondering if it was a result of heaven being upset that a good person was being persecuted.
At 5 a.m. on May 29, there was an earthquake of 3.2 degrees on the Richter scale. On the afternoon of the trial, it was very cloudy. When Mr. Zheng was brought to the courthouse, the clouds darkened and there was cold wind.
At 10 a.m. on May 28, there was another earthquake, this one of 4.8 degrees on the Richter scale, in Tangshan City. That evening, people saw a strange cloud in Tanghai County, dark gray and thin, and it kept changing shape. On the afternoon of the 27th, there was a sandstorm and thunder in Tanghai County.
For the time being, no verdict has been announced, yet people from all walks of life and his family members have been tirelessly appealing for him. They all hope the authorities release this businessman immediately.