Czech Senate Human Rights Committee Resolution: Stop Persecuting Falun Gong
June 01, 2012 | By a practitioner in Czech Republic
(Minghui.org) On May 23, 2012, the Czech Senate Committee on Education, Science, Culture, Human Rights, and Petitions discussed a proposal on ending the persecution of Falun Gong in China. The members present reached a unanimous agreement to call for a stop to the persecution, and passed a resolution.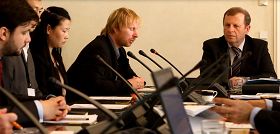 Chairman of the Committee, Dr. Jaromír Jermář read out the resolution at the meeting.
The resolution demanded that the Chinese Communist Party (CCP) lift the ban on Falun Gong, dissolve the 610 Office, stop the persecution of Falun Gong, and release the detained practitioners and prisoners of conscience.
According to the resolution's fifth point, the government and the President of the Czech Republic would be urged to hold talks with the CCP on the issue of ending the persecution of Falun Gong.
As a next step, the Human Rights Committee would discuss the proposal with the Foreign Affairs, Defense, and Security Committees in the Czech Parliament. The resolution would be presented to the head of the Czech Senate, the Prime Minister, the President of the Czech Republic, and the Chinese Communist Ambassador to the Czech Republic.
The Czech Falun Dafa Association and Czech Amnesty International spoke at the meeting, introducing Falun Gong and discussing the CCP's brutal persecution that has been ongoing since 1999. Ms. Jin Zhaoyu came to the Czech Republic on Amnesty International's invitation. She recounted how her mother, Chen Zhenping, gained a new life by practicing Falun Gong, but was illegally sentenced and tortured for not giving in to the CCP's brainwashing.
CCP agencies that persecuted Ms. Chen Zhenping:
Henan Province Women's Prison
Address: Huagong Road, Xinxiang City, Henan Province
Warden: Wang Xizhong, Hou Meili
Ms. Chen Zhenping was held in the 9th Ward of the Xinxiang City Women's Prison Tel: +86-373-5092690
Other ward phone numbers: +86-373-5092626, +86-373-5092627, +86-373-5092628, +86-373-5092629
Prison's main switchboard: +86-373-5092576
Cheng, head of Domestic Security Division: +86-373-66356510
Li Xinjian, chief of National Security: +86-13598831511
Tao Wenyue, deputy chief: +86-13838007918
610 Office of Henan Province: +86-373-65902233, +86-373-65904038
Mi Tao, 610 Office staff member: +86-373-63526074, +86-13137109268
"Anti-Cult" Association of Jinshui District, Zhengzhou City
Zuo Qinwei, 610 Office inspector chief: +86-1365386855