Canada: Members of Parliament from Vancouver Congratulate Falun Dafa on the 20th Anniversary of Dafa's Public Introduction
(Minghui.org) In recognition of the 20th anniversary of Falun Dafa's introduction to the public, three Member of Parliament from Vancouver, Canada, wrote congratulatory letters to the local Falun Dafa Association, commending Falun Dafa practitioners for their positive contributions to society.
Member of Parliament Peter Julian: Your Bravery and Courage Have Proven Insurmountable
Greetings from Peter Julian, MP
Burnaby-New Westminster
Happy 20th anniversary!
Since its introduction to the public 20 years ago, Falun Dafa practitioners and supporters have promoted harmony, tolerance and compassion.
Following the universal principle of Truthfulness, Benevolence and Forbearance is a human right and fundamental to any society – including Falun Dafa practitioners.
Your bravery + courage have proven insurmountable and, in the face of adversity, you have not wavered from your beliefs.
May you enjoy many more years of contributing to the advancement of Canadian multiculturalism. Please enjoy this auspicious occasion!
Peter Julian, MP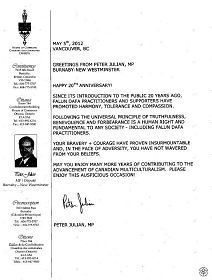 Member of Parliament Fin Donnelly: This Important Anniversary Is an Opportunity to Reflect on the Values of Truthfulness, Compassion and Forbearance
May 13, 2012
This day commemorates the 20th anniversary of the introduction of Falun Dafa to the public.
This important anniversary is an opportunity to reflect on the values of truthfulness, compassion and forbearance.
Fin Donnelly
Member of Parliament
New Westminister-Conquitlam & Port Moody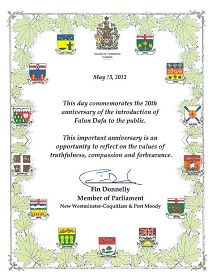 Member of Parliament Libby Davies: Thank You for Uniting People in Peace and Harmony
Falun Dafa Association of Vancouver
Congratulations of your 20th anniversary and my best wishes for a joyous celebration and thank you for uniting people in peace and harmony.
Happy Falun Dafa Month!
May 2012
Libby Davies
Member of Parliament – Vancouver East