Finland: A Peaceful Booth Amidst Joyful and Lively Celebration (Photos)
May 24, 2012 | By a practitioner in Finland
(Minghui.org) Practitioners in Finland participated in a celebration in Käpylä, a small village in Helsinki, on May 20, 2012.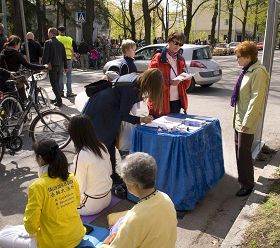 After learning the facts about Falun Gong, people sign the petition to express their support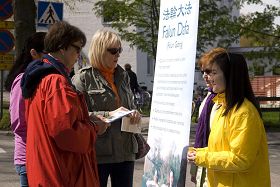 A practitioner speaks with passersby about Falun Gong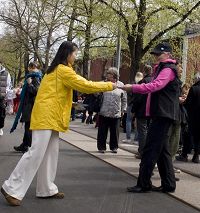 A tourist happily receives a Falun Gong flyer from a practitioner
Sunday was a sunny day. On both sides of the main road in Käpylä were hundreds of booths, which extended along several streets, lanes, and a small square. A variety of daily necessities and food displays attracted crowds of tourists.
Amidst the noisy and lively streets, there was a booth which was quite different. On a table were a petition book, informational materials, and beautiful paper lotus flowers, simple and straightforward. Three people performed exercises beside the table, and a 2-meter-high display board introducing Falun Gong stood on the other side of the table. Many people watched the exercise demonstration and were drawn by its peacefulness. They asked where they could learn Falun Gong. A number of people saw the introduction of Falun Gong and then turned to a practitioner to ask for informational materials. In the afternoon, the practitioner who was distributing materials was very busy and had almost no time to take a break. One lady said after watching the Falun Gong exercise demonstration, "Oh, this is Falun Gong, I often saw people practicing it in the park when I was riding on the bus. I want to practice it, too."
Upon hearing Falun Gong, many people remembered an introductory TV program that was broadcast two weeks ago. It was a 30-minute interview report about a Chinese Falun Gong practitioner who lives in Finland. She recounted the persecution that she and her family had gone through in China. Those who watched the program gained a basic understanding of Falun Gong. People at the booth felt indignant after learning that the Chinese Communist Party has adopted despicable and brutal methods to persecute this group of cultivators. They signed the petition to express their support for Falun Gong.