New York: Practitioners Share How Falun Dafa Has Benefited Them (Photos)
May 24, 2012 | By Zhou Rong and Liu Wenxin
(Minghui.org) It's been 20 years since Falun Dafa was first introduced to the public by Mr. Li Hongzhi in China. Falun Dafa practitioners in New York City held a series of events to celebrate the occasion. On May 12, 2012, approximately 7,000 practitioners took part in a parade in Chinatown to show the beauty of the practice and to expose the ongoing brutal persecution in China.
Several practitioners participating in the parade came from East Asia. They shared how they have benefited from the practice.
A Happy Family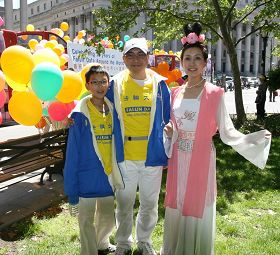 Zhuang Menghan joined the parade with his wife and son
Zhuang Menghan, an architecture photographer, and his wife and son came to New York to participate in the parade. The family of three have practiced Falun Dafa for more than three years. Before they learned the practice, Zhuang often quarreled with his wife. Their quarrels often turned into a "cold war," and they would not speak to each other for days. Now that they are both practitioners, when they have a conflict, if one of them says, "We need to look within," the quarrel immediately stops. Then they talk about what they did wrong, and the fight often turns into an opportunity to improve themselves.
Zhuang encourages his son to study the Fa well and do the exercises on daily basis. His wife said that the child has changed gradually by applying the principles of Truthfulness-Compassion-Forbearance in his everyday life. He has become more patient and learned how to look inside, so as to improve.
The Best Thing That's Ever Happened to Me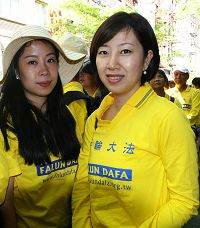 Liang Zhen (right)
Liang Zhen came from Hong Kong. Before the Chinese communist regime launched the brutal persecution of Falun Dafa in 1999, Liang had been a student at South China University of Technology in Guangzhou City. There were 20,000 students at the university, and 2,000 of them practiced Falun Dafa. Many people read Falun Dafa books, and there were over 100 practitioners doing the exercises on campus every morning. The whole school was aware of Falun Dafa and the positive changes the practice was having on people.
After the persecution started, every practitioner went through tough times. Liang said: "Falun Dafa is the best thing that has happened to me. Through the practice, my heart is purified and I am healthy. I am able to be considerate of people around me. In the beginning of the persecution, my family and friends were opposed to me practicing because they worried about me getting arrested and tortured by the Chinese communist regime. Now they all support me and the practice. It's been 13 years since the persecution started. The world's people have learned what Falun Dafa really is and have become supportive."
Chinese Doctor Benefits Greatly from the Practice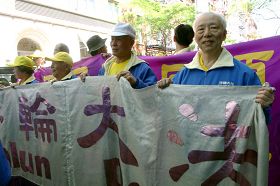 Hu Naiwen (right)
Hu Naiwen is a doctor of Chinese medicine. After he learned Falun Dafa, his immunity was strengthened and he seldom caught the flu. For the past fifteen years, Hu has been introducing Falun Dafa to his patients and acquaintances. Hu said: "If the elderly parents practice Falun Dafa, their children will be very relaxed, because the parents' health improves and they are no longer a financial or mental burden. Likewise, if the children practice Falun Dafa, their parents are very happy because the children know how to behave according to high moral standards."
Zhuan Falun Answers All My Questions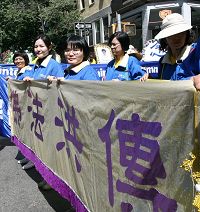 Sisters Xuanwei (second left) and Xuanyu (third left)
Xuanwei and Xuanyu are sisters. They both work in the finance industry and have practiced Falun Dafa for twelve years. Xuanyu, the younger sister, was once very unruly. When she was still in school, she often got into trouble. After she became a practitioner, Xuanyu realized that such behavior was wrong and corrected herself. Her temper improved, and she became more easygoing. She also became considerate of others and more responsible.
The older sister, Xuanwei, was curious about spiritual practice since she was little. She began to think about the meaning of life when she was in kindergarten. She felt empty back then. After she read Zhuan Falun, Xuanwei finally found the answers to the questions she had all her life.
Xuanwei noticed a big difference in this year's parade from last year. It used to be only Westerners who raised their thumbs to show support for the practitioners. This year, however, the Chinese people, including passersby and store owners in Chinatown, raised their thumbs and said, "You did great!"