Taiwan: Jhubei City Joyously Celebrates the 20th Anniversary of Falun Dafa's Public Introduction (Photos)
May 20, 2012 | By Minghui correspondent Song Xinming in Hsinchu, Taiwan
(Minghui.org) On May 12, 2012, practitioners from Hsinchu, Taiwan held a celebratory party in Bamboo Park in Jhubei City, Hsinchu County, to celebrate the 20th anniversary of Falun Dafa's introduction to the public and the 13th World Falun Dafa Day.
The celebration began with a resounding performance by the Divine Land Marching Band. Other activities included a short drama, a song performance by a trained soprano, a children's chorus, and piano, Chinese Zither and waist drum performances. Several practitioners gave talks, sharing the positive changes that they experienced in their physical and mental health, and the benefits brought to their families after practicing Falun Gong. They also exposed and condemned the inhuman persecution of Falun Gong practitioners by the Chinese Communist Party (CCP) over the past 12-plus years.
The Divine Land Marching Band kicks off the celebratory activities.
Other than practitioners from the Taoyuan, Hsinchu and Miaoli areas, there were many local people from the Jhubei area in the audience. More than ten government officials including Jhubei City Mayor Yang Jing-ci, and a number of business dignitaries were invited to the celebration. Hsinchu City Mayor Hsu Ming-tsai presented a bouquet of flowers to wish the celebration great success.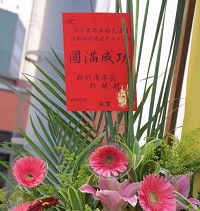 Hsinchu City Mayor Hsu Ming-tsai presents flowers in congratulations of World Falun Dafa Day.
Falun Gong Benefits People Physically and Mentally, Suitable for Practitioners of All Ages
Jhubei City Mayor Yang Jing-ci said that Falun Gong can improve people's physical and mental health, and he called upon everybody to come learn Falun Gong. He added that he hoped for Falun Gong to be spread far and wide.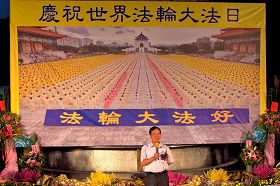 Jhubei Mayor Yang Jing-ci said he hopes that everybody will learn Falun Gong.
Hsinchu City Council Member Chen Chi-yuan said that he has many friends who practiceFalun Gong, and he can sense their kindness and enthusiasm. He remarked that many of his practitioner friends are educated, amiable and friendly, and they are highly self-disciplined. Council Member Chen called upon the CCP to stop the persecution and he hoped that more people will support Falun Gong. He also said that he hoped that Falun Gong can be spread far and wide so that more people will benefit.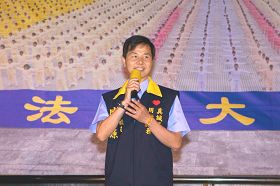 Hsinchu City Council Member Chen Chi-yuan calls upon the CCP to stop the persecution and hopes that more people will support Falun Gong
From Being Semi-paralyzed to Free of All Illnesses
Ms. Lin from Jhubei City suffered from hyperthyroidism at a young age. Ten years ago, when her two children were born, they were weak and sickly. Her daughter was almost blind, and although they had visited many renowned doctors, they could not find the cause or a cure. Due to the stress of caring for her children, Ms. Lin developed insomia for many years, which led to an autoimmune disorder and eventual partial paralysis. After her husband's colleague suggested that she try Falun Gong, Ms. Lin began readingZhuan Falun, and learned to practice Falun Gong based on the exercise instruction video. Shortly after, her insomia disappeared; several months later, her physical pain and numbness also disappeared, and even her hyperthyroidism was cured without medication. Her daughter also began practicing Falun Gong, and shortly after, she miraculously recovered her eyesight. Ms. Lin's husband witnessed the tremendous effect of Falun Dafa. The whole family of four have all practiced Falun Gong ever since.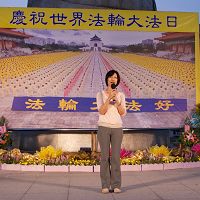 Ms. Lin from Jhubei shares the tremendous physical and mental changes she experienced and the positive changes in her family after practicing Falun Gong
A Drama to Share the Wonder of Cultivation
As part of the day's events, practitioners staged a short drama titled "The Path of Returning to One's True Self." The drama depicts a man named Jianhua, who works in the semiconductor industry, and who due to work pressure, was overburdened and almost fell ill. After Jianhua's mother introduced him to Falun Gong, he became a changed person, with good health and a harmonious family life. The real Jianhua, who wrote the drama and acted as the main character, said that the drama portrays his own cultivation story. He has practiced Falun Gong for seven years, and experienced the wonderfulness of Falun Dafa. The audience members were moved by his performance and applauded him continuously. Jianhua hopes that more people will come to learn Falun Gong through watching the drama.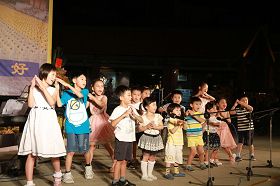 Children's chorus
Waist drum performance
Truthfulness-Compassion-Forbearance Helps People Find Their Inner Peace
The two-hour celebration was filled with warmth and a happy and harmonious atmosphere. The principles of Falun Dafa, Truthfulness-Compassion-Forbearance, impressed many in the audience. Many people said that they wanted to learn Falun Gong. Wei Mu-chung, manager of Sinyi Realty Central Store in Hsinchu said, "After I came into contact with Falun Gong, I had a feeling of peace. It is a kind of feeling that you have forgotten for a long time; it seems that I returned to my childhood. That kind of peace is indescribable. If there is an opportunity in the future, I hope that I will gain more understanding of Falun Gong."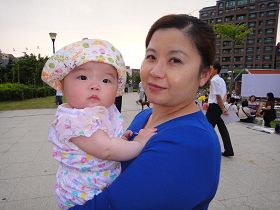 A mother and daughter attend the celebration with their family member who practices Falun Gong
Falun Dafa is the Buddha Fa
While joyously celebrating the 20th anniversary of Falun Dafa's public introduction, Falun Gong practitioners also hoped that the audience could show support for the practitioners in China suffering brutal persecution, and they called upon everyone to help stop the persecution.
Ms. Tian, a member of the Association for Rescuing Persecuted Falun Gong Practitioners, said, "The most heinous among all persecution methods is the harvesting of organs from living Falun Gong practitioners. Canadian human rights lawyer David Matas called such acts 'an unprecedented evil on this planet.' This evil is still ongoing today!"
Ms. Tian said that Falun Gong practitioners' 12-year efforts to end the persecution and to bring the chief culprits in the persecution to justice demonstrates the practitioners' steadfast belief: It is to let the world's people witness the heavenly principle that good will be rewarded and evil will meet with karmic retribution. Ms. Tian called upon the audience to understand that "Falun Dafa is great," choose a course of righteousnous and kindness, and lay a wonderful path for one's future.